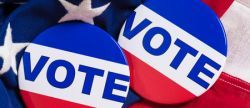 FROM STAFF REPORTS
The Iredell County Board of Elections on Friday certified the results of the November 7 municipal elections in Iredell County and the Mooresville Graded School District election.
During Friday's official canvass, board members agreed that 28 supplemental ballots and 11 provisional ballots should be counted. The supplemental ballots consisted of 28 mail-in ballots, and the provisional 11 ballots were cast on election day by voters who were not in the registration book, voted in the wrong precinct or did not have ID.
After those ballots were processed, the board reviewed the final results and voted unanimously to accept them.
The additional ballots did not change the outcome of any races.
However, Troutman council member George Harris, who finished third in a four-candidate race for two seats, picked up three votes. As a result, in the final tally Harris trailed Nicholas Jaroszynski by 144 votes to 143. Harris has five days to request a recount.
Meanwhile, in Harmony, three write-in candidates — Brandan Ange, Chris Pierce and Jared Clark — were officially elected along with Scotty Harris, who was the top-vote getter among four candidates on the ballot.
A total of 6,084 out of 44,252 eligible voters cast ballots.
Official Results
Municipal/MGSD Elections
November 7, 2023
TOWN OF MOORESVILLE
Mayor
√ Chris Carney: 3,639
Bobby Compton: 1,602
Commissioner At-Large
√ Eddie Karriker: 3,122
Frank Owens: 1,795
Ward 1 Commissioner
√ Eddie Dingler: 886
Ward 2 Commissioner
√ William Aven: 545
Thurman Houston: 522
MGSD BOARD OF EDUCATION
Vote for 3
√ Debbie Marsh: 2,735
√ Kerry Pennell: 2,596
√ Monica Bender: 2,437
Theresa Knight: 2,157
TOWN OF HARMONY
Mayor
√ Sean Turner: 56
Town Council
Vote for 4
√ Brandan Ange: 38
√ Chris Pierce: 38
√ Jared Clark: 35
√ Scotty Harris: 31
Doug Galliher: 26
Forrest Breedlove: 25
Julia Clanton: 20
TOWN OF LOVE VALLEY
Mayor
√ Timothy Meadows: 46
Town Commission
Vote for 5
√ Terri Rufty: 45
√ Ted Davis: 44
√ Randy Lackey: 40
√ Randy Ladd: 33
√ Mark Loden: 33
Phillip Baity: 27
Gary Mayfield: 13
Linda Chase: 13
TOWN OF TROUTMAN
Mayor
√ Teross Young: 252
Town Council
Vote for 2
√ Eddie Nau: 172
√ Nicholas Jaroszynski: 144
George Harris: 143
Matt Crates: 105