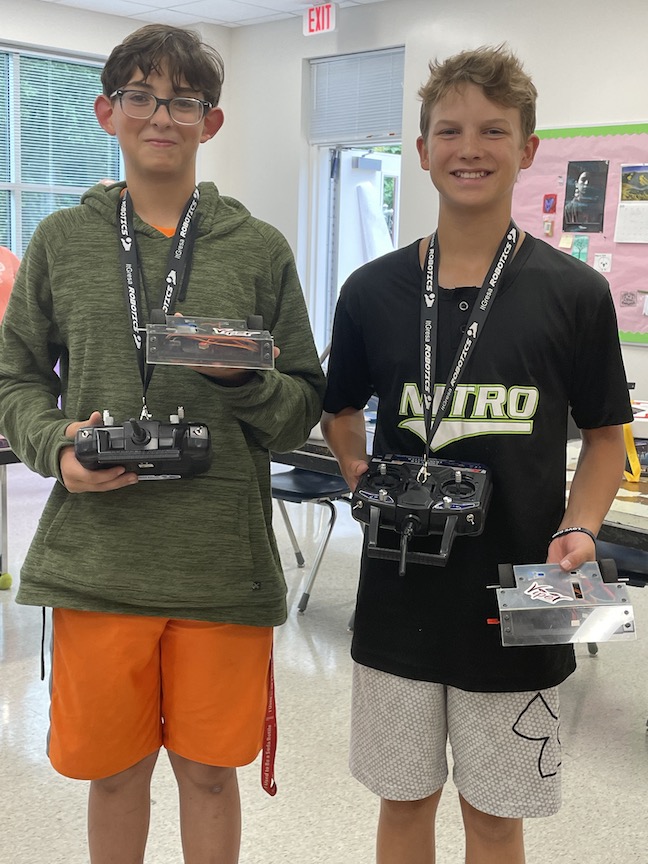 BY KARISSA MILLER
Rising eighth- and ninth-grade students interested in enhacing their programming, engineering and creative problem-solving skills attended Iredell-Statesville Schools' Battlebots camp this week.
The three-day session of BattleBots camp was the first of 18 summer camps being hosted by the I-SS Career Technical Education Department this summer.
"I had the idea to have Battlebots camp to draw in the older students and to continue to get kids interested in robotics," Coordinator Debra Lester said. "We have had robotics for several years, but Battlebots is new."
School board member Doug Knight was instrumental in helping her get the tools needed for the camp, including the robot kits and a Battlebots 4×4 cage arena, she said.
Once students have mastered the basics with the practice robots, they got to test out the Viper robots.
Campers Nicky Tillman and Kaleb Smith battled it out Tuesday afternoon with their Viper robots, using battery powered remote controllers to move their robots.
"The goal is to almost feel like you are taking out the trash. You pick it up and you flip the robot," Lester explained.
In one practice round, Kaleb was able to maneuver quickly over Tillman's robot and then eventually flip his robot over.
Lester believes that robotics opportunities are important for all students. She was concerned that participants would home talking about how they destroyed another robot, and that some parents might find that type of narrative concerning.
While the robots do battle it out, she that the students employ strategy and tactics when it comes to the BattleBot action.
The camp, she said, fosters some of the same values seen in traditional sports, such as good sportsmanship, encouraging one another, troubleshooting and thinking creatively.
One misconception, she explained, is that robotics is just for gifted kids. However, building a robot is mechanical and many hands-on learners can excel in robotics, she said.
"These kids have been born into technology and taking risks," Lester said. "I think we should encourage all students just to try it."
Her goal is to grow the Battlebots camp and to get a diverse group of students interested in this activity.