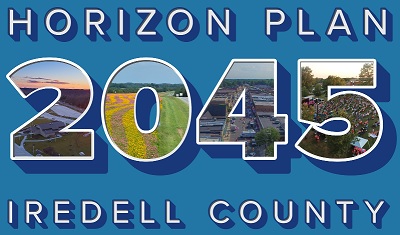 Special to Iredell Free News
Iredell County government staff has begun the process of updating the county's guiding planning document, "The Iredell County Horizon Plan 2045."
The current document, "Horizon Plan 2030," was adopted in 2009. The project team is seeking community input before drafting the elements of the updated plan.
The updated plan will provide a vision for the county.
The current "Horizon Plan 2030" includes sections on growth management and future land use; agricultural preservation; transportation; economic development; cultural, environmental, and water resources; public services and facilities; and plan implementation.
The "Horizon Plan 2045" will cover similar topics.
Open Houses
A series of open houses provide an opportunity for residents to provide feedback. To participate, come to one of four open houses:
♦ January 17: Union Grove Community Building, 1869 W Memorial Highway, Harmony, from 5 to 7 p.m.
♦ January 18: South Iredell Volunteer Fire Department, 651 Brumley Road, Mooresville, from 2 to 4 p.m.
♦ January 18: Iredell County Cooperative Extension, 444 Bristol Drive, Statesville, from 6 to 8 p.m.
♦ January 19: Career Academy & Technical School, 350 Old Murdock Road, Troutman, from 3 to 5 p.m.
Online Comments
In addition to the public open houses, an opportunity to provide feedback online will be available from January 17 through February 9. You can leave feedback or online at www.iredellhorizonplan.info.
Feedback from the open houses and online comments will help guide the direction of the plan and identify community priorities. A full draft of the new "Horizon Plan 2045" will be available for public comment once it is completed later in the year.
Adoption of the final version of the plan will ultimately be the decision of the Iredell County Board of Commissioners.