FROM STAFF REPORTS
A former Troutman resident faces six felony charges in connection with a scheme that Iredell County Sheriff's Office investigators said resulted in the loss of nearly $30,000 by local businesses.
The ICSO began investigating last July after receiving a report from an individual who claimed she had been scammed out of charitable donation money, Sheriff Darren Campbell said in a news release.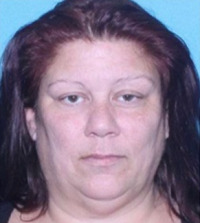 The victim's mother told the deputies she met the suspect, a woman identified as 53-year-old Tammy Ann Domenick, online and started what she thought was a friendship with her, Campbell said.
According to the news release, Domenick presented herself as a marketing professional from the New York metro area with high-level marketing and social media skills.
The victim's mother reported that her young daughter has a life-threatening terminal illness, and Domenick offered to start up a fundraising campaign for her. The plan was to host a major event called "LKN Fest," which would be promoted by a social media presence, news media, and other marketing efforts to attract sponsors and donors to help raise money for the child, according to the news release.
The plan included "Sip n' Shop" events throughout the Mooresville area as a build up the main event, the sheriff said.
Detective Craig Scannella, who investigates economic crimes, was assigned to the case. He interviewed the victim's mother and numerous other vendors and sponsors who had signed up to assist with the event. These individuals and businesses donated money, jewelry, clothes, photo booths, health products, and food, according to the news release.
Detective Scannella obtained financial statements and bank receipts from the vendors. All of the vendors and the victim's mother said the smaller events were a failure, and LKN Fest never manifested into what Domenick had promised, according to the news release.
The detective learned that each vendor had a promissory contract with Domenick stating that LKN Fest would be sold out due to being highly advertised in the news, social media, and billboards. The vendors said none of this ever occurred.
None of the vendors ever saw any financial return on their investment, and the victim's family did not receive donation money from Domenick as she promised, according to the news release.
The total amount of money unaccounted for is $29,174.99, Campbell said.
After gathering all of the evidence in the case, Detective Scannella contacted Domenick, who advised she had relocated to California. Domenick had also shut down all of her business's social media pages, the sheriff said.
Detective Scannella subsequently learned that Domenick was in Arizona, where she had started a new company that was similar to the one she had operated in North Carolina.
Based upon all of the evidence gathered throughout this investigation, Detective Scannella obtained six felony warrants charging Domenick with six obtaining property by false pretenses. She was entered in national crime databases as a wanted person.
Detective Scannella contacted law enforcement in Mesa, Ariz., and made them aware of the warrants.
Law enforcement authorities in Arizona located and arrested Domenick. She is currently in custody in Arizona and fighting extradition to North Carolina, according to the news release.