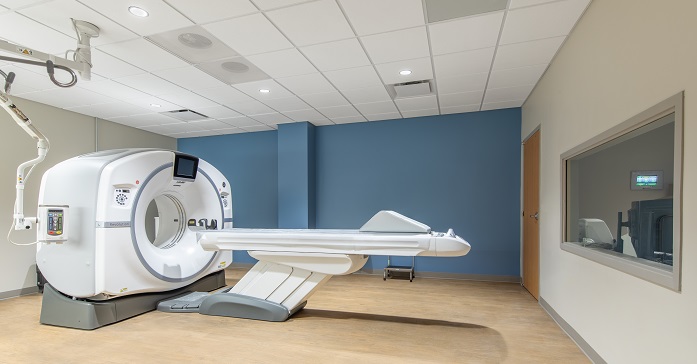 Special to Iredell Free News
As part of its commitment to providing personalized care tailored to its community's needs, Iredell Health System is now offering lung cancer screening at Iredell Imaging at Mooresville.
Lung cancer is the leading cause of cancer death in the United States. In Iredell County alone, lung cancer accounts for 27 percent of all cancer deaths – that's more than prostate, pancreatic, colon, and breast cancer.
If you are or have been a smoker, lung cancer screening could detect cancer early and save your life. According to the American Cancer Society (ACS), most lung cancers do not cause any symptoms until they've reached more advanced stages and spread. However, when doctors find cancers early, they are often easier to treat.
"Early detection for lung cancer is the reason we're implementing this program. This is a great, lifesaving tool for the community because the quicker you can find cancer, the quicker you can save lives," said Edward Morgan, director of Imaging Services at Iredell Health System.
What is lung cancer screening?
Lung cancer screening uses a low-dose computed tomography (CT) scan to look at your chest and lungs. A low-dose CT scan is a special kind of X-ray that uses a small amount of radiation to create detailed 3D images of your lungs. Unlike a traditional CT scan, lung cancer screenings use up to 90 percent less radiation.
When receiving a low-dose CT lung cancer screening, you will lay on a small table for about five minutes while the machine scans your chest and captures images. It is fast and painless, and you do not have to do any type of preparation work, like drinking contrast, prior to your appointment.
"Iredell Imaging at Mooresville has state-of-the-art technology and great, knowledgeable radiologists. The center has a 64-slice Revolution CT Scanner that produces fast and optimal images. The imaging center in Mooresville is at a convenient location, and we get results back to patients as quickly as possible," said Morgan.
Low-dose CT scans for lung cancer are covered by Medicare and most insurance companies.
Is lung cancer screening right for me?
The United States Preventive Services Task Force recommends yearly lung cancer screenings for
people who:
♦ Are 50 to 80 years old and in fairly good health and currently smoke or have quit in the past five years; and
♦ Have at least a 20-pack-year smoking history. (This is the number of packs of cigarettes per day multiplied by the number of years smoked. For example, someone who smoked two packs a day for 10 years has 20 pack-years of smoking, as does a person who smoked one pack a day for 20 years.)
LEARN MORE
If you think you are eligible for low-dose CT lung cancer screening, make sure to talk with your primary care provider about a referral to Iredell Imaging at Mooresville. To learn more, call the Imaging Center at 704-360-6460.
About Iredell Health System
Iredell Health System includes Iredell Memorial Hospital; Iredell Mooresville; two urgent care centers; Iredell Home Health; Iredell Wound Care & Hyperbaric Center; Community and Corporate Wellness; Occupational Medicine; the Iredell Physician Network and more. Iredell Memorial Hospital is the largest and only nonprofit hospital in Iredell County. The comprehensive healthcare facility has 247 beds; more than 1,700 employees; and has 260 physicians representing various specialties. Centers of excellence include Women's and Children's; Cardiovascular; Cancer; Surgical Services and Wellness & Prevention. The Health System's newest campus, Iredell Mooresville, is home to the area's only 24-hour urgent care facility, as well as an ambulatory surgery center, imaging center, rehabilitation services, and physician practices. The mission of Iredell Health System is to inspire wellbeing. For a comprehensive list of services and programs, visit www.iredellhealth.org