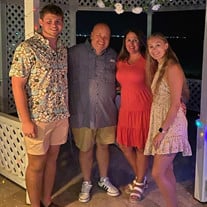 Patrick Edgar Sanders, 48, of Mooresville, N.C., passed away on Sunday, October 15, 2023, at Frye Regional Medical Center in Hickory, N.C.
He was born on March 8, 1975, in Columbus, Ohio, to Edgar and Susan Bernard Sanders. Patrick graduated from Pickerington High School in Ohio, received his Bachelor of Science Business Administration from University at Buffalo and received his MBA from University of Phoenix. His job was part of his identity, and he was a natural born salesman. He was employed with Dealers Supply Company as Director of Sales. Patrick was very passionate about football, playing in both high school and college. He played with the Pickerington Tigers and Buffalo Bulls. He met his wife Ellen at University at Buffalo in 1996. He was an avid Ohio State Buckeyes and Pittsburgh Steelers fan. Patrick loved to spend his weekends on his boat with family and friends and watching his children compete in dance, lacrosse, and football. His greatest loves were his wife and children followed closely by his family and friends.
In addition to his parents, Edgar and Susan, he is survived by his wife, Ellen Bilczic Sanders; children, Alexa Sanders and Bailey Sanders; sister, Katie Boyce and husband Rick; nephew and niece, Brendan and Sophia Boyce; father-in-law, Sol Bilczic; mother-in-law, Annette Bilczic; sister-in-law, Heather Elimeliah and husband Ian; niece, Scarlet Elimeliah; and his beloved dogs, Sydney and Laney. He was preceded in death by their first child, the four-legged Betsy.
The family will receive friends on Saturday, October 21, from 6 to 7:30 p.m. with a service following at 8 p.m. at the chapel of Cavin-Cook Funeral Home.
Memorials may be made to the American Heart Association, 5001 South Miami Blvd, Suite 300, Durham, NC 27703.
Cavin-Cook Funeral Home & Crematory, Mooresville, is serving the Sanders family. Condolences may be made to the family at www.cavin-cook.com.