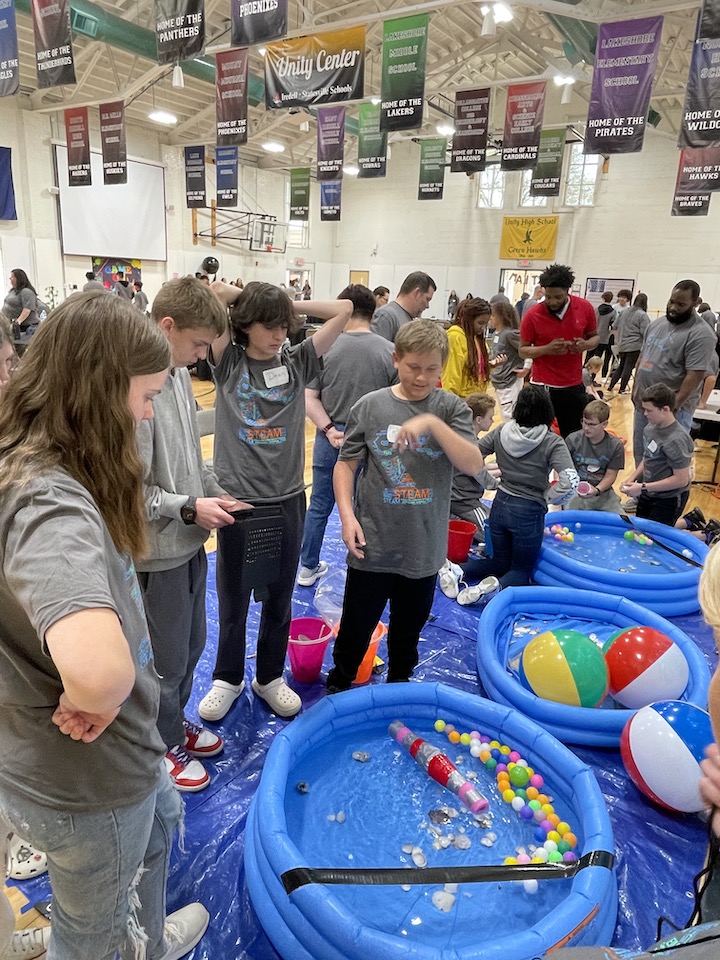 BY KARISSA MILLER
The buzzing sound of drones filled the air as they moved through hula hoops inside Unity Center.
Iredell-Statesville Schools' Career Technical Education department (CTE) hosted a STEAM Day competition to inspire seventh-grade students in science, technology, engineering, aviation and mathematics on Tuesday.
According to I-SS Middle School STEM Coach Debra Lester, the event offered hands-on activities involving problem solving, critical thinking and communication, with students navigating different stations in teams of six by school.
"This has been one of the best collaborative efforts that I have seen," she said.
From engineering protective egg capsules and experiencing aviation through drones to discovering math through bowling and exploring various types of engineering, the activities proved challenging.
Shresta Palaparthy, a student at The Brawley School, said that it was a fun day and an opportunity to immerse herself in problem solving and critical thinking.
"I like how creative it is. It was fun to work as a team, meet new people and try new things, too," she said.
Woodland Heights student Stevie Cleveland said the "Taylor Drift" car challenge was his favorite activity. His team had to find a way to arch a loop for a racecar to make it across the finish line.
"I've always been a car guy. Legos and hot wheels were a big part of my childhood," he explained. "Working as a team had its ups and downs, but you have to find a way to connect with others."
As students challenged themselves, they also stepped outside of their comfort zones.
"We've had students who normally don't speak out break out of their shell, bringing real value to the activity," Lester said.
Make an Impact Foundation Volunteer Deborah McKee said that the organization offers a Drones to Jets program that introduces students to aviation who normally wouldn't be exposed to it.
McKee was on hand to help students with their drones. Drones to Jets also donated lunch for everyone participating in the event.
"We are super excited to help the seventh-graders by introducing them to drones and actually getting to watch them work with them," McKee said.
Lakeshore Middle School won first place after earning the most points at each challenge. They were named Supreme STEAM team for the event.
The LMS team members are Xoey Carter, Liam Knott, Reese McGinnis, Marley Neill, Ryan Rollag and Dean Winkeljohn.
The CTE teachers/STEAM coaches at LES are Barbara Pope, Jon Price, and Kimberly Clark.
About CTE
CTE promotes real-world readiness by providing hands-on learning experiences for students to investigate potential career and college opportunities. Visit https://www.issnc.org/departments/cte to learn more.
Photos