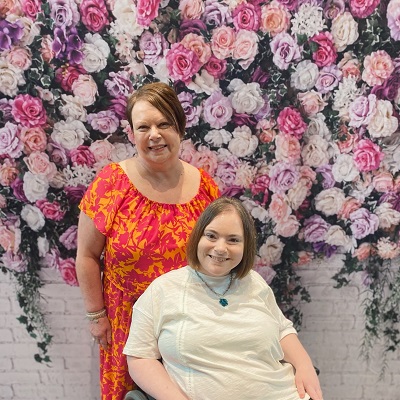 Special to Iredell Free News
Facing new health challenges can be frightening and overwhelming. And it's normal to feel uncertain when dealing with something unfamiliar that affects your wellbeing.
This is how 36-year-old Jessica Mobley felt when she was told she had a stage 3 pressure sore.
Mobley was born with scoliosis, a sideways curvature of the spine, and spina bifida, a birth defect in which an area of the spinal column does not form properly.
In January 2023, Mobley had spinal fusion surgery at a Charlotte-area hospital. After her surgery, she experienced several complications, including blood clots and infections. She was in the hospital until March 7, when she was discharged.
After she was sent home from the hospital, Mobley needed follow-up care due to a stage 3 pressure sore that developed after her surgery. She was referred to Iredell Wound Care & Hyperbaric Center.
Stage 3 pressure sores are the second-to-last stage of pressure sore progression. At this stage, the sore has gone through all layers of skin into the fatty tissue, which can expose those with the sore to an infection. These sores are treatable but can take months to fully heal.
Faced with something new and unfamiliar, Mobley needed reassurance and expert care.
That is exactly what she found at Iredell Wound Care. Iredell Wound Care & Hyperbaric Center uses an interdisciplinary model of care and personalized treatments to care for patients with non-healing wounds like pressure sores.
Mobley went to her first appointment at Iredell Wound Care on March 17.
"They made me feel confident and reassured me. That meant a lot when you're going through something you've never experienced," said Mobley.
At her first appointment, they cleaned and debrided (removal of dead tissue) the sore and gave Mobley and her mother instructions for caring for it at home.
"They sent us home with a wound cleanser, gauze, and bandages. They would also order other things and have it sent to our home for us," said Mobley.
Mobley continued visiting Iredell Wound Care once a week until late June.
"At my appointments, they would check the progress of the sore, make sure I didn't have an infection, and just ensure everything was going in the right direction. Meagan, the nurse practitioner, would debride it. Sometimes, they would change the treatment and what we used to make sure I had the best treatment possible," she said.
"They were always very friendly. I feel like every time we went, I was just going to see friends. They were just so personable, encouraging, and made me feel comfortable. I am so thankful for them," she added.
Due to Mobley's dedication to her health and the expert care from Iredell Wound Care, her pressure sore is now completely healed.
"I started seeing results pretty quickly. Every week I went, the sore would look better, and now it is fully healed," she said. "If it wasn't for the team at Iredell Wound Care, I don't know how I would have gotten through it."
LEARN MORE
For more information on the Iredell Wound Care & Hyperbaric Center, visit IredellWoundCare.com. To schedule an appointment at the center, call 704-768-0542.
About Iredell Health System
Iredell Health System includes Iredell Memorial Hospital; Iredell Mooresville; two urgent care centers; Iredell Home Health; Iredell Wound Care & Hyperbaric Center; Community and Corporate Wellness; Occupational Medicine; the Iredell Physician Network and more. Iredell Memorial Hospital is the largest and only nonprofit hospital in Iredell County. The comprehensive healthcare facility has 247 beds; more than 1,800 employees; and has 260 physicians representing various specialties. Centers of excellence include Women's and Children's; Cardiovascular; Cancer; Surgical Services and Wellness & Prevention. The Health System's second campus, Iredell Mooresville, is home to the area's only 24-hour urgent care facility, as well as an ambulatory surgery center, imaging center, rehabilitation services, and physician practices. The mission of Iredell Health System is to inspire wellbeing. For a comprehensive list of services and programs, visit www.iredellhealth.org