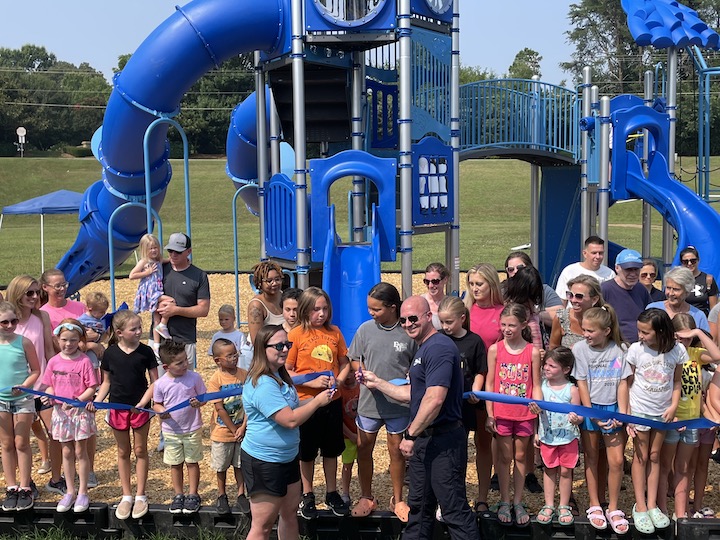 BY KARISSA MILLER
School might be out for the summer, but that didn't prevent Lake Norman Elementary students from returning to school Tuesday afternoon to try out their new playground equipment during a special playground and popsicle party event.
"Our families understand the importance of having an outdoor playground. Our playground is officially open," said Principal Nichole Tilley. "It's not just been our families, but the community. This has been a joint effort. This just isn't LNE. We want the community to use this playground."
Parents say that Tilley is big on "movement" and encouraging students to stay active by getting outdoors. Some of the families walked, biked or rode scooters to the special event, which is something Tilley promotes during the school year.
Tilley said that her 700 students are phenomenal and deserve the best.
As she greeted families and hugged students, she admitted that she had tested out all of the slides. She said she cannot wait for all of the students to get the opportunity to enjoy the playground.
The new playground cost $150,000.
Students took part in a special ceremony. They joined their principal and Jeff King with Williams Company for a ribbon cutting ceremony before the popsicles arrived.
"We love to partner with our community in this way. We love to promote them being active and being outdoors. We're glad to get it to the finish line," King said.
The school's Parent Teacher Organization raised approximately $100,000 over a three-year period. Williams Company contributed $50,000.
"As inflation went up, every time we reached a goal that goal was set further. Our families would get frustrated. We realized we needed to have a business partner. Williams stepped in and completed the funding for us — so we could make this happen for our kids," said Kellie King, co-PTO president.
The PTO parents are collectively breathing a sigh of relief. They are glad that they can now check this project off of their list.
"It's really amazing. The kids are excited to have something that they can truly play on and it's safe," King said.
"The kids love this playground so much already," added co-president Julia Goode.
Photos