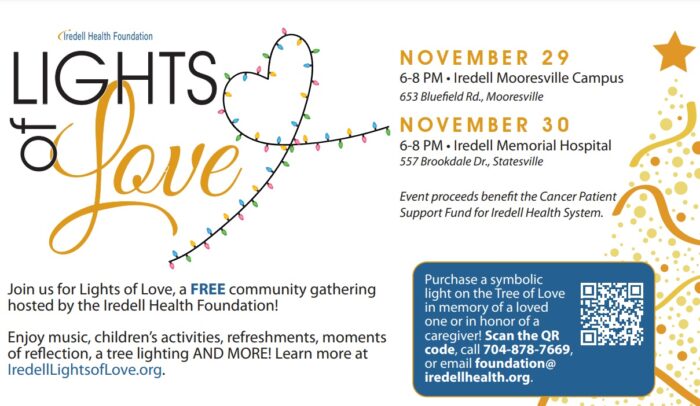 Special to Iredell Free News
The holidays are drawing near, and so is Iredell Health Foundation's second annual Lights of Love, benefiting the Cancer Patient Support Fund for Iredell Health System.
Beyond the twinkling lights and festive decorations, Lights of Love holds a special purpose — to support those fighting cancer, remember lives lost, and celebrate battles won. Join us in the spirit of giving as we come together to make the holiday season brighter for those affected by cancer.
This event is a free community gathering to honor a caregiver or a loved one.
Proceeds from Lights of Love will assist anyone undergoing treatment and needing help with transportation, lodging, support group activities, and/or discretionary support. Last year, the fund assisted over 25 cancer patients.
There will be two Lights of Love events, one in Mooresville and one in Statesville.
Lights of Love in Mooresville
Lights of Love in Mooresville will take place from 6 to 8 p.m. on Wednesday, November 29, at Iredell Mooresville (653 Bluefield Road). The event will feature music, refreshments, Tree of Love lighting, pictures with Santa, and other children's activities.
Lights of Love in Statesville
The event in Statesville will occur the following day, on Thursday, November 30, from 6 to 8 p.m., at Iredell Memorial Hospital (557 Brookdale Drive). Lights of Love in Statesville will feature music, refreshments, and the Tree of Love lighting.
Both programs will include a cancer survivor speaker who will illuminate the Mooresville and Statesville campuses.
Lights of Love will also feature a testimonial video about Phillip Elder, a cancer patient, his experience with Iredell Health System, and how the Cancer Patient Support Fund impacts individuals in our community. You can also view his video online at IredellLightsofLove.org.
For $20, you can be a "Light Sponsor" and purchase a symbolic light on the Tree of Love in memory of a loved one or in honor of a caregiver. These lights will remain lit throughout December, and names of the honored will be added to the "List of Love" for day-of events. For $25, you can also purchase a custom-made glass Christmas tree ornament, crafted by Denise Cascardi of Purple Owl Glass, in blue or caramel. Go to ihfdonate.org/lights-of-love to purchase your luminary light or ornament.
"As a community, we can make a profound impact when we come together for a cause. The funds raised from the sale of lights and holiday ornaments go a long way in supporting our cancer patients during their most challenging times. We are grateful and amazed by the overwhelming support we've received from our community in this effort," said Jen Balog, executive director of the Iredell Health Foundation.
LEARN MORE
For further details about the event, please visit IredellLightsofLove.org, email foundation@iredellhealth.org, or call 704-878-7669.
About Iredell Health Foundation
The Iredell Health Foundation is a 501(C)3 nonprofit organization responsible for philanthropy for Iredell Health System. It supports the system's programs and services through donor-centered fundraising. The Foundation focuses on raising community awareness of specific programs that need funding and provides individuals and organizations hoping to make a difference and leave a legacy the opportunity to support local healthcare needs of their choice. To learn more, or to make a donation, visit www.iredellhealthfoundation.org or call 704-878-7669.