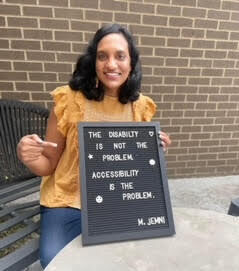 Special to Iredell Free News
Sri Hatharasinghe-Gerschler, a seasoned expert in education and child development, is now offering a groundbreaking suite of services aimed at empowering parents and caregivers. With an unwavering commitment to fostering optimal growth and success for children, Hatharasinghe-Gerschler's new offerings include personalized parent coaching and Individualized Education Plan (IEP) services.
Navigating the world of education and child development can be overwhelming, especially for parents of children with unique learning needs. Recognizing this challenge, Sri Hatharasinghe-Gerschler has developed a comprehensive Parent Coaching program designed to provide parents with the tools, knowledge, and guidance necessary to support their child's educational journey effectively.
The parent coaching program is tailored to each family's specific requirements and concerns. Sri draws on years of experience in child psychology, education, and special needs to offer personalized strategies that empower parents to advocate for their child's learning needs, enhance communication with educators, and foster a positive and supportive learning environment at home.
In addition to the parent coaching services, Hatharasinghe-Gerschler also offers expert guidance on Individualized Education Plans, which are crucial in ensuring that children with special needs receive the appropriate educational support to thrive. With her assistance, families gain access to a wealth of knowledge and experience that can help them navigate the IEP process, collaborate with school teams, and ensure that their child's unique learning requirements are met.
"I am dedicated to equipping parents with the skills and knowledge they need to support their children's education and development fully. Every child deserves the opportunity to reach their full potential, and I am excited to be a partner in that journey," Hatharasinghe-Gerschler said.
As an expert in education and child development, she brings a wealth of knowledge and a passion for helping children succeed.
LEARN MORE
To learn more, contact Sri Hatharasinghe-Gerschler at iepsaremyjam@gmail.com.