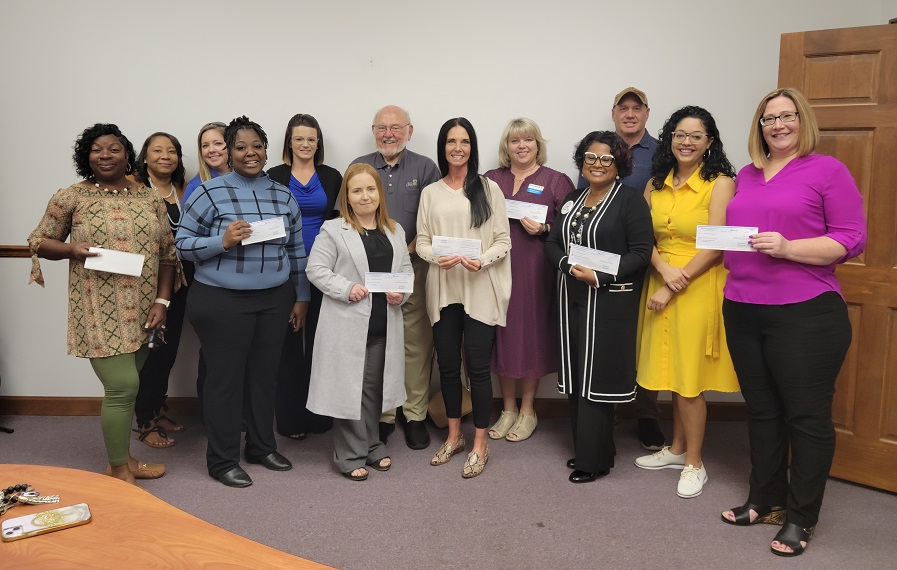 Special to Iredell Free News
The Statesville ABC Board has distributed $96,000 to eight area agencies to assist with the organizations' substance abuse programs.
Receiving a portion of the 2023 ABC Education Grants were Aftershock Youth Empowerment, Boys & Girls Club of the Piedmont, Fifth Street Shelter Ministries, Foundation of Hope Ministries, Iredell County EMS, Pharos Parenting, Piedmont Mediation Center and Speak Life and Live.
"The ABC Board strives to run an efficient operation so that each year we can help fund the important programs that work with and prevent substance abuse issues," said Statesville ABC Board member David Pope. "Keeping profits in our community to help others is just one of the benefits of a controlled state system."
Foundation of Hope Ministries is a first-time ABC Education grant recipient.
According to Karen Kidd and Rob Harris, co-founders, Foundation of Hope will use the funds to "navigate the lives of those struggling with alcohol and similar addictions." These services include case management, transportation to recovery and detox facilities, application entry fees and "fees associated with sober living." They also sponsor an education program to teach vulnerable and at-risk youth on the dangers of alcohol and drug use.
Speak Life and Live also provides programs for youth that incorporate substance abuse education throughout the year. The grant will support the mentorship camp that promotes a healthy lifestyle and creates an immersive learning environment to empower students to make good choices.
Another youth-focused program receiving ABC funding is Aftershock Youth Empowerment. As part of the mentoring offered at Third Creek Middle School, Aftershock tutors provide empowerment coaching and substance abuse counseling.
The Boys & Girls Club of the Piedmont uses the ABC Education funds to support the SMART Moves program for elementary and middle school students.
Clarissa Flowers Young, executive director, said the SMART Moves (Skills, Mastery and Resilience Training) prevention and education program addresses alcohol and drug use.
Numerous programs are offered by Piedmont Mediation that educate teens on the risks involved with substance abuse and, if needed, provide resources for substance abuse treatment and recovery. These programs include Teen Court, Community Service, Restorative Justice, Youth Offender Diversion Alternative and Clean Teens Substance Awareness Education.
Blair Richey, EMS Director, said that in the past year, the department's Community Response Support Team has worked directly with 175 individuals who have been helped to establish a path to recovery.
"The team meets individuals where they are to offer resources and support to reduce harm," explained Richey. "The ABC Education grant is used to purchase additional education, harm reduction, treatment and prevention materials to distribute throughout the community. This funding has played a significant role in our program. We are extremely grateful to continue these efforts over the next year."
Pharos Parenting uses the funds to "teach positive parenting skills, stabilize and strengthen families, especially for those with substance abuse issues," said Tonya Fowler, director. "We are grateful for the support and generosity of the ABC Board."
The Statesville ABC Board distributes 7 percent of its remaining gross receipts annually for the treatment of alcoholism or substance abuse, or for research or education on alcohol or substance abuse, explained Tip Nicholson, general manager of the Statesville ABC Board.
"The ABC Board is very appreciative of the work these organizations do to help with and prevent substance abuse issues," said Nicholson. "No one organization can do it all, but together these programs can make a tremendous difference in our community."