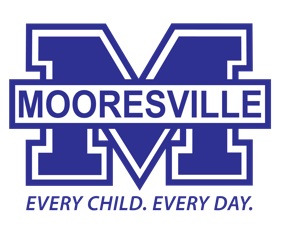 BY DEBBIE PAGE
The Mooresville Graded School District School Board approved the district's 2022-2023 audit report along with a staff request to eliminate tuition fee for full-time out-of-district employees' children and the purchase of a new playground structure for South Elementary during its meeting Tuesday night.
Board members also heard results on the district's performance on state accountability measures and previews of upcoming district events, including a mental health awareness forum.
AUDIT REPORT
Chief Financial Officer Angie Davis announced the completion of the district's financial audit of accounts by Anderson, Smith and Wike, which conducted an in-depth review of all district funds and individual school accounts. "We are happy to report that there are no audit findings for the 2022-2023 fiscal year," Davis said.
Anderson, Smith and Wike auditor Shannon Dennison then presented the audit report, which found the district's fund balance increased $600,000 to $6.1 million at the end of the fiscal year.
MGSD also had about $2 million in special grant money and $9.8 million in other special revenue. The capital outlay fund was just under $5 million.
EMPLOYEE TUITION FEE ELIMINATED
Chief Human Resource Officer April Kuhn presented a request to eliminate the tuition charge for out-of-district children of full-time employees "in an effort to continuously look for methods to recruit and retain our employees."
Presently, MGSD permanent employees who do not reside within the district boundary lines are charged a flat yearly rate of $216 to enroll their children.
"We believe that can be a barrier to some employees who wish to bring their children to MGSD. We also believe that the opportunity to enroll a student in MGSD tuition free can help the district recruitment of new employees and retention of continuing employees," Kuhn said.
About 70 employees who use the tuition based option for enrollment.
"An annual transfer form will still need to be completed each year but the fee will be waived for full-time employees," said Kuhn.
The board unanimously approved this request. The district will refund any fees collected to date for the 2023-2024 school year from employees.
SOUTH ELEMENTARY PLAYGROUND UPGRADES
During the pandemic, South Elementary School's playground structures began experiencing deterioration. The unsafe conditions of the equipment became increasingly evident, possibly endangering the school's K-2 students and participants in the school's before- and after-school care program.
Through the persistence of school leadership and the South Elementary PTSO, the school has been able to raise enough money in fundraising, donations and grants to purchase new playground equipment.
Davis asked for board approval to purchase new playground structures from Barrs Recreation for a total cost of $103,376.11, which the board passed unanimously.
MGSD STATE ACCOUNTABILITY HIGHLIGHTS
Superintendent Jason Gardner announced overall proficiency in MGSD improved in 12 out of 14 tested areas for reading and math. High School Math I improved 10 percent, sixth grade reading climbed 6.2 percent, and sixth grade math rose 7.7 percent.
East Mooresville Intermediate School and South Elementary School improved their school performance grade from a C to a B, while Rocky River Elementary School and Mooresville High School maintained a B letter grade.
Six out of seven schools — Rocky River Elementary School, South Elementary School, Park View Elementary School, East Mooresville Intermediate School, Mooresville Intermediate School, Mooresville High School — improved their student growth performance score.
East Mooresville Intermediate School exceeded their growth target with a +4.84 growth index.
MGSD's sixth-grade cohort ranked fifth in math and 10th in reading out of 115 school districts.
MGSD ranked No. 3 in North Carolina for graduation rate out of 115 school districts, with Gardner noting the district was only 0.1 away from being No. 1 in the state.
Gardner said the district will examine the data and work toward continued growth and and improvement.
UPCOMING EVENTS
♦ Mental Health Awareness Forum
MGSD is hosting a Mental Health Awareness Forum on Tuesday, September 19, from 6:30 p.m. to 7:30 p.m. at the Selma Burke Middle School Media Center. The school is located at 235 Rinehardt Road.
Since September is National Suicide Prevention Awareness Month, the district is planning a mental health panel discussion night focusing on the topic of suicide prevention. This event will include a panel of local mental health professionals who will be answering questions collected from community members, parents, and students.
While this event is free, the district does ask attendees to complete an online form (or scan the QR code) to assist with planning (https://www.facebook.com/events/320892870321457). This form give attendees the opportunity to inform the district of any specific questions they would like panelists to address.
♦ Picnic in the Park STEAM celebration
Chief Communications Officer Tanae McLean announced the Picnic in the Park STEAM celebration at Liberty Park on Monday, September 25, from 5 to 7 p.m., with 370 already signed up to attend an evening of fun, learning, and food.
McLean said the theme is "Curiosity Night" and will feature hands-on STEAM activities for families to enjoy. Please bring a picnic blanket or stadium chair and RSVP on ParentSquare so that plenty of food is available.
♦ Longest Table Location Changes
MGSD is partnering with the United Way of Iredell County to host the longest Table event on Sunday, October 1, from 1 to 5 p.m.
McLean said that out of consideration for some small businesses on Main Street who have dealt with a lot of street closures this year, the venue has been changed from Main Street to Blue Devil Boulevard, which runs next to Mooresville High School (659 East Center Avenue).
The goal is to build a better sense of community through new relationships and create connections to strengthen unity and fellowship in Iredell County.
Please register for this free event at https://www.eventbrite.com/e/the-longest-table-mooresville-2023-tickets-677652756637 to assist with planning.
The United Way of Iredell believes that for most people, food is equated to love, and a good meal opens individuals up for a new conversation. Neighbors of all income levels, backgrounds, and beliefs will have a common table to foster new friendships in Iredell County.
Building the basic introduction to new individuals builds mutual confidence and encourages reaching out to one another to bridge gaps in future community planning decisions.
Iredell County faces issues that divide rather than unite, and this event will be a common bridge to unite all citizens in conversations on relationship building and long-term problem solving, which is the goal of the Longest Table.
MOORESVILLE INTERMEDIATE TEACHER SUPPORT PROGRAM
MIS Principal Mark Cottone and Instructional Coach Sarah Dillard presented the school's successful Beginning and New Teacher Support Program, the goal of which is to cultivate "a positive culture where all staff members are valued through personalized support as we build professional capacity to benefit student learning."
The program was developed in the wake of realignment in the district with the opening of the new Selma Burke Middle School. MIS welcomed seven teachers new to MGSD, along with 10 MGSD teachers who were transferring to MIS. Two of these 17 are new to the classroom.
The program offers beginning teachers (year 1 – 3) resources, planning assistance and brainstorming ideas, support for differentiation of instruction, personalized professional development, peer coaching, co-teaching and lesson modeling opportunities, data analysis help, and technology use support.
Dillard has been meeting with each of the five rookie teachers weekly during their planning time to help them acclimate to the school, digital learning, and instruction and curriculum.
She also has monthly group meetings to continue discussing these areas as well as about trends from walk-through observations. In addition, Dillard connects them with resources and schedules class coverage so that new teachers can observe experienced colleagues at work.
New to MIS teachers were helped to get settled in their new environment, build team relationships, and obtain curriculum support and digital resources, as well as one-on-one support as requested.
New to MGSD teacher Danielle Walker lauded the support she has received, saying the school "walks the walk and talks the talk." Walker said the focus is on creating a sense of belonging and belief in the school's mission of doing what is best for students.
Walker said that teachers were treated as worthy and valuable assets and were empowered to ask questions and to seek support.
MGSD veteran Andrea White said that the transition to MIS after 22 years at Parkview has been wonderful, citing the supportive staff and administration.
Recognitions
Student of the Month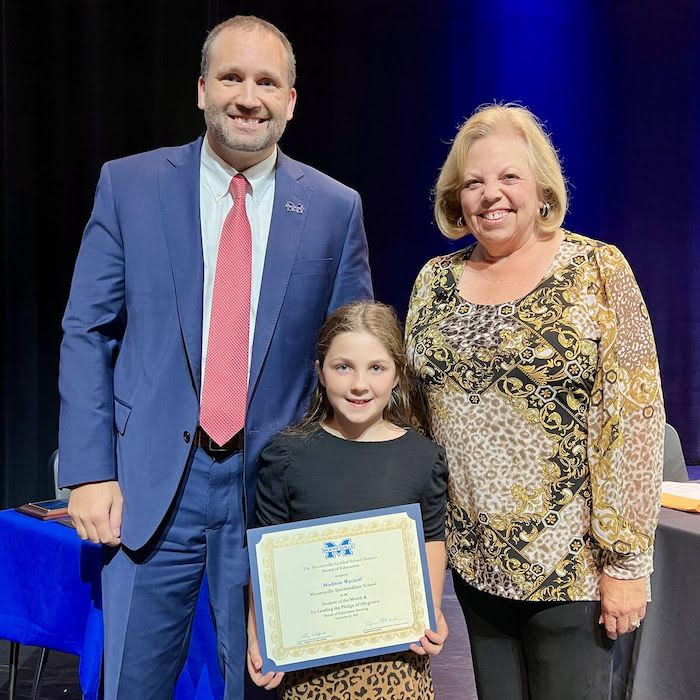 The MGSD Student of the Month and Pledge of Allegiance leader for September was Madison Wyckoff, a fourth-grade student at Mooresville Intermediate School. Madison was selected by her teacher Mrs. Samuel and music teacher Ms. Jack.
They said Madison "always chooses to do the right thing, is kind to others, lends a hand, and is respectful to her teachers. Madison is a sweet, hardworking student, and goes out of her way to help others around her."
"She is always the first student to offer to pair up and be a mentor when needed, while working with students with special needs. She makes it a point to stop and say hello to these classmates when she sees them throughout the school."
"Our Exceptional Children teachers' say that their students light up when they see Madison, and thrive on her interaction with them. She is a shining example for her classmates, as well as adults, on how to make people feel included and special."
"Madison shows up to school everyday with a positive attitude and a willingness to learn. She is truly a joy to be around!"
Artists of the Month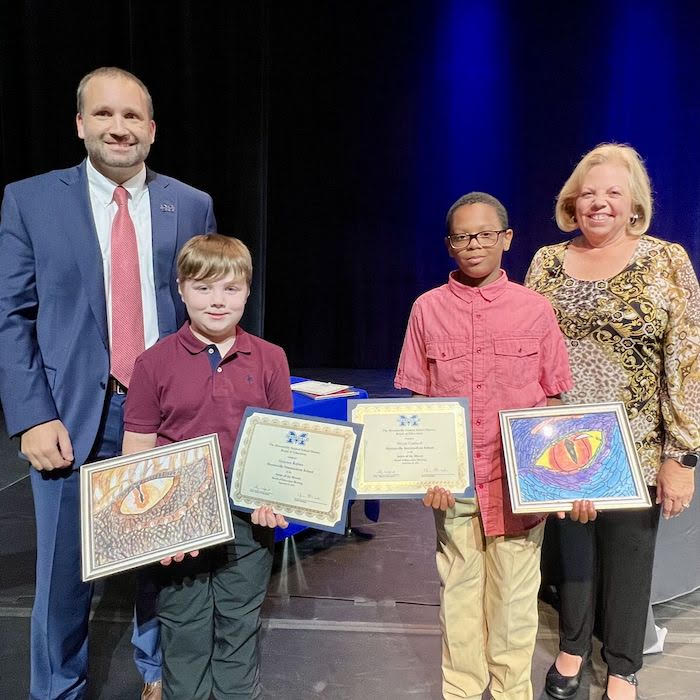 Grayson Rahtes, Isabella Hyman, and Micah Caldwell were honored as MGSD Artists of the Month after nomination by MIS art teacher Mrs. Crawford,
"These artists have all created an up-close realistic dragon eye this month while studying the art concept of Realism. All the dragon scales, shading and color were done from scratch in the MIS art room."
Crawford described Rahtes as "a quiet artist, but a detailed one at that. Working hard, but staying humble is something he has always been good at. It is very obvious to all that Grayson takes his artwork seriously and practices his skills often."
"His older sister, Logan, a Mooresville Middle School student, is a great role model for that as well. Grayson is very talented and kind and I know his family is so proud of him."
Crawford said that Caldwell "is a careful planner. He is always making artistic choices that will benefit his artwork's end game. Micah is always helpful and willing to coach any of his classmates to feel confident in their work."
"In his work, he uses bold colors and shading techniques to create one of a kind art that keeps the viewer entranced. Micah and all of his siblings are very creative and I know his family is proud of him as well."
Crawford said Hyman, who was unable to attend Tuesday night, "is an imaginative creator! She is always filling her spare time with hand drawn huskies or other well thought out drawings. I love Isabella's style of art, and I could pick it out as hers every time because it is so unique and well drawn."
"She is creative, elaborate and so determined to add all the fun elements into her artwork."
ABCD Award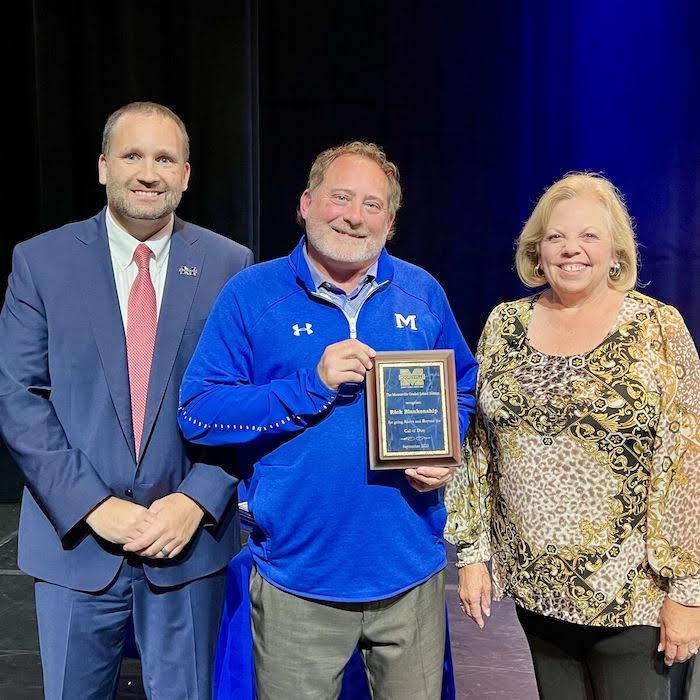 Each month the Board honors a district employee who goes "above and beyond demonstrating" a core value of the district. Rick Blankenship, Teacher Assistant at Mooresville Intermediate, was recognized as the September ABCD Award honoree for his efforts to demonstrate authentic relationships as part of his work.
Rick, nominated by the MIS administration and Mrs. Vaughn, "made it known that he was only here to give back to the Mooresville community. Now when students walk into MIS, they can always expect to see Mr. B's huge smile and high-five waiting for them."
"He develops authentic relationships with students of all ages and abilities. He makes them feel welcome and safe at MIS. Mr. B always wants feedback and takes it to heart to make himself better. Watching his interactions with the different students in their time of need is exactly what you hope to see in a school environment."
"His interactions with fellow staff members and students, especially students with high needs, are genuine and caring. He does everything he can to ensure that kids get on and off the bus safely each day and is willing to jump in to help wherever he can. He mentors multiple students on a consistent basis, using a check-in/out format."
"He also runs our "Men in the Making" program where he teaches our boys essential life skills, such as tying a tie, shaking hands, and properly greeting someone. His presence and work ethic embody our TEAM motto here at MIS. We are blessed and honored to have Mr. B at MIS!"
Spotlight on People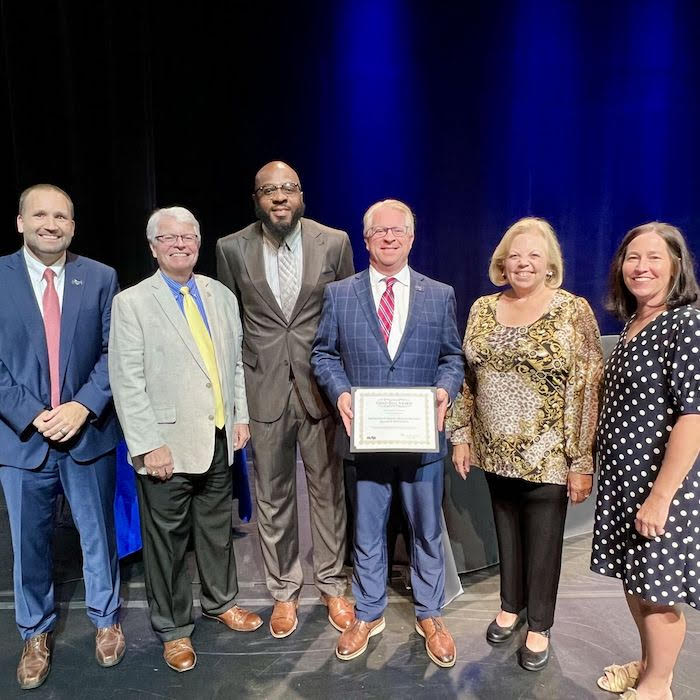 The MGSD Board of Education received the Gold Bell Award by the North Carolina School Boards Association (NCSBA). This award is for training excellence and commitment during the 2022-2023 academic year.
NCSBA recognizes school board members each year for individual and whole-board training accomplishments, and the Gold Bell Award is the highest honor awarded to districts whose board members earn 12 or more hours of professional development and training during the year.
This award reflects the MGSD school board's dedication and commitment for continued training and professional development. Members earned a combined total of 320 credit hours during the 2022-2023 school year.