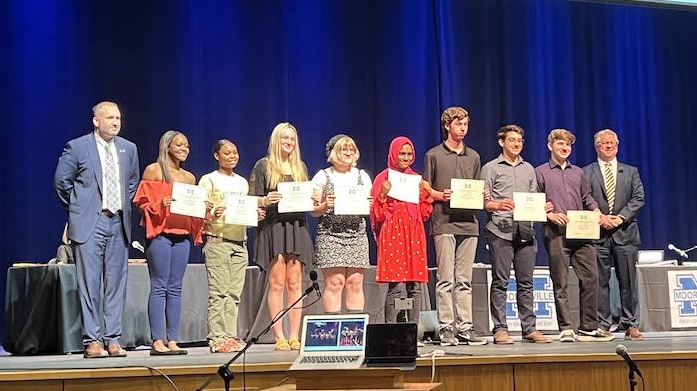 BY DEBBIE PAGE
The Career and Technology Education (CTE) program celebrated the success of its students in the SkillsUSA competitions and presented its improvement plan to Mooresville Graded School District Board of Education last week.
MGSD had 18 high school students participate in the 2023 SkillsUSA State Leadership and Skills Conference in April, with 14 winning medals for their hard work and accomplishments with the help of their advisors Mooresville High School CTE Coordinator Julie Blocker and CTE SkillsUSA Advisors Renee Parkman, David Sharpe, Joe Sauve and Christina Nuss.
Tyler Davala and David Saraco were first-place winners in Additive Manufacturing, the process of creating an object by building it one layer at a time. Additive manufacturing can refer to any process where a product is created by building something up but typically refers to 3-D printing. The pair will compete in the SkillsUSA national competition in Atlanta in June.
Khadeejah Saleem also placed first in Medical Math and will move onto the national competition. Vincent Bindus also placed first in Drafting I at the state competition.
Clair Slusser placed second in the state in Computer Programming, with third-place finishes earned by Isabella Deal and Elizabeth Decker in Additive Manufacturing and Kameron Bartley in IT-Shirt Design.
Fourth-place winners in Broadcast News Production were Reese Wilson, Kendall McKinney, Meagan Bailey, and Makenzie Harrington. Brianna Crawford and Shianne Williams placed fifth in Digital Camera.
Other accomplishments this year included the Academy of Engineering (AOE) Inaugural Cohort Graduation, with 25 of 43 who entered the program in ninth grade completing the academy requirements. Graduates and their parents were honored at a dinner in April. Forty-two freshmen are entering the program in 2023-2024.
Twenty-five students were also inducted into National Technical Honor Society, bringing the total membership to 42.
MGSD CTE PLAN
MHS CTE Coordinator Julie Blocker presented the 2023-2024 CTE Program Plan for board approval, which passed unanimously.
Focus Areas
Focus areas for 2023-2024 include alignment of middle school CTE courses between Mooresville High and Selma Burke Middle Schools, increasing credential attainment, and creating new articulation agreements with Mitchell Community College.
The department will also prepare an MGSD CTE career continuum for grades 5-12, introduce all students and their parents in grades 6 to 12 to Major Clarity, and implement career awareness activities in the fifth grade.
Blocker also reported the guidance of business and industry advisory boards in guiding CTE programs. The Automotive Advisory Board met in October and May to discuss the program and learned the automotive shop expansion is expected to be complete in August.
The Career Bridge Advisory Board combined with the NAF Academy of Engineering Board to give advice in meetings held in October and March.
CTE Outreach
Under the direction of Career Development Coordinator Kevin Wilson, the CTE department offered a wide array of career development events for students this year. Twelve CTE field trips occurred this year in grades seven through 12, including a mix of college and university tours, industry visits, iFly, the auto fair, ZMax, the NC Zoo, and Career on Wheels.
The department also held a career fair in April, welcoming 30 businesses to talk with juniors and seniors about career opportunities. Internships were also a popular option this year, with 27 participating in the fall, 35 in he spring and 20 upcoming this summer.
Three students participate in apprenticeships, with one working with Doosan in Statesville and two with Apprenticeship 2000. Other CTE efforts include guest speakers at MMS and MHS throughout the year, work-based learning and career and college promise classroom presentations reaching 832 students, MMS CTE classroom visits prior to registration in March, and the MMS Learn, Create, Share night.
The staff also conducted MMS and MHS MajorClarity classroom visits to complete interest inventories and begin four-year plans.
MajorClarity, a tech platform that helps ensure that every student's education leads to a successful career outcome through either a four-year degree program or entering the workforce, connects career "test-drives" to academic planning and postsecondary decision-making and leads to a 189 percent increase in students building career-aligned plans of study, according to the plaform's website.
CTE Certifications
Many CTE students also achieved certifications this year, with more being added each day as students take certification tests. Blocker reported the following certifications earned through May 1:
Adobe Illustrator – 51
Adobe Photoshop – 33
Adobe Premiere Pro – 9
ANSI Food Handler – 134
ANSI Food Manager – 23
ASE Entry Level Brakes – 3
ASE Entry Level Maintenance & Light Repair – 5
Autodesk AutoCAD – 34
Basic Life Support – 21
CPR and AED – 58
FAA Trust – 55
First Aid – 115
Maintenance – 7
NCCER Core – 16
NCCER Carpentry – 5
NCCER HVAC – 1
OSHA 10 – 43
Quality – 4
S/P2 Auto Pollution Prevention – 97
S/P2 Auto Service Safety – 101
Safety – 8
Stop the Bleed – 23
Venture Entrepreneurship – 4
SUMMER CAMPS
CTE will offer Summer Accelerator Camps this summer, with the first two weeks focusing on introducing rising fifth- and sixth-graders to CTE. Eighty-three students registered for the program being offered at MMS.
The third week is being offered to rising ninth graders at MHS, with 24 students registered. Students will attend four class rotations with hands-on projects introducing them to CTE courses at MHS. On Wednesday, they will visit UNCC to learn about career awareness and participate in maker activities.
CTE Courses
New MHS CTE Courses include Python Programming (2 sections), Sales 2 (1 section), and Drone Technology 1 (2 sections).
Growing pathways include Advanced Manufacturing (2 sections), Metals Manufacturing (2 sections), Electrical Trades (2 sections), and Drone Technology (3 sections, including fundamentals).
To align middle school courses, each middle school will offer the same three CTE electives to all 6th, 7th and 8th grade students: Exploring Family and Consumer Science (foods, nutrition, wellness, interpersonal relationships, and childcare), Exploring Careers in Information (technology and STEM), and Exploring Careers (business, health science, and the trades).
New Equipment
The CTE Department has also acquired new equipment to teach its expanding curriculum, including:
● iMac lab replacement – $57,000
● ZSpace 3D computers – $124,494.42
● iPad cart for Selma Burke (SBMS) – $17,000
● 3D printers for MMS and SBMS – $10,000
● Makeblock STEM robot kits for MMS – $3500
● Lathe for metals manufacturing – $16,000
2023-2024 Budget
Blocker reported to the board that the months of employment (PRC013 funds) provided by the state is falling from 328 to 319. State funds (PRC014) are rising from $103,057 to $105,377. The federal PRC017 fund allotment has not been released for 2023-2024 but for the 2022-2023 school year was $53,776.