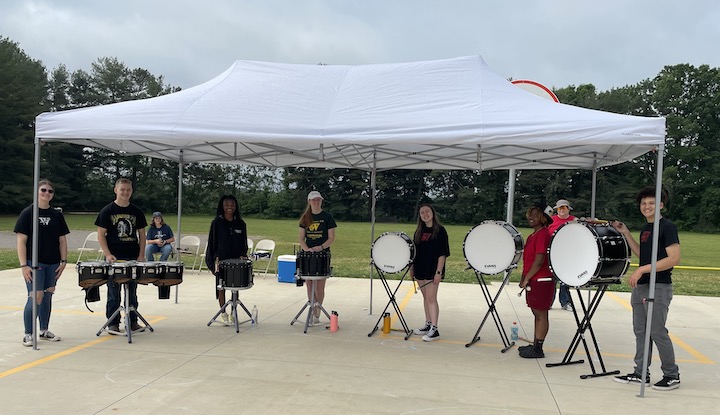 BY KARISSA MILLER
Scotts Elementary School students, teachers and staff enjoyed a day immersed in art, song, music, dance and more to celebrate the school's designation as Iredell-Statesville Schools' A+ arts-integrated magnet school.
Kindergarten through fifth-grade students visited six different stations, which were set up throughout the school, including:
• West Iredell High School chorus, band, drum line, theater and art students;
• Modern dance and exercises led by Betty's School of Dance owner Natasha Marko and some of her staff members;
• Mt. Nebo Baptist Church Pastor Brian Eades, who performed the Dulcimer; and
• An area where students created their own art with chalk
"It's a true celebration of the arts day. It exposes our students to a variety of things not only they'll be able to do in school when they move onto middle and high, but also things that they can also learn outside of school. They are getting to not only get to sit and listen, but they get to participate," music teacher and A+ coordinator Saralyn Bates explained.
In addition to all of the activities, art teacher Amanda Privette organized a schoolwide 3D butterfly art project that will be setup in the hallway.
The drumline performed some different cadences and then students had the opportunity to try out the different instruments.
"Kids were highly engaged, excited about the activities. I saw kids clapping along in the hallways," Bates said.
At the art station, students were using shapes to draw and create their own cakes with chalk.
Bates said that former Scotts students who were in the A+ arts program are starting to come back to the school. It's nice to have them visit, she said.
"It's sentimental. I haven't been here in a while. It's good to have a positive influence on students," said Lance Bowman, a sophomore at West Iredell High who helped with the theater improvisation and warm-up games.
Aidan McCarthy, a fourth-grader, said that his favorite station was the dulcimer demonstration.
"I like that it's A+ (school) and that all of us can work together, that we have good teachers that provide learning for us," McCarthy said.
School staff members said they are thankful for all of the participating community members and the students who came to the school to teach the students.
Photos