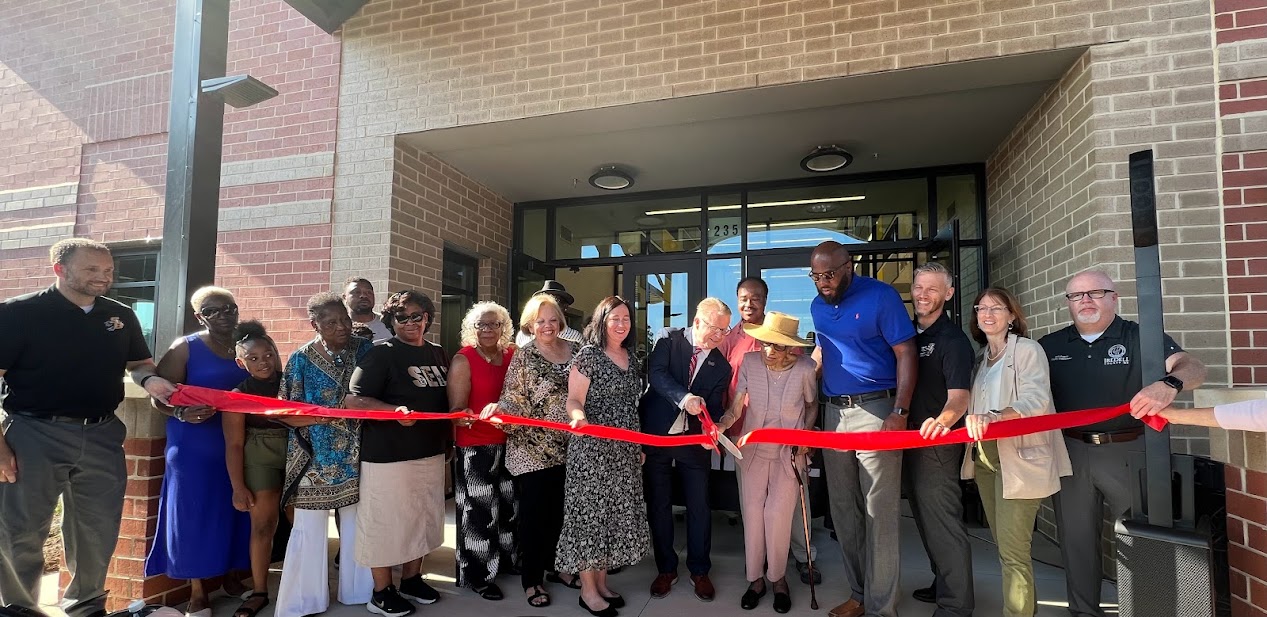 BY DEBBIE PAGE
Mooresville Graded School District officials, Iredell County leaders and special guests cut a ceremonial ribbon on Thursday to officially open MGSD's Selma Burke Middle School.
MGSD Board Chair Greg Whitfield welcomed about 100 guests to the ceremony and tour of the new facility, including family members of the school's namesake, "the people's sculptor" and Mooresville native Selma Burke.
"Selma Burke summed up her life as an artist by saying: 'I really live and move in the atmosphere in which I am creating;' so too may our students have the opportunity in their new middle school to live, learn, and grow," Whitfield said.
After thanking the citizens of Mooresville and Iredell County for supporting the 2020 bond that provided funding for the school, Whitfield said SBMC will "serve our district's children and provide educational opportunities for many generations."
Whitfield and Iredell County Board of Commissioners Chair Melissa Neader then raised the school's American flag for the first time.
MGSD Superintendent Jason Gardner shared details about the life of Harlem Renaissance sculptor Selma Burke with attendees. Her talent and creativity emerged as a child, when she used clay from the nearby river bed to sculpt her art.
"I shaped my destiny early with the clay of North Carolina," Burke once explained.
Though art was her passion, Burke earned a nursing degree and used her earnings to fund her artistic passions, later attending art school in New York City and then receiving a scholarship to attend Columbia, where she earned a Master of Fine Arts degree.
While serving in the U.S. Navy in World War II, Burke suffered a back injury. During her recovery, she won a contest to create a bronze relief portrait of President Franklin Roosevelt. Above the portrait, Burke listed four freedoms: the freedom from want and fear and the freedom of worship and speech.
After studying art in Europe, Burke spent the rest of her life teaching art and inspiring her students. Her final sculpture depicts Dr. Martin Luther King and stands in Marshall Park in Charlotte.
Superintendent Gardner presented Selma Burke's family members with a commemorative brick inscribed with the school name, opening date, and the Bears logo and a painting of a student by Mooresville High School student Web Montgomery in 2015.
Burke relative Eric Simelton expressed the family's appreciation. Another mentioned Burke's formerly enslaved grandfather, who said he traded his chains for a college degree and inspired his family members to pursue and value education as well.
Calling Burke a "trailblazer" and "pioneer," the family member said every student who enters the new school has a chance to blaze their own trails, create, love, and put their mark on society.
She urged the community to support teachers, students, and parents as all work to help SBMS students find their own paths in the world.
Gardner recognized elected officials and thanked MGSD Assistant Superintendent of Secondary Education Michael Royal and Director of Maintenance David Martin for their many hours of work in guiding the facility construction with architect LS3P's David Bellamy and Barnhill Contracting Company builder Martin Moser.
Royal led a tour of the facility, featuring digital display screens, a media center with soaring ceilings and flex spaces for students and staff, and classrooms and labs with furniture on wheels for easy re-arranging for instructional needs.
He also showed off the spacious gym and auxiliary gym, the football field, track and field areas, baseball field, and large brick concession stand and restrooms.
Other areas on the tour included the cafeteria and its adjacent outdoor dining area, career and technology education areas, and arts and music spaces. He also displayed mockups of a Selma Burke mural to be installed and the SBMS Bear mascot that will appear throughout the facility.
Halls are color coded – teal for sixth grade, orange for seventh grade, and gold for eighth grade — for ease of navigation for students and visitors.
The final construction tasks are being finished in the coming days, and teachers can begin moving into their classrooms next week, according to SBMS Principal Dan Miller, who expects an estimated 640 students when classes begin in August.
"It's super exciting. The building, the space is just phenomenal and really beautiful. The community has been fantastic. We've done several events just to try to get people excited about being part of Selma Burke," Miller said.
"Seeing this come to fruition and knowing that we will able to open our doors and have kids and our teachers in this building is just amazing."
Sixth- and seventh-grade orientation will also take place next week, with eighth-grade leaders taking students on tours while the building details are completed.
Photos