FROM STAFF REPORTS
A Harmony woman who was wanted on several felony charges, including attempted murder, was apprehended by an Iredell County Sheriff's Office deputy.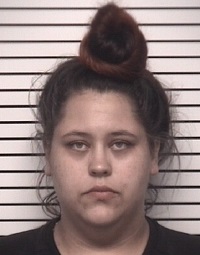 Sheriff Darren Campbell announced the arrest of Kimberly Nicole Hart, 31, of Highland Point Avenue, Harmony, in a news release Friday.
Deputy E. Rhoney conducted a traffic stop on a vehicle driven by Hart at the intersection of Jennings Road and Friendship Road for a motor vehicle violation on Wednesday, July 26.
Deputies ran Hart's information through a national database and learned that Hart had several outstanding warrants for her arrest in Mecklenburg County, according to the news release.
Deputy Rhoney arrested Hart and transported her to the Iredell County Detention Center, where she was charged with Felony Attempted First-Degree Murder, Felony Assault with a Deadly Weapon with Intent to Kill, Felony Conspiracy, four counts of Felony Discharge Weapon Occupied Property, and Felony Accessory After the Fact.
Magistrate T. Thompson issued Hart a $1 million secured bond.