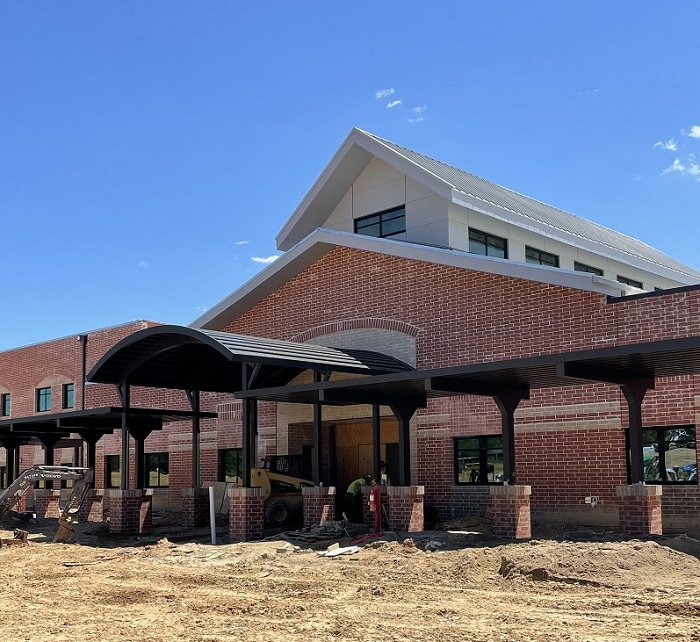 BY MIKE FUHRMAN
Construction on Mooresville Graded School District's new middle school is on schedule, and district officials said it will be complete in time to open when the 2023-2024 school year begins in August.
MGSD officials recently provided a behind-the-scenes look at Selma Burke Middle School to Iredell Free News. The nearly $50 million school was funded by a school bond approved by voters in 2020, bond reserve funds and capital funding provided by the Iredell County Board of Commissioners.
Crews will be busy over the next couple of months painting and installing flooring, ceiling tiles and lighting. Furniture is scheduled to be delivered and installed the week of July 10.
An official ribbon-cutting will be held this summer, followed by an open house for students and parents on August 7.
Students begin classes on Tuesday, August 9.
"The school will be ready," Superintendent Jason Gardner said. "We're excited to add another modern school to our community."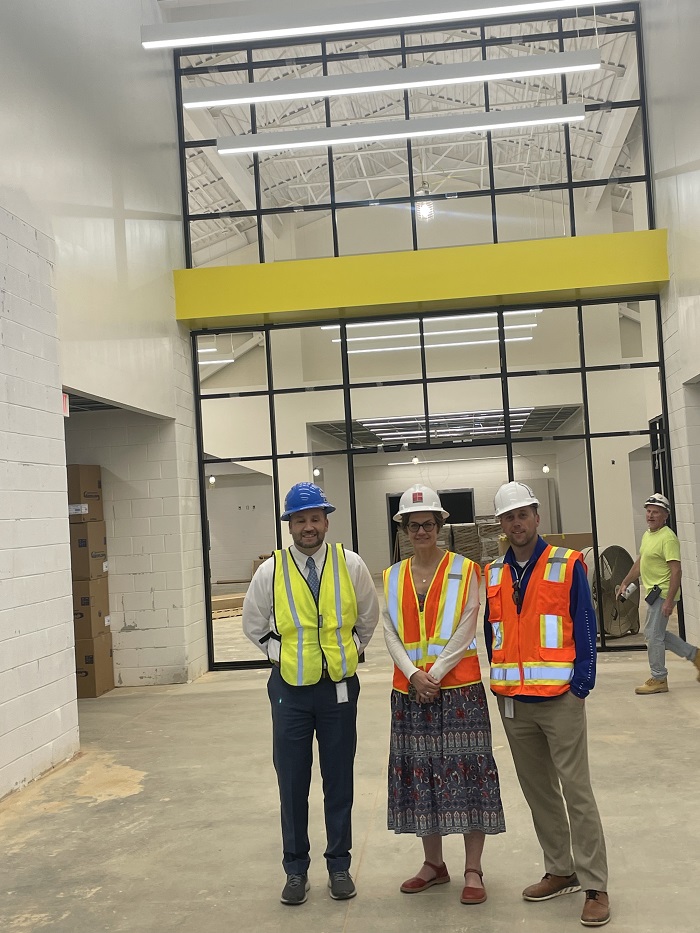 MGSD broke ground on the project in December of 2021.
The school has a capacity of 900 students and is expected to open with an enrollment of about 650. There is enough room on the property to add an elementary school in the future, although district officials said that would require significant site work.
The new middle school, which is located off Rinehardt Road, covers about 130,000 square feet. There are separate wings for sixth- and seventh-graders and the eighth-grade wing is above the seventh-grade wing.
The spacious library will be able to accommodate three classes simultaneously and also includes an area for staff development. There are also separate classrooms for chorus/drama with a built-in riser and a large band room with plenty of storage.
In addition to a large cafeteria, Selma Burke Middle has a full-size gymnasium, which is waiting for the hardwood floor to be painted and sealed, as well as an auxiliary gym, and large locker rooms for boys and girls.
When you step out the rear entrance, there is a patio area with picnic tables that will overlook the football/soccer field and asphalt track. Nearby, baseball and softball fields are under construction, along with a central concession area and restrooms.
From the 3D printer planned for the STEM area and the kitchen appliances in the food/consumer science classroom to the multimedia recording studio and the kiln in the art room, the school has all of the features you would expect in a modern school. All classrooms are equipped with flatscreen monitors.
Assistant Superintendent Michael Royal credited Barnhill Contracting Co., which is managing the project, and architectural firm LS3P Associates for keeping everything on track.
"We're meeting all of our critical deadlines from a scheduling standpoint," Royal said. "We'll be ready to go."
The school will have a staff of about 55, including Principal Dan Miller, who began work in January. He's been involved in construction meetings and working to hire staff, including two assistant principals.
Photos