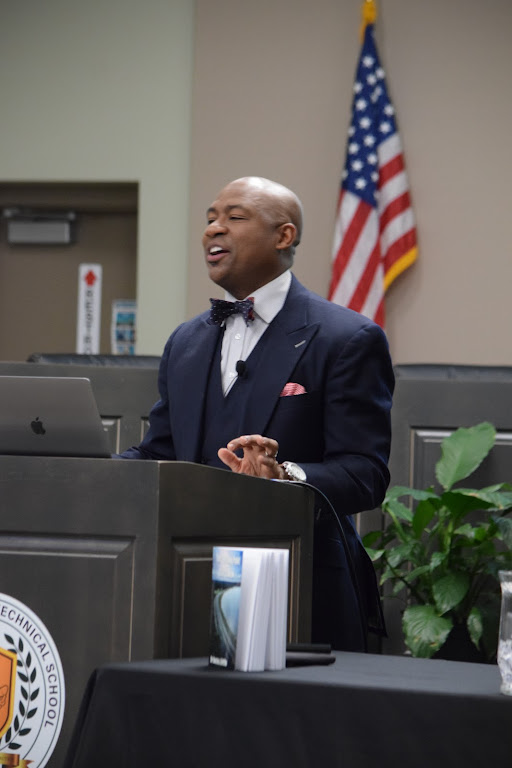 BY DEBBIE PAGE
Town Manager Ron Wyatt welcomed about 75 community members who gathered to honor the life of Dr. Martin Luther King Jr. during the second annual Town of Troutman MLK Breakfast on Friday at the Career Academy and Technical School.
After enjoying a breakfast prepared by Chef Nate Turner's culinary arts students, attendees heard an inspiring keynote address by Statesville native and South Iredell High graduate Kenston Griffin.
Mayor Teross Young quoted Dr. King to set the stage for Griffin' speech: "The ultimate measure of a man is not where he stands in moments of comfort and convenience, but where he stands at times of challenge and controversy. The true neighbor will risk his position, his prestige, and even his life for the welfare of others."
Tevin Carr, an Statesville High graduate who earned a law degree at Elon, read Janet Autherine's poem, which reminded the audience that:
"There can be no silence in the face of injustice
that with every resurgence of hate, we can join hearts and hands
and harness the power of love to march, legislate, show kindness,
open our hearts to the truth that differences are not deficiencies,
and create a bigger table that welcomes all our brothers and sisters.
"Dr. King taught us that the strength, conviction and action of one person
can change the world. Continue to walk in the footsteps of a King. Never
stop fighting for the right to live with honor and dignity, as one human race."
Griffin developed the poem's theme in his "Dawning of a New Era" keynote, saying King put himself forward in civil rights causes to inspire others to do the same. He also lauded "shero" Coretta Scott King for standing behind King as his strength, inspiration, and family anchor.
He thanked the council, mayor, police officers and other leaders present for their commitment to the town and their willingness to work for the good of their community, but warned they cannot rest on their laurels because Troutman is the center of change with many eyes upon it.
"The time is always right to do the right thing," Griffin said, paraphrasing Dr. King and urging the community to move forward with courage.
Griffin next cited WhatToBecome.com data about the power and success that comes from embracing diversity:
Seventy-six percent of workers say they value diversity in the workplace.
Forty-three percent of companies with diverse management report higher profits, and businesses with diversity practices are 36 percent more likely to perform better than peers.
Seventy-two percent of companies with gender equality practices have higher profits and productivity, and 78 percent of employees believe Diversity Equity Inclusion (DEI) practices offer a competitive edge.
Women now head 15 percent of Fortune 500 companies, and the diverse millennial group (age 25-44) now makes up about 35 percent of the workforce. In three years, estimates indicate employees from underrepresented groups will hold about 30 percent of leadership positions.
Griffin said that after the Civil Rights Movement, children of all races grew up in school together and forged relationships and communities to become one race, the human race.
He also urged Troutman and Iredell County to focus on things that will draw young people to the community to live and work. He congratulated Iredell-Statesville Schools Superintendent Jeff James for his efforts to attract young, diverse teachers to reflect the community in which they teach.
"Our communities are different. Our communities speak multiple languages."
He urged Troutman leaders to look at using bonds to build parks, sidewalks, and other amenities that will lure companies and young people.
Though some resist change, Griffin reminded the audience that "change is inevitable. Change is going to happen whether we desire it or not. Not only will change continue to happen, but if 'it' doesn't change, you will."
However, Griffin said Troutman, with its close-knit community and small town atmosphere, should not "let the things we see outside in this world begin to change who we are inside."
"The world will start to make you think that we can't work together, that we should be separate, that we should not work as one in the community. Dr. King would say 'that is not what I stood for.' "
"Dr. King would say, 'what I stood for was equality. What I stood for was having a dream, but we have to do things to have a dream.'
"Dr. King had a dream, but do we?"
Griffin then asked each table group to talk for five minutes to come up with two feasible ideas to share with town leaders that would inclusively enhance Troutman.
To inspire folks, Griffin also created an acronym for Troutman: "Trust. Respect. Own our Town. Unite. Try new things. Make necessary adjustments. Attract what you want. New era."
Griffin said that as Troutman enters a new era, it should not forget about the past but forgive, to leave hate behind and embrace love. "If we love each other, what can't we do?"
Griffin also applauded leaders from throughout the county who are meeting on Tuesday to talk and meet each other where they are to grow and move forward together.
To close the event, vocalist Robin Johnson moved the audience with her rendition of the gospel song, "I Need You to Survive."
Other dignitaries attending the event included Mayor Pro Tem Paul Henkel, Town Council members Felina Harris, George Harris, Eddie Nau and Jerry Oxsher, County Commissioner Brad Stroud, I-SS Superintendent James, and I-SS principals Larry Rogers, Robert Little, and Bryan Paslay.
Young and Wyatt expressed special thanks to Parks and Recreation Director Emily Watson for organizing the event, with the help of town and CATS staff.
After the breakfast, many of the attendees joined in community service projects as part of Troutman's "Day of Action," including improving the entrance areas of Troutman Elementary and Troutman Middle schools, trimming shrubs that obstructed drivers' vision along these entrance areas, painting yellow warning stripes sidewalks at the busy Depot intersection, and power washing the Depot structure and picking up any litter in the area.
Photos