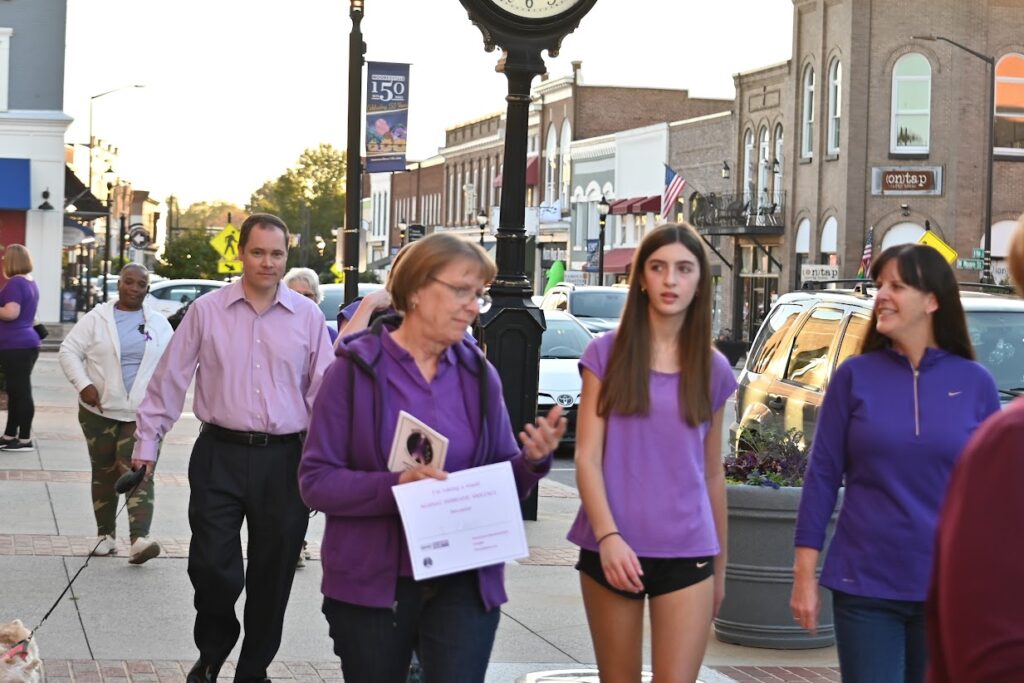 BY DEBBIE PAGE
On early Tuesday evening in downtown Mooresville, a group of purple-attired advocates "Walked a Mile in Their Shoes" to bring understanding of the devastation caused domestic violence as part of awareness month activities sponsored by the Iredell County DV Task Force.
Misty McGill, My Sister's House victim advocate and chair of the task force, thanked attendees for their dedication to the women and men who often suffer in silence as victims of physical, sexual and emotional abuse, belittlement, and control.
"Breaking the silence is really important in our community," she said.
Organizers hope that events like Tuesday's walk will encourage those who feel trapped in relationships where there is domestic violence to reach out for assistance for themselves and their children's safety.
Prior to the walk, Robin Shea, victim services coordinator for District Attorney Sarah Kirkman's office, read the poem, "I Got Flowers Today," which depicts rising incidents of domestic violence, smoothed over with flowers, until the last flowers are delivered, after her death at the hands of her abuser, to her funeral.
Participants made signs with messages about domestic violence and set off on the walk from the Charles Mack Citizen Center.
Support for My Sister's House
Fifth Street Ministries also has Belk discount tickets available for $5. Proceeds are donated to My Sister's House. Donors get 25 percent off on their Belk shopping purchase on November 3-5.
My Sister's House is domestic violence/sexual assault program. A 24-hour crisis line (704-872-3403) is offered in the region, as well as one-on-one case management for residents of the shelter, counseling for shelter guests and victims in the community, and court advocacy for both residents and the community. My Sister's House can shelter up to 34 victims and children.
Photos