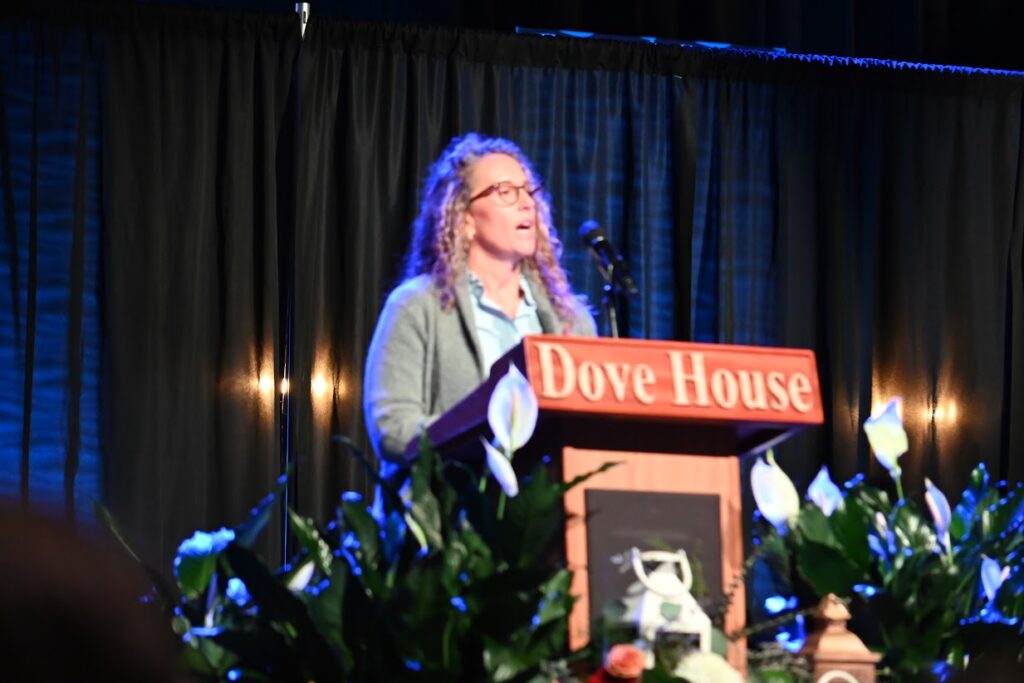 BY DEBBIE PAGE
At the Dove House Children's Advocacy Center luncheon on Tuesday, Executive Director Beth McKeithan revealed that over 65,000 children are sexually abused each year in the United States.
"One in four girls and one in six boys will be sexually abused by the age of 18," McKeithan said. "At Dove House Children's Advocacy Center, serving Iredell and Alexander counties, we receive an average of four new reports of child sexual abuse every week."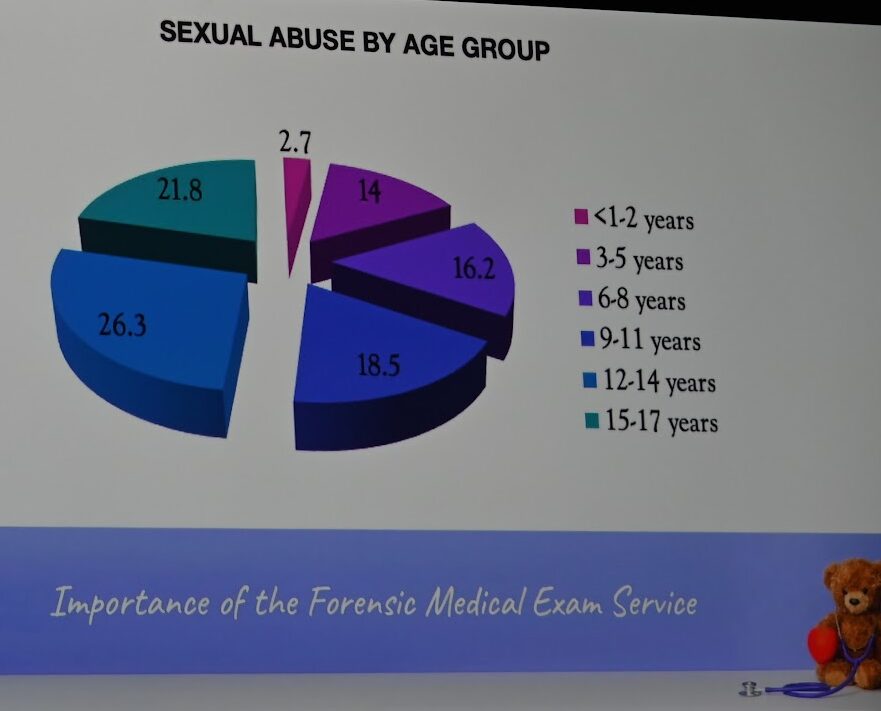 Dove House served 188 children involved in cases of reported sexual abuse in Iredell and Alexander counties in 2022.
"Our mission is to minimize trauma, promote healing, and enhance investigation and prosecution for child victims of sexual abuse through advocacy, intervention, collaboration, and education," the executive director explained.
McKeithan noted that that children of all ages, races, ethnicities, and economic backgrounds may experience sexual abuse. "It affects both boys and girls. It also affects children in all kinds of neighborhoods and communities," she said.
Dove House provides a wide array of services to child victims of sexual assault as well as their non-offending family members. All of the organization's direct services are provided at no cost to the family.
Since opening in 2002, Dove House has served more than 10,500 primary and secondary (non-offending family members) victims.
Dove House operates under the nationally recognized Child Advocacy Model, which is the least traumatic intervention for child victims, as well as the most efficient and cost effective community response.
All involved agencies work together on all reports of child sexual abuse, including the six law enforcement agencies having jurisdiction in Iredell and Alexander counties, the District Attorney's Office, the Department of Social Services in both Iredell and Alexander counties, the Guardian ad Litem program, medical and mental health personnel, and the Dove House staff.
McKeithan reviewed the main services Dove House offers. The child (if age 3 and up) is interviewed at Dove House by the team's forensic interviewer. Every interview is digitally recorded, and the recording is available to be used in court if the case eventually goes to trial.
Secondly, Dove House has two full-time victim advocates who work with client families, assisting them through the investigation and court process, providing emotional support, and making appropriate referrals.
Lastly, the child undergoes a medical exam, which was the focus of this year's program.
Every child who comes to Dove House meets with a medical provider in a child-friendly examination room that is fully equipped with state-of-the-art technology for efficient and effective collection of physical and photographic forensic evidence.
"Experiencing child sexual abuse can have many long-term impacts on a person's mental and physical health, including things such as unplanned pregnancies and chronic health conditions such as obesity or cancer, depression and PTSD, substance abuse, increased risk of suicide, and many others," said McKeithan.
"These medical providers are advocates for a multi-faceted approach that includes strategies and interventions at individual, family, community, system, and societal levels."
McKeithan added that many families are also facing the impacts of poverty, housing instability, lack of transportation, and high health insurance costs, which may be obstacles to getting the families and victims to engage in services.
"We want to make sure that when those children are at our center, they are getting the services that they so desperately need," she said.
After losing two local doctors who had volunteered for many years, McKeithan said the center went without a provider for a year and had to lean on neighboring centers to provide exams for the children.
"As you can imagine, we do not have folks knocking down the door to perform medical exams on child victims of sexual abuse," she explained.
However, the center now has two highly skilled nurse practitioners performing the vital exams under the supervision of Dr. Erin Carnes, the physician for Hospice & Palliative Care of Iredell County.
Nurse practitioner Heather Waleski said that seeing the youngest patients in emergency situations over her years in 17 years in nursing inspired her to get her nurse practitioner credentials and focus on child sexual abuse victims in her practice.
The patients she sees have "been robbed of childhood and innocence," Waleski explained. "I do this work to at least start the process of getting that smile back on their faces."
About 51 percent of the sexually abused children in North Carolina are 11 years old or younger. "We know the importance of doing education in schools with 'Safety First' with our elementary school kids," she said.
Some children disclose their abuse after having these lessons in school, added Waleski.
The medical personnel have to undergo hours of specialized training in child sexual abuse as well as undergo continuing education to perform these sensitive exams.
The medical examinations of the child clients include a full wellness exam, testing for sexually transmitted diseases (STDs) when appropriate, and use of specific exam techniques when a sexual assault has been reported.
In the case of an emergency or if the alleged assault has occurred within 72 hours, families will be referred to Levine Children's Hospital in Charlotte or Brenner's Children's Hospital in Winston-Salem, where evidence collection kits are administered by medical professionals who are trained in child sexual abuse care.
Waleski obtains an extensive medical history from both the adult and child separately and studies law enforcement documentation as well. Being interviewed separate from the parent, especially for adolescents, gives the child the opportunity to talk about their experiences again or to ask questions that might be embarrassing in front of a parent, such as about pregnancy or sexually transmitted disease.
The youngest child to get pregnant from sexual abuse in North Carolina was just 8 years old, said Waleski.
Mental health is a top concern because of increased suicidal ideation and self-harming behaviors among those experiencing child sexual abuse. She asks about their thoughts and worries as well as their physical injuries or concerns.
Many lack primary care physicians and have unrelated health issues that Waleski treats. Some also have poor dental care that they address as well.
"Ninety-five percent of the time, we will not have concerning findings on the exam. Reassuring them and their parents that because I cannot see that anything is different doesn't mean something didn't happen. The biggest thing we can do is believe our kids when they say something happened."
"Letting then know that their bodies are okay and that they are healthy is one of my top priorities," she said.
After the medical exam, the Dove House team makes a diagnosis and recommendations for followup physical and mental healthcare for the child and family.
Waleski touched on several sexual abuse cases, including a 10-year-old who contracted an STD that will affect her physically for the rest of her life. Another case was a seven-year-old female being sexually abused by the mother's boyfriend, and she had to have surgery to repair the damage. A three-year-old female also had to have repair surgery after being sexually abused by her father.
Waleski experiences the trauma of these stories every day, making her work very difficult emotionally. "But other days I have the opportunity to look a child in the face and say that you're okay, that your body is healthy, that I believe you, and none of that is your fault."
"That makes all the difference in the world to me to be able to continue to do this work."
District Attorney Sarah Kirkman, who is also a Dove House board member, said that the medical exams are important for all children's health and well-being. The specialized exams for the traumatized children who come to Dove House "let them know that someone cares about them, cares about their health, and cares about their safety."
They are also assured that their bodies are or will be okay and that they will get any treatment that they need.
The exams and interviews are also important in prosecuting offenders because children, especially those in crisis, may have trouble expressing themselves about something as personal and traumatic as sexual abuse.
"Because of this difficulty, children's statements or their testimony may seem less believable to a jury or a judge, and it may make children's statements seem to have less evidentiary value, but with medical exams, we can overcome that perception," Kirkman said.
The medical history provides another opportunity for children to explain the abuse that they may not have even fully understood at a young age.
The exam can also reveal things about the child's body and injuries that they cannot well express. The exam also corroborates the child's statement and testimony for more impact in court, and the medical provider also produces written documentation to help support the prosecution.
These medical personnel, considered experts in child sexual abuse, can effectively explain the evidence in a way judges and juries can understand, said Kirkman.
Commenting on the cases Waleski presented, Kirkman said one of the offenders was sentenced to 12 to 24 years in prison and another to 44 years in prison as a result of the work of the Dove House team and the bravery of these young victims.
SAFETY FIRST PROGRAM
"Safety First" is an age-appropriate educational program offered by Dove House that focuses on body safety and autonomy, teaching children that they have the right to control what happens to their bodies.
They learn to identify their own "safe adults" and how to run to or talk to a "safe adult" if they feel uncomfortable or threatened in any situation.
In the fifth-grade curriculum, "Safety First" also teaches the importance of internet safety, specifically protection against predators and cyber bullies.
"Safety First" was implemented into the Iredell-Statesville Schools in 2016 and has since been added to Alexander County and Mooresville Graded schools. "Safety First" consists of two short sessions per school year for all first- and fifth-graders.
FOR MORE INFORMATION OR TO DONATE
♦ Contact the The Dove House (2407 Simonton Road, Statesville) at 704-883-9814, email at info@dovehouse.us, or visit online at https://dovehousecac.org/.
♦ Resource booklets to talk age appropriately with children about protecting themselves from sexual abuse are available at https://dovehousecac.org/dove-house-resource-booklets/.
NC LAW REQUIRES REPORTING OF SUSPECTED CHILD ABUSE
If you suspect Child Abuse, you are mandated to report your suspicions according to North Carolina state laws. To report suspected abuse, call 911 to speak with a police dispatcher or call the law enforcement or social services agency covering the child's area:
♦ Iredell County Sheriff's Office: 704-878-3100
♦ Mooresville Police Department: 704-664-3311
♦ Troutman Police Department: 704-528-7610
♦ Statesville Police Department: 704-878-3406
♦ Iredell County Department of Social Services: 704-873-5631
What to do:
♦ Call 911 immediately if the child is in imminent danger.
♦ Make sure the child remains in a safe environment.
♦ Listen to the child.
♦ Make a report.
♦ Do not try to investigate.
♦ Do not confront the abuser.