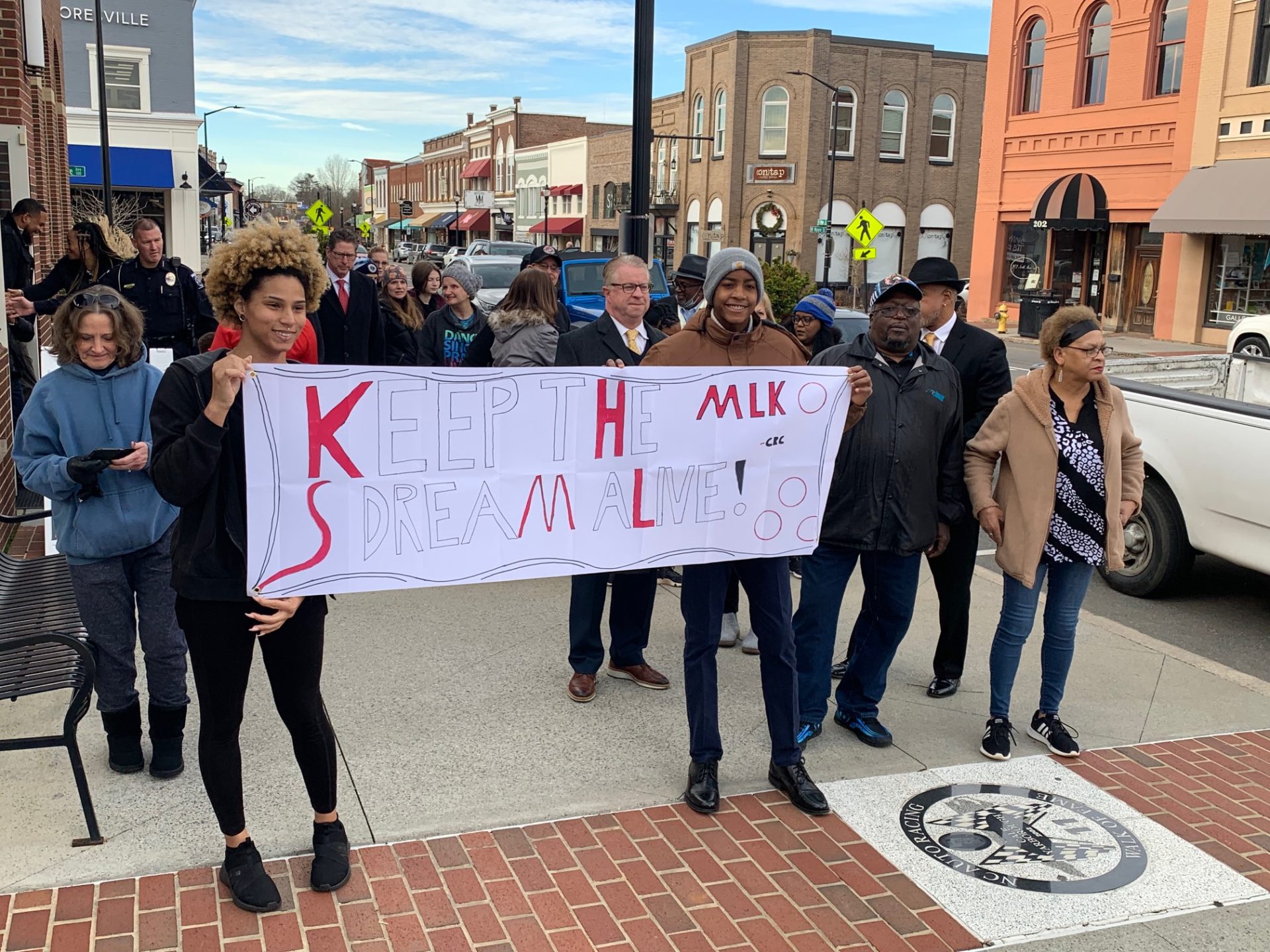 BY BRANDY TEMPLETON
The Town of Mooresville's Community Relations Committee hosted "Martin Luther King Jr. Day: Moving Forward Together."
Beginning with a peace walk at the Charles Mack Citizen Center, the event included prayers, a Mooresville Graded School District presentation, a preview of the documentary "Black Mooresville," remarks from South Iredell NAACP, brunch, a powerful message from the keynote speaker, and uplifting music.
Shelly McIver, who led the walk with her husband Pastor Sheldon McIver, led the group with the gospel hymn "Pass me not, O gentle Savior."
Inside the Citizen Center, saxophonist William Lee played well-known tunes, including Bill Withers' "Lovely Day," Cyndi Lauper's "True Colors," Michael Jackson's "Man in the Mirror."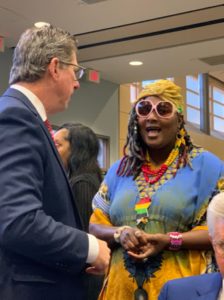 Mooresville Mayor Miles Atkins said he was honored to be a part of the town's celebration.
"It's a day of unity to bring people together," he said. "We need to see beyond skin color. This helps people get grounded and refocused on what's important so we can move forward together."
Master of Ceremonies J. Leon Pridgen II served on the MGSB for eight years and made a name for himself through television and in movies.
In 1963, Martin Luther King Jr. gave "arguably the most famous speech of the 20th century."
Nearly 60 years later, Pridgen said, many of the issues that inspired that landmark speech continue to divide America.
"We have to keep working, marching, fighting for inclusivity," he said.
Pridgen, who was named after a Baptist preacher appointed by MLK, asked those attending to ask themselves what their name means and what their mission is.
"There's a legacy in the name you have. Be inspired by your namesake and inspire people as you move forward. It will guide you where you're going."
Sunny Jordan, who serves on the Community Relations Committee, explained that annual MLK celebrations are important because they "move the nation forward exponentially."
"We must fight against segregation, poverty, and war," she said. "The work that started in the Civil Rights Movement is still not done. Disparities still exist and continue to grow between poor and rich."
Pointing to increased acts of aggression towards Black people and others, she asked the participants to make a stand with one of MLK's inspirational quotes.
"Let us rise up with greater readiness, let us stand with a greater determination, and let us move on in these powerful days, " she quoted.
Jordan also mentioned the importance of acknowledging Native American people's land and gave a moment of silence to the Cheraw and Catawba tribes who used to inhabit the land where the Charles Mack Citizen Center now stands.
MGSD Superintendent Dr. Jason Gardner said that the district "recognizes there's much work to be done, and will make sure every child receives a high-quality education every single day."
Children from the district presented "I Have A Dream," and South Iredell NAACP President Rev. Curtis Johnson spoke on the importance of knowing Black history.
"What plagues the Afro-Americans today is we can't go back in history and tell where we came from," he said. "To know our history is to know our greatness."
Keynote speaker Rev. Dr. Telika McCoy inspired the room with a powerful message about moving forward. She applauded all those who participated in the peace walk and came out to celebrate MLK's legacy.
"Aspire to move move forward together," McCoy said. "This is an aspiration that an entire nation should follow. Many cry 'peace, peace,' but refuse to do the thing that makes the peace."
All were encouraged to make a personal commitment to take action to do what's right.
"The time is always right to do what is right," she said, quoting MLK.
Again McCoy emphasized the importance of moving forward.
"If you walk backwards, you're never going to get to your desired location. Move forward in fellowship."
She encouraged the Black community not to "annihilate your opponents, but convert them and spark hope."
She shared the story of her great-grandmother Daisy Tatum. A mammy to a white doctor's children, Tatum relied on her faith in God and prayers to get her through.
McCoy believes her great-grandmother unselfishly prayed for generations to come
"She had hope in her heart," McCoy shared. "She got down on her knees and prayed so I could be where I am today, so we can be where we are today in 2023."
She told everyone to get on their knees, then stand up and do something.
"Continue to keep walking because the issues continue to exist," McCoy commanded. "Take personal responsibility to walk around by the side of those it affects directly because it affects us indirectly."
She closed by saying everyone can be hopeful today, "because love is going to have the last word," quoting a South African blessing and encouraging everyone to solicit the God of their Christian faith.
Mayor Atkins spoke last, wiping his tears away.
He explained that when planning Mooresville's 150 anniversary celebrations, the committee came up with the slogan "Cherish the past, forge the future," but had to change it after making a "hard reflection."
Not all residents were pleased with the motto, due to a history of Black citizens being excluded from white neighborhoods and being discriminated against socially and economically.
"Ordinance No. 62 was 111 years ago," Atkins shared. "It's in the past, but it's still relevant."
The Town of Mooresville is committed to being a more inclusive community. Town staff will reflect on the past, but be mindful of the future and attempt to advance MLK's values, the mayor said.
Echoing MLK and the other speakers of the day, Atkins read, "If you can't fly them run, if you can't run, then walk, if you can't walk, then crawl, but whatever you do, you have to keep moving forward."
After the closing remarks, Rev. McIver gave a community blessing, and everyone joined to sing "Lift Every Voice and Sing."
Photos