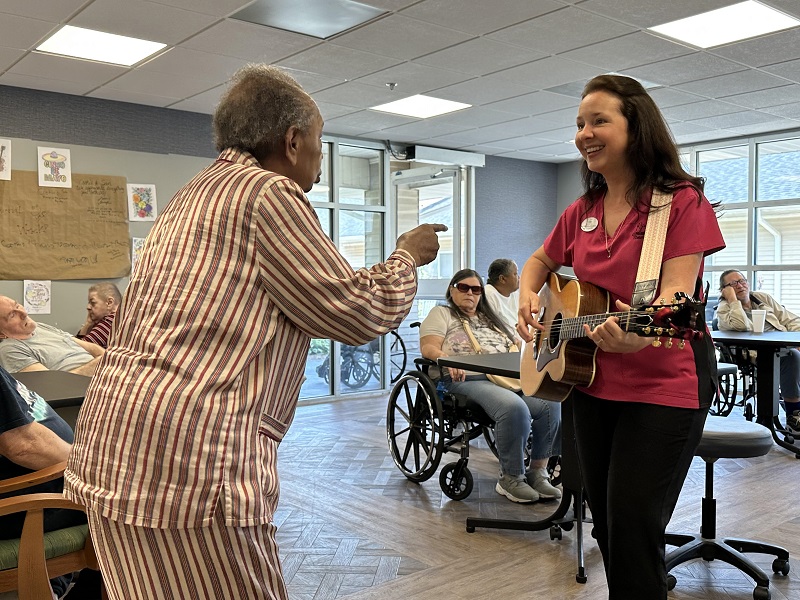 BY JAIME GATTON
When Meredith Whitlow walks into a room, she brings the party — and no one even realizes it's therapy.
Whitlow, a board-certified music therapist and founder/owner of Rejoice Music Therapy, recently visited Glenwood Rehab and Nursing in Mooresville, and the community's love for her was instantly evident.
"We like her the best," said Dorothy, a Glenwood resident who others call "Mayor."
Whitlow smiled. "I have the best job ever," she said.
She also points out, however, that it's not always a party: "Sometimes, I offer spiritual support, and sometimes it's end-of-life care."
While many music therapists work with children, 99 percent of Whitlow's clients are adults in skilled nursing homes and assisted living communities, memory care units, adult day centers, community centers and private homes.
While many people think music therapists are simply "entertainers," nothing could be further from the truth. In fact, Whitlow holds a bachelor's degree and a master's degree in music therapy, had to pass a board exam to become certified, and spends 100 hours in continuing education classes for recertification every five years.
Therapy has to be customized for individuals and groups, she said, and sometimes part of the job is playing crowd control.
"Sometimes in nursing homes, (residents) need to be stimulated, not calmed," Whitlow said. "But sometimes other groups don't need stimulation; they need to be calmed."
Anxiety and depression aren't uncommon in nursing homes, Whitlow said, adding that individuals often feel they can no longer make choices for themselves. Music therapy, she said, helps maintain social and verbal skills and stimulates recall. "Doing that gives them a chance to maintain or build self-esteem, reducing signs and symptoms of anxiety and depression. It builds a community within a building and empowers people to speak up, have opinions and make a decision … make a choice."
When nursing-home residents connect a song to a happy memory or time in their lives, it increases cognition and leads to better compliance with the health care that's being provided to them, Whitlow said. "It's like a ripple effect."
And, of course, music therapy gives the elderly an opportunity to work on their physical range of motion, through activities like stretching and — in Mayor Dorothy's case — dancing.
"We don't come in here to sit still," Dorothy said during Whitlow's high-energy cover of "Jailhouse Rock." "We might be old, but we ain't cold!"
Whitlow asked the group about Elvis and why he was shown on television only from the waist up.
"He was too sexual," Mayor Dorothy whispered. "He shook his hips. Ya had to be careful 'cause little children were watching."
Whitlow sang "Rock Around the Clock" and asked residents if they remember hearing that song played on the jukebox. That led to a discussion about the price of playing one song on the jukebox years ago — and how it increased from a dime to a quarter.
"I remember when it went up to 50 cents, then it went up to a dollar!" one resident said.
"It went up to a dollar?!" another responded in disbelief.
The 45-minute therapy visit with Whitlow was anything but boring. When she mentioned once that she had lost her train of thought, someone yelled from the back of the room: "We got pills for that!"
One group member in a wheelchair had to leave the session early for an appointment. Before leaving, she asked everyone to keep her family in prayer because her niece was in surgery for a heart transplant. The room erupted in cheers.
"She's been waiting on that a long time," one resident leaned over to explain, adding: "We're family."
Whitlow ended the session singing "Stand By Me" and — by popular demand — "Thank You For Being A Friend."
Whitlow is currently looking for office space in Mooresville, her hometown, so that she can take on an intern and have a place for people to attend individual or group therapy sessions. But for now she travels to them.
That's something to rejoice about.
For more information on Rejoice Music Therapy LLC and the benefits of music therapy, visit https://www.rejoicemusictherapy.com/ or call 704-978-8902.
EDITOR'S NOTE: This article was originally published in the June edition of "IFN Monthly."