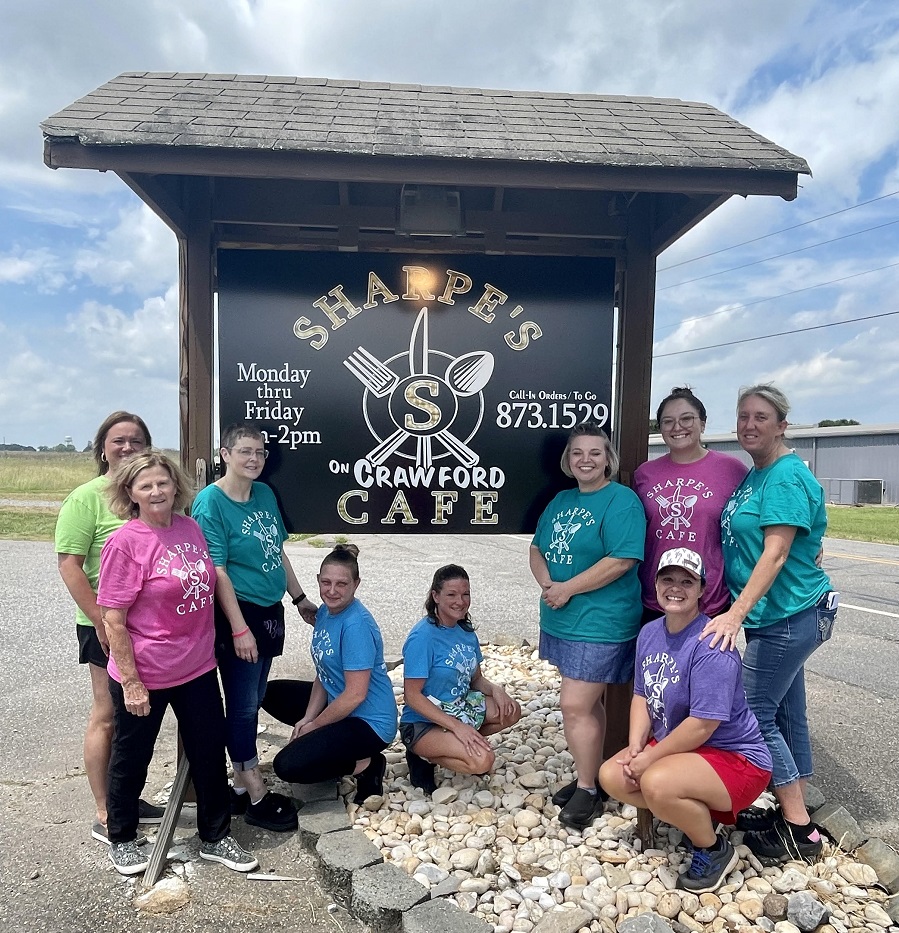 BY KIM McKINNEY
Amanda Sharpe was born into a family where hospitality is valued. Her mother invites family and friends into her home for dinner several nights a week, bringing together nearly 20 people.
Sharpe, the owner of Sharpe's Café on Crawford, inherited this love for feeding people and bringing them into the fold. She enjoys getting to know her customers and their families and learning about what is going on in their lives.
She has been known to sit down and pray with customers who are going through a tough time.
Food service, Sharpe explained, is her calling, and God has put her into this business.
Sharpe started working at the Harmony Café when she was 14 years old. She began catering years ago — doing realtor luncheons for her cousins and then expanding to events, including weddings at The Hitching Post, a wedding venue in Harmony.
Sharpe worked other jobs until an opportunity came up to work out of the former Cat's Restaurant in Harmony. She started serving homemade meals two days a week and continued with catering.
Then COVID-19 hit. And she lost every job she had.
In July of 2020, in the midst of the pandemic, Sharpe opened up a new Harmony restaurant and resumed her catering business on the side.
Eleven of her 14 employees came down with COVID at one point, forcing a temporary closure. A large corporate catering contract was canceled, along with orders for Thanksgiving dinner.
Sharpe and her employees took their knocks and steadied their resolve.
When Sunshine's Café closed in Statesville, Sharpe saw an opportunity to expand. The location has several nearby businesses and no competition for hungry lunchtime crowds.
While Sharpe's Harmony restaurant seated 30 customers, the new location on Crawford Road has room for 106 diners.
It was a big adjustment.
"The first week was crazy," she recalls. "We were not prepared. People told us we were going to be busy, but when you hear that you don't know what level of busy that is."
Overall, the transition has gone well.
"We'll never be perfect. People will come and go. Every day is a new day and it is a learning experience," Sharpe said.
In today's competitive labor market, you have to love the restaurant business to stay in it. Fortunately, she does.
While she knows her employees could be enticed by higher wages elsewhere, Sharpe hopes her staff shares her love for service and enjoy working in the restaurant.
Having customers who treat them well certainly helps make their workday better.
Sharpe's specialty is Southern home cooking. The menu features dishes she was raised eating, but she also loves reading church cookbooks for new ideas. She plans to start serving fried pork chops soon and is trying to figure out the right time to begin serving fried chicken.
She also hopes to increase the hours of operation to include breakfast on Saturday morning and dinner on Wednesday, Thursday, and Friday nights (probably in the fall).
"If people come here, they'll get good service, friendly smiling faces, and good country food," Sharpe said.
Sharpe's Cafe on Crawford is located at 193 Crawford Road in Statesville. It is open Monday through Friday, from 6 a.m. to 2 p.m.
EDITOR'S NOTE: This article was originally published in the June edition of "IFN Monthly."