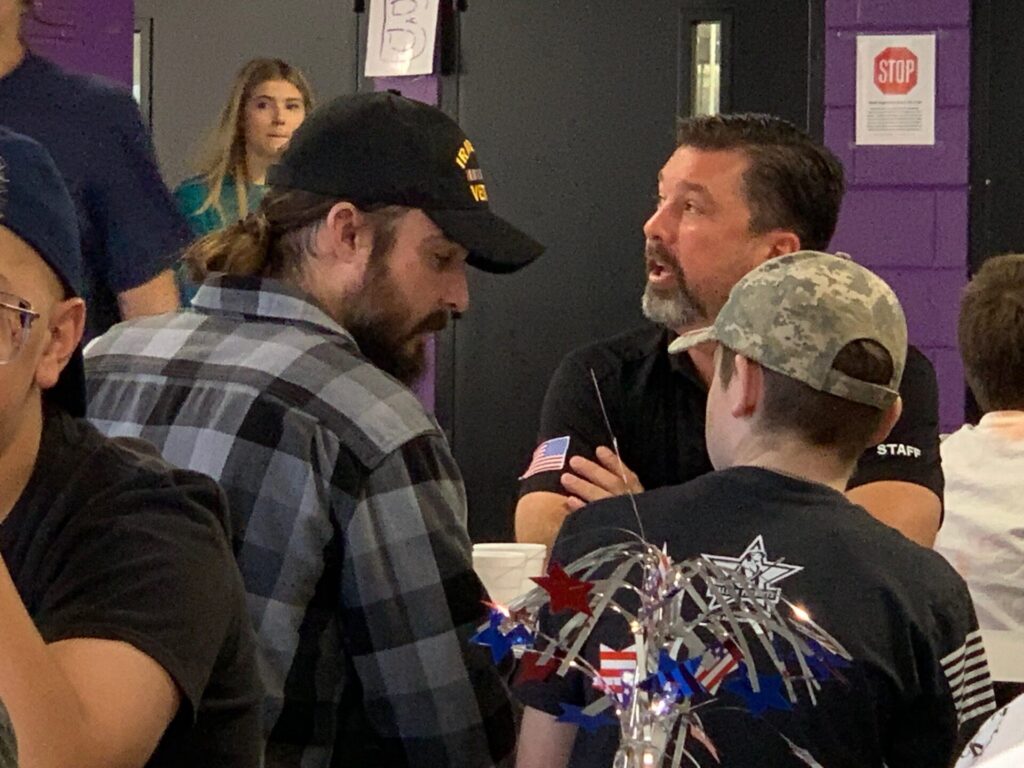 BY BRANDY TEMPLETON
Oakwood Middle School, an IB World School, celebrated veterans in a big way Thursday morning.
The cafeteria was packed full of retired servicemembers representing the Army, Navy, Air Force, Marines and Coast Guard.
Oakwood faculty, South Iredell High School JROTC, Purple Heart Homes team members, and others took part in the celebration.
Carrie Tulbert and her staff welcomed those who served with friendly smiles, kind words, and open arms, treating veterans and their students to a delicious brunch prepared by Iredell-Statesville Schools CATS culinary arts & hospitality students.
This is the fourth year Oakwood students have participated in the festivities that included guest and student speakers.
Tulbert explained that honoring veterans is something she's dedicated to and has included at every school where she has worked.
"Service is important to all of us, whether serving your country or the community. I started this when I was principal at Northview and continued it over here," Tulbert shared. "It's very important for students to have awareness."
She enjoys bringing family members, especially grandparents together for the celebration.
Charles Ferguson, 79, participated along with his granddaughter Aereyanna, a sixth-grader.
"I was in the Air Force from 1965 to 1969," he said. An E4, he was stationed in Thailand during a very turbulent time. He's grateful to be acknowledged.
"It's great, especially in our era, when there was a lot of confusion when are vets came home," he shared.
Cecil Privette was in the 82nd Airborne at Fort Bragg.
"Being in the military was a privilege, and I really enjoyed serving," he said.
Mike Johns, 37, attended the event with his son Landon.
After serving in Sadr City, he was thankful for Oakwood's recognition and kindness.
"It's important to me because the war I served in was politically controversial and we don't get celebrations. It's good to know something we did mattered," Johns shared.
Athletic Director Andrew Millaway spoke about the pressures and mental struggles that service members endure, referencing his younger brother who passed away two years ago.
To those facing similar challenges, Millaway offered support and encouraged them to share their stories.
"You are loved, respected, and you're something special," he said. "You're the backbone of this country."
In closing, Tulbert talked about the symbolism of the poppy and its meaning for veterans.
"It's symbolic of the blood shed during battles," she shared.
After referencing the poem "In Flander's Fields," Tulbert again acknowledged the sacrifices of servicemembers and expressed her heartfelt thanks to the students and their guests of honor.
"It's such an honor to have you here with your chosen veteran," she said.
Tearing up, Tulbert spoke about the importance of being "good humans."
"It's very important to be a good human," she said. "These are some of the best humans here in this room with you. Veterans are so passionate about all the people in America. They are the best humans and are incredibly valuable and not replaceable."
Veteran Jerry Brigman was moved by Tulbert's gesture, thankful to have served and be honored at Oakwood.
He had advice for the youth of today.
"Love your country, love your freedom," he said. "It's worth fighting for every single day."
Photos