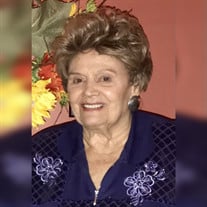 Jeanne Theresita Loeschen (Huot), 96, of Mooresville, N.C., peacefully passed away on November 3, 2023. Jeanne moved to Mooresville 20 years ago, creating a new chapter in her life after spending a lifetime in the Chicagoland area with her husband of 60 years, Jack Loeschen. She was affectionately known as "Poppy," and her family was the heartbeat of her existence. She will be forever remembered as a devoted wife, mother, grandmother, great-grandmother, and friend.
Jeanne's professional journey was one of pioneering spirit, carving a distinctive path in her career. An avid reader, she found solace in the world of literature. Her laughter resonated through countless games of Canasta, where her quick wit and humor illuminated the room. In her earlier years, she embraced the challenge of golf, showcasing a unique blend of skill and charm on the course.
A faithful member of St. Therese Catholic Church, Jeanne embodied the values of compassion and care. Her dedication extended beyond the church to the local hospital, where she volunteered frequently, leaving an indelible mark on the hearts of those she helped.
Jeanne's social spirit led her to Newcomers in Mooresville, where her vibrant personality and creativity forged lasting friendships. She will be remembered for her quick wit, insightful intelligence, and the glamorous joy she brought to life.
She leaves a lasting legacy and is survived by her children, Michael Loeschen (Bonnie), Patricia DiTella (Philip), and Jayme Manley (Scott); her grandchildren, Lindsey Loeschen, Daniel Loeschen (Kristen), Kenneth Bauer (Leslie), Kristina Salierno (Aniello), Katheryn Clatterbaugh (Chad), Michael DiTella, Alex Manley (Sarah), Allison Manley, Rachael Manley, and Eric Manley; and her nine great-grandchildren.
She was preceded in death by her husband, Jack Loeschen, and her grandson, Daniel DiTella.
A funeral mass will be held on Wednesday, November 15, 2023, at 11 a.m. at St. Therese Catholic Church, 217 Brawley School Road, Mooresville, N.C.
The family would like to extend their sincere appreciation to all of Jeanne's personal caregivers, including hospice nurses, aids, physicians, and staff, for their unwavering compassionate and supportive care that was provided. Your kindness will never be forgotten.
In lieu of flowers, donations can be made to Hospice and Palliative Care of Iredell County. Jeanne's memory will live on in the hearts of all those who were fortunate enough to know her, and she will be deeply missed by her family and friends.
Cavin-Cook Funeral Home & Crematory, Mooresville, is serving the Loeschen family. Condolences may be made to the family at www.cavin-cook.com.