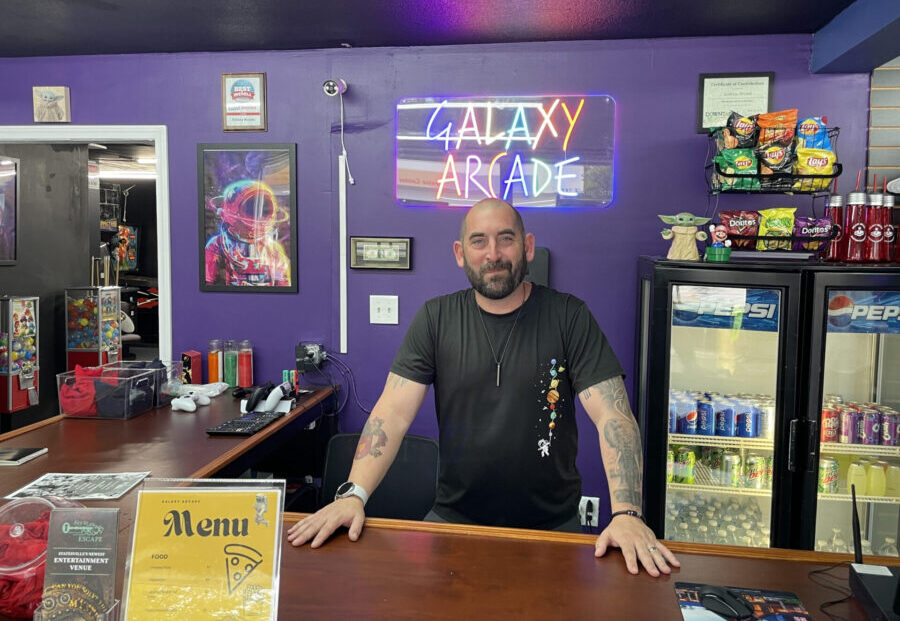 BY COOPER HALL
Soon after moving to Statesville with his family, Bryan Adams noticed that there weren't many places for teens to hang out. The movie theater and skating rink were closed and the mall, a traditional space for teens, had seen better days.
Two years ago, with the support of his wife Gina and 15-year-old daughter Kloie, Adams opened the Galaxy Arcade on West Broad Street to give "everybody something fun to do and a cool space to be."
After outgrowing that space, the business recently moved to a new location at 209 West Front Street. Adams has been filling up all 5,000 square feet with family friendly games, food and fun.
Although he admits being a gamer himself, Adams is serious about his business. When he lived in Clearwater, Fla., he worked in entertainment centers that did nonprofit work, including food pantries and clothing drives.
Adams sees the Galaxy Arcade as an extension of that work. And he loves being in Downtown Statesville.
"I can see downtown really blowing up, being a destination place," Adams said.
He's doing his part.
The bright venue is packed with old-school favorites like pinball, Big Buck Hunter, Golden Tee, Pacman, air hockey, pool, and foosball. Customers of all ages can also check out Xbox, switch, and Playstation consoles and play their favorite games. There are regular Mario Kart tournaments.
Meanwhile, the back room has an outdoor vibe and features backyard games like cornhole, giant Jenga, a massive Connect Four and a golf simulator. A limited menu features chicken tenders, hot dogs and popcorn.
Adams is a natural with kids and teens. He lights up when talking about seeing teens have their first experience in an arcade and teaching them how to play pinball. As a little girl and her mom leave after their first visit, he gives them a surprise toy.
Galaxy Arcade also hosts free movie nights every month and provides free hot dogs and popcorn. Due to a lack of space, the events were held outside at the previous location. Now there's plenty of room inside. He is also active in the community and helps sponsor events such as the upcoming Suicide Prevention Walk.
The Downtown Statesville Development Corporation and the Greater Statesville Chamber of Commerce have been welcoming, Adams said, and his landlords, Nisha and Samir Gorani, have been supportive of his business plan.
"It feels like a team downtown," he said.
Galaxy Arcade is located at 209 W Front Street in Statesville. Hours are 1 to 9.m. Tuesday-Sunday.
Editor's Note: This article was originally published in the September edition of "IFN Monthly."