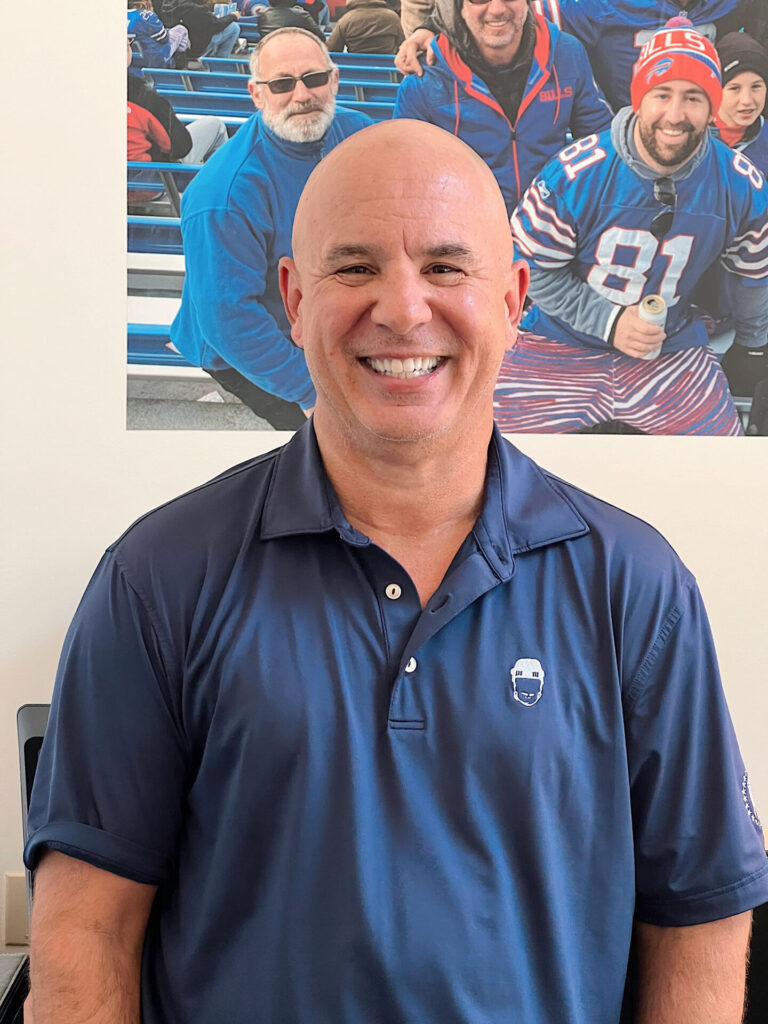 BY SALLY NIX
Dr. Jeffrey Payne's personal experience with chiropractic care led him to alter his career path and dedicate 30 years to improving the quality of life for patients with chronic pain.
Payne was studying pre-med at State University of New York at Buffalo when a hockey injury caused a disc to rupture in his back. He was putting himself through school and did not have the resources for surgery, so he sought the care of a chiropractor to relieve his pain.
"I ended up getting better and realized chiropractic care was something for me," Payne explained. "I don't know that I would have been able to deal with the politics of medicine. This is much better for me because it is my own place and I can run it the way I want to."
Chiropractors focus on the body's natural healing abilities and treat their patients using spinal manipulation and exercise and offer nutritional advice. They need a Doctor of Chiropractic degree and must pass national and state exams to become licensed practitioners.
Payne's dedication to tailoring treatments to his patients' individual needs, promoting active communication, and emphasizing education is a testament to his patient-centric approach. By focusing on the holistic well-being of his patients and supporting their goals, he has successfully provided personalized care to over 22,000 individuals through Payne Chiropractic Center. Along the way, he has built lasting relationships. Some patients have been with him throughout his 30 years in practice. The wide age range of patients he has seen, from two weeks old to late nineties, demonstrates the diverse impact of his care across different stages of life.
Payne stresses that his staff is an integral part of the practice's success, and he refers to his employees as his partners.
"I have a tremendous support team that is essential to what we do here, and the most important thing is they are nice people," he said. "Patients comment this is one of the most comfortable places they've been, and when you are in chronic pain, you do not want more uncomfortable."
The most common cause of pain in his patients stems from improper bending. During appointments with patients and in his social media videos, Payne emphasizes the importance of using core muscles and correct foot placement to avoid injury. Instead of bending at the knees, he advises placing one foot in front of the other, as it is crucial to maintain proper posture and body mechanics to prevent injury. Additionally, improper sleep habits, like sleeping on the stomach or with an unsuitable pillow, are another common source of pain for his patients.
"Pain is a warning sign that something is not right, and we work to re-establish the body's biomechanics," Payne said.
Being a chiropractor is physically demanding due to the manual techniques used for adjusting patients' bodies. The combination of strength and precision is crucial, especially when dealing with a high volume of patients like Payne, who might see up to 100 patients in a day.
Maintaining their own physical well-being is essential for chiropractors to provide effective care.
"It keeps you having to stay in shape, so I have to work out," Payne said. "I also have to practice what I preach about bending and lifting how you are supposed to."
The fundamentals of chiropractic care have remained relatively consistent throughout Dr. Payne's career. However, Payne Chiropractic Center is introducing new therapeutic options to cater to patients' needs. For example, a Radial Pulse Wave machine emits high-frequency ultrasound waves to target specific tissues or areas of the body that traditional chiropractic techniques do not treat.
"Tendonitis and plantar fasciitis are problems we see often, and we've never had a therapeutic option actually to help those conditions heal long term," Payne said. "We are very excited about the Radial Pulse Wave machine because this technology helps to push the body out of a chronic state, where real, lasting healing is possible. This new machine will allow us to help those with plantar fasciitis, chronic shoulder pain, elbow tendonitis, trigger points, and carpal tunnel syndrome much more effectively."
Another new therapy option available can help patients who have problems sleeping and staying asleep. Adequate sleep is crucial for the body's repair and restoration as it supports overall physical and mental well-being. Payne has partnered with Native Ceuticals to formulate an all-natural gummy containing CBD and Resveratrol. Resveratrol is part of a group of compounds called polyphenols and is an all-natural anti-oxidant and an anti-inflammatory derived from grape skin. Currently available at the center, these gummies will soon be available online.
Payne Chiropractic Center remains dedicated to helping people regain their health through natural methods. What does the future hold for Payne Chiropractic Center? Payne's oldest son, Carter, is currently in chiropractic school and wants to return to Statesville to practice.
"People ask me if I'll retire — I'll never quit totally," Payne said. "I may slow down with what I do, but I love it too much."
Payne Chiropractic Center will celebrate 30 years in business on September 27. To learn more, visit www.paynechiropractic.com. Payne Chiropractic Center is located at 215 West Broad Street in Statesville.
Editor's Note: This article was originally published in the September edition of "IFN Monthly."