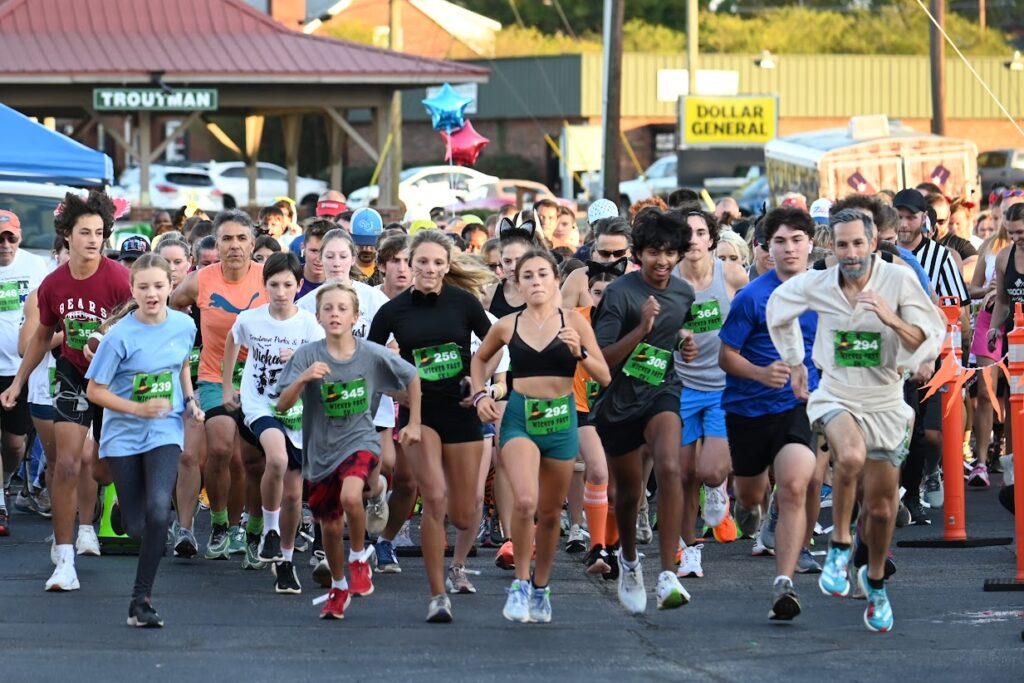 BY DEBBIE PAGE
Community members decked out in their wackiest Halloween costumes gathered at the Troutman Depot on Saturday to take part in the Wicked Fast 5K race and one-mile fun run down Eastway Drive.
According to Troutman Parks and Recreation Director Emily Watson, 222 runners and walkers participated this year, a significant increase over last year's 178.
Two-time Olympian Anthony Famiglietti was the overall winner. Medals were awarded for overall top male and female and top-three male and female finishers in each age group in five-year increments, starting at age 10.
Watson thanked everyone who came together to help with the event, including Troutman Parks and Recreation staff, Town of Troutman Public Works, Troutman Police Department, FBLA students of Lake Norman High School, Freedom Church, RoCo Pickleball's Amanda Jo Przybyszewski, Sign Shop @ Black Tooth Metal, Campbell Masonic Lodge of Troutman, Anthony Famiglietti, lead biker Andrew Ventresca, New and Old-Timers LLC, Girl Scout Troop 12965, Lou Borek and family, Kim Davis, Kimberly Sager, Susan Kinahan, Ron Wyatt, Brent Bustle, Todd Hardy, and Carrie Horner Larson for help with shirts, bags, banners.
Watson also appreciated canned and non-perishable foods donated to the Rotary Club of Troutman and Town of Troutman Holiday Food Drive.
Donations will also be collected at the free Trails and Treats event on October 31 at the ESC Park trail near the park entrance. Watson invites families to wear their costumes and come trick-or-treat with over 50 local businesses and non-profits. This safe, family fun event will run from 4 to 6 p.m.
Town officials also thanked event sponsor Checkered Flag Land & Homes and Katie Hildebrand with Cross Country Mortgage.
Photo Gallery