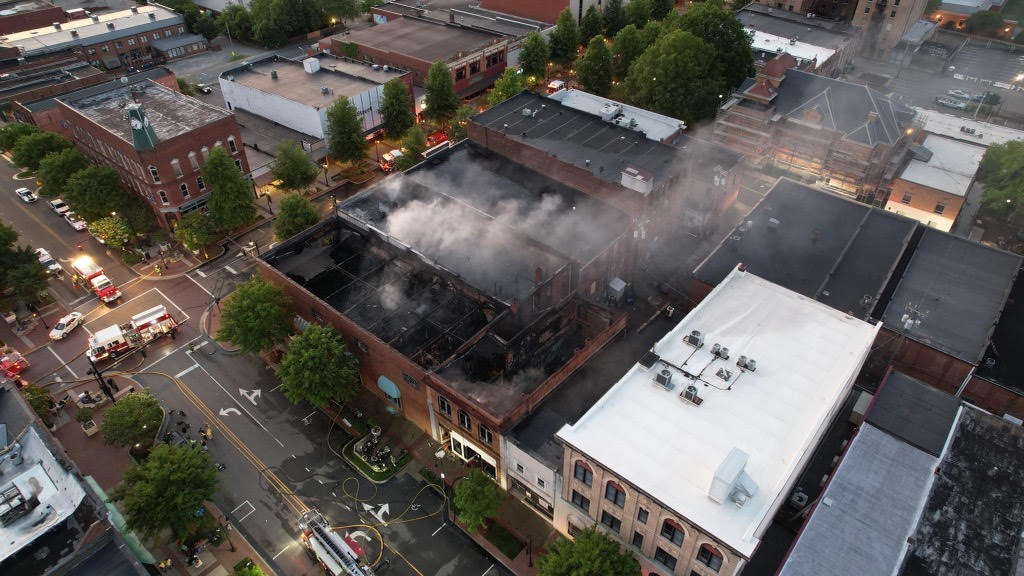 PHOTO BY BEN WATTS
STORY BY MIKE FUHRMAN & BRANDY TEMPLETON
A massive fire caused significant damage to several buildings in downtown Statesville early Tuesday morning.
Statesville firefighters saw smoke as they were returning from another call to Station 1, which is nearby, around 2:15 a.m. and immediately responded to the fire.
After SFD personnel assessed the magnitude of the blaze, a general alarm for assistance was broadcast to nearby agencies. In addition to SFD, firefighters from Hickory, Mooresville, Troutman, Mocksville, Harmony, Stony Point, and Monticello responded to the scene.
In total, about 75 firefighters battled the blaze, which was brought under control about 5:30 a.m.
No injuries were reported. The Statesville fire marshal is investigating the cause of the fire.
Statesville Mayor Costi Kutteh praised the Statesville Fire Department and supporting agencies for their response and said his thoughts were with those impacted by the fire.
"First, thankfully, no lives were physically lost, but many have been displaced by the damage to at least three buildings," he said. "Second, I am so proud of the great response from our firefighters and city staff. All of them are a tremendous asset and credit to our community.
"And finally, the Statesville spirit shines bright today. The outpouring of support has been overwhelming and heartwarming," the mayor added.
The fire heavily damaged commercial property along Center Street and Broad Street in the heart of the historic downtown district. GGs art, frames, gifts, which is located at the corner of Center and Broad streets, and Theatre Statesville were among the businesses that sustained heavy damage.
Gloria Hager, who owns GGs, said she was in "shock" after she surveyed the damage to her shop, which was a total loss. She was amazed by the number of people who came downtown to support her after hearing about the fire.
"I feel so blessed that people are so kind," Hager said. "This is such a beautiful community."
SPD personnel will remain on the scene throughout the day.
American Renaissance School, which has buildings on Broad and Center streets, was closed Tuesday.
The Downtown Statesville Development Corporation said most businesses will will be open as usual today, but advises residents there may be street and sidewalk closures, especially near the square.
Related Article
♦ Supporters launch fundraiser to help Theatre Statesville recover from devastating fire
♦ Local, state and federal agencies working to determine cause of blaze
Photo Gallery
Photos by Ben Watts, Justin Davidson & Brandy Templeton