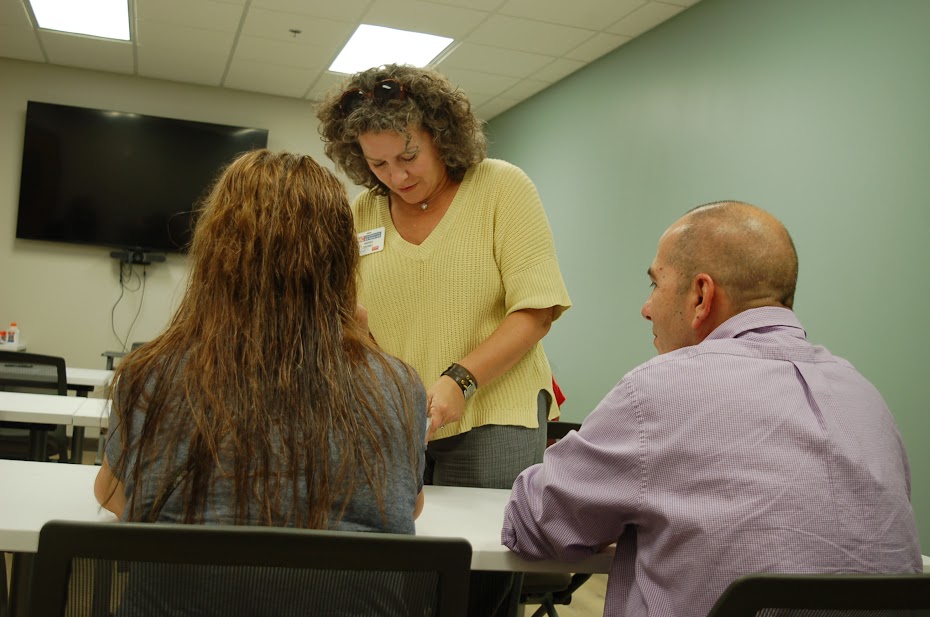 BY DEBBIE PAGE
Fourteen participants completed the innovative PhytoRX program at FeedNC on Wednesday
During the course of the free, six-week program, participants learned to use nutritious food as disease treatment, with the goal of reducing or eliminating medications over time as their healthy diet reduces inflammation and disease markers.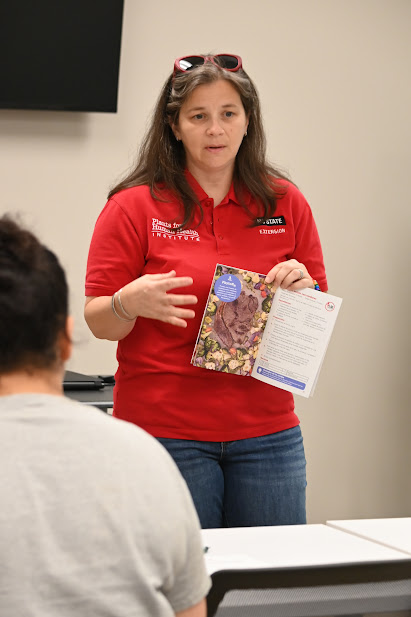 This cohort consisted entirely of Spanish-speaking patients referred by HealthReach Clinic, which provides free medical care and medications for uninsured residents of Iredell County. All program materials were translated into Spanish to aid their learning.
The eight participants present on Wednesday received a cookbook, a Food Lion gift card, and a bag of fresh fruits and vegetables at their final meeting. They asked questions, shared successes, and gave high marks for the program before going to FeedNC's Donoghue's Open Door cafe for a delicious lunch.
This is the third group of PhytoRx participants since the program's inception in 2020. The program is funded through a grant HealthReach received, and all food is provided by FeedNC.
This unique food prescription program is the brainchild of Cheri Granillo, a nurse practitioner at HealthReach and the Translational Nutrition Program Manager at NC State's Plants for Human Health Institute in Kannapolis, and Andrea Sherrill, registered dietitian and Family and Consumer Science agent for N.C. Cooperative Extension in Iredell County,
Area organizations partnered over the past several years to bring this program to fruition, including FeedNC, HealthReach Community Clinic, N.C. Cooperative Extension, N.C. State University's Plants for Human Health Institute, and the United Way of Iredell County.
During the June 14 kickoff session, Granillo met with participants to provide an overview of the program, which emphasizes a Mediterranean diet, and to discuss next steps and share tasty recipes.
According to studies, following a Mediterranean diet can lead to a decreased risk of cardiovascular diseases, overall cancer incidence, cognitive decline, diabetes, and early death as well as fighting obesity.
"There are so many disease processes that are very modifiable by food and nutrition. If we are able to make some of those changes by increasing fiber and vegetables, we can maybe decrease the dosage or the medication altogether," said Granillo. "This is hard science now."
Healthreach targeted patients with cardiovascular disease, diabetes, and eye and skin issues for the PhytoRX program.
In-person activities were supplemented by videos and informational material that participants could access anytime online.
Sherrill helped to develop PhytoRx video and written content for patient education. Her weekly videos offered cooking demonstrations and tips for healthy eating to support participants for the duration of the program.
Some participants had job demands and transportation problems so providing online education for weeks 2 through 5 worked well. Having the in-person sessions at FeedNC is valuable because all participants could connect to the many FeedNC services to continue support for healthy eating.
Sherrill was also available via text throughout the program's duration to answer questions or give advice. The feedback has been positive, with participants saying the healthier food choices improved how they felt as well as their overall health.
Granillo and Sherrill are also now gathering more data to document the participants' improvements, using a "Veggie Meter" that measures the presence of phytochemicals in the skin at the first and last session. HealthReach also shares before and after data on BMI, weight, blood pressure, cholesterol, and A1C, with patients' permission.
Healthreach continues to support participants on the healthy eating journey after the conclusion of the PhytoRx program.
"This program can be replicated anywhere. You just have to have partnerships with a health clinic and food bank," said Sherrill.
FeedNC Program Director Brittany Holbert said the PhytoRX program was a perfect fit with the organization's mission. "Education around food-related illnesses is important, and we wanted to be able to bridge that gap," she said.
The program helps get new community members access to fresh food through FeedNC, especially "produce that they might not otherwise have because it's so expensive. Sustainability is also here because these folks who come through this program are qualified to receive our grocery program."
Holbert said both the food and education pieces are important in "learning what you can do with different foods, learning what phytonutrients are and how that helps our bodies so much."
WHAT IS PHYTO RX?
PhytoRx provides participants with targeted "prescriptions" for healthy fruits and vegetables to help increase consumption of these foods and encourage their incorporation into daily meals. The program introduces food as a form of medicine for health conditions such as high blood pressure, diabetes, and eye disease.
HealthReach physicians and other providers write the food prescriptions, filled at no cost by FeedNC.
Granillo developed a comprehensive online training program for healthcare providers to offer guidance on supplying dietary recommendations to patients, based on their specific health issues.
One of the ways providers can improve their dietary guidance is by prescribing plant-based foods based on their phytochemical characteristics.
These phytochemicals help ward off negative environmental factors, fight free radicals that cause inflammation, and fight against and resist stress that the environment places on the human body.
Two specific phytochemicals, anthocyanins and carotenoids, are emphasized in the classes.
Anthocyanins are found in plants with red and purple pigments, such as blueberries. Carotenoids are found in plants with orange and yellow pigments, such as carrots.
Thanks to a partnership with FeedNC and United Way of Iredell County, PhytoRx participants received fresh produce delivered to their doors weekly, with fruits and vegetables containing the phytochemicals included in their prescriptions among other healthy options.
The deliveries will also included incentives such as recipes, measuring cups, cutting boards, and other kitchen tools to help participants prepare healthy meals for themselves and their families.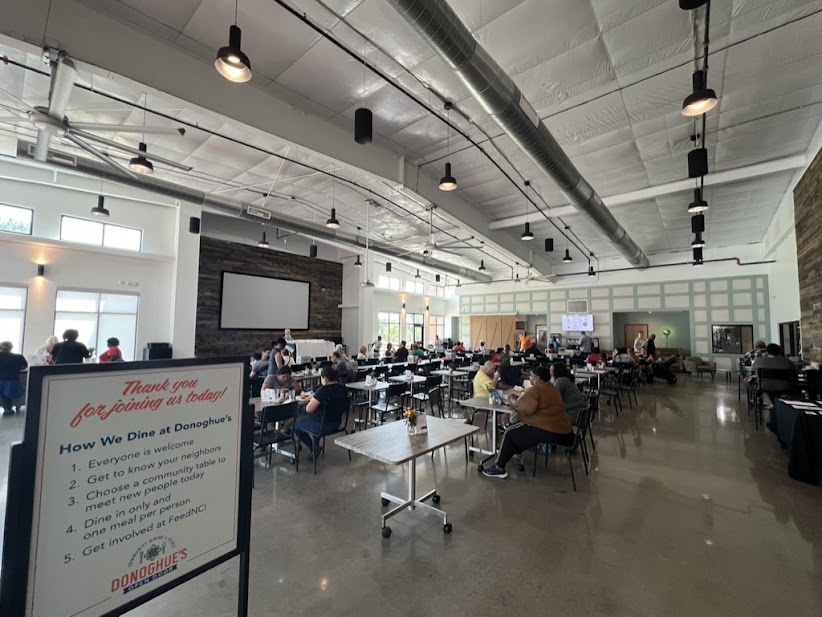 FEEDNC
FeedNC has a variety of programs to aid the community in nutrition, workforce development, and hygiene services.
The Grassroots Grocery provides weekly supplementary food assistance to families who are struggling financially. Eligible members can receive $150-$200 in groceries, including fresh fruits and vegetables, meats, frozen meals, prepared deli foods, canned goods, snacks, and toiletries.
Donoghue's Open Door cafe serves breakfast and lunch each day to anyone in the community Monday through Friday. Guests are encouraged to sit at community tables and get to know their neighbors.
The philosophy of Donoghue's Open Door is that even though people may not be in need, they still need community. Since every person has something to give and receive, including skills, talents, and compassion, coming together as a community builds valuable social capital, positive connections between people.
For example, a person who is in need of a job may sit next to a business owner looking to hire, so they can support one another through this connection.
Though the cafe is free, those that wish to may donate via the QR code in the cafe or at the information desk in order to continue the organization's efforts. (Menu at https://www.donoghuesopendoor.com/menu).
The "Building Healthy Habits" program is a nonprofit initiative designed by FeedNC to provide children between the ages of 7 and 11 with a comprehensive summer nutrition education program.
Through engaging activities, hands-on experiences, and interactive lessons, children will explore nutrition education, eating the rainbow, sunshine and grounding, hydration, and movement. Students have weekly goals in hydration, nutrition, movement, mindfulness, and more to build upon and to create life-long healthy habits.
Behind the FeedNC facility is Mimi's Garden, provided courtesy of the Earnhardt family, the Dale Jr. Foundation, and Unilever, which honors Brenda Jackson, the mother of Kelley Earnhardt Miller and Dale Earnhardt Jr., who passed away in 2019 following a cancer battle.
This one-acre garden provides FeedNC with produce for the Grassroots Grocery Program and for meals served through Donoghue's Open Door. In addition, the garden will used to educate community members of all ages about the importance of growing food in a sustainable way that respects the land.
Twelve-week culinary, grocery, and warehouse workforce development programs (6 hours per day, Monday through Friday) are also available, during which students build skills and gain certifications, with many employed by Healthreach community partners while gaining their certifications.
The next session for the programs begins September 18 and runs through December 14. Contact Kat Stulpin at kstulpin@feednc.org or call 980-444-3107 for more information.
FeedNC also provides resources for those who are unsheltered. While only 5% of their members are displaced (transient/ homeless), FeedNC's Displacement Assistance Program was uniquely designed to "meet the person where they are" by providing one-on-one evaluations, support, and customized resource referrals.
After evaluation, FeedNC staff identify whether the person's displacement is chronic, transitional, or episodic and then provide appropriate referrals to local community partners. Through providing access to food, essentials, and resources, FeedNC is able to walk alongside these guests on their journey to stability.
The new facility offers laundry services, showers, and clothing to those in need of those services.
Other programs are Food Movers, a volunteer-powered program to deliver food to homebound clients; Food Rescuers, composed of restaurants, farms, institutions, and grocery sellers who donate food that will otherwise go to waste; and Community Connections, a program that provides resource referrals, including housing, employment, transportation, mental health/substance abuse counseling, career planning, and domestic violence assistance.
FOR MORE INFORMATION
♦ Interested healthcare providers can reach out to Granillo (cdgranil@ncsu.edu) for information about how they might develop a similar program with their patients.
♦ Visit FeedNC (https://www.feednc.org/) at 2456 Charlotte Highway in Mooresville or call (704) 660-9010 for more information on its programs.
♦ Reach Andrea Sherrill at andrea_sherrill@ncsu.edu or at (704) 878-3157 for more information on the PhytoRX program or healthy nutrition resources.