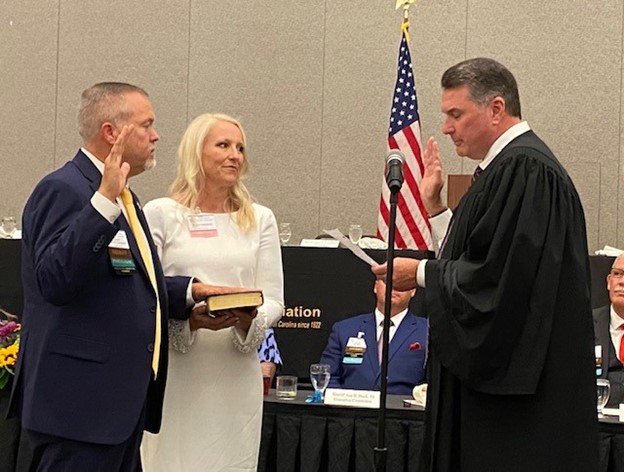 Special to Iredell Free News
Iredell County Sheriff Darren Campbell was sworn in as president of the North Carolina Sheriffs' Association for 20023-2024 at the 101st Annual Business Conference in Myrtle Beach, S.C., on Monday, July 24.
Campbell was unanimously elected by his peers, making him the second sheriff from Iredell County to serve as NCSA president in the organization's 101-year history. Sheriff Jay Charles Rumple held the position in 1962.
Iredell County Chief Resident Superior Court Judge Joseph Crosswhite administered the Oath of Office. Sheriff Campbell's family was in attendance, along with members of the ICSO Command Staff and Honor Guard, who presented the Colors to begin the ceremony.
Sheriff Campbell is the 101st president of the association. He previously as NCSA sergeant of arms, as a member of the Legislative Committee and Auditing Committee, and as third vice president, second vice president and first vice president.
In his speech, Campbell told the attendees he has always had the "utmost respect and admiration" for the Office of Sheriff because of what it stands for and its unique place in history.
"One of the characteristics which sets the Office of the Sheriff apart from other law enforcement agencies is its direct accountability to the citizens through the election of the Sheriff," he said. "It is the stand-alone identity of an independent Office in which the Sheriff exercises the power, that of public trust. Elected sheriffs are accountable directly to their state's constitution and the United States Constitution, laws, statutes, and the people of their counties, thereby maintaining the very roots of democracy, for the people, of the people, and by the people."
In addition to Sheriff Campbell's duties as the president of the N.C. Sheriffs' Association, he also serves on the Board of Directors for the National Sheriffs' Association. He is a member of the Border Security and School Safety Committees.