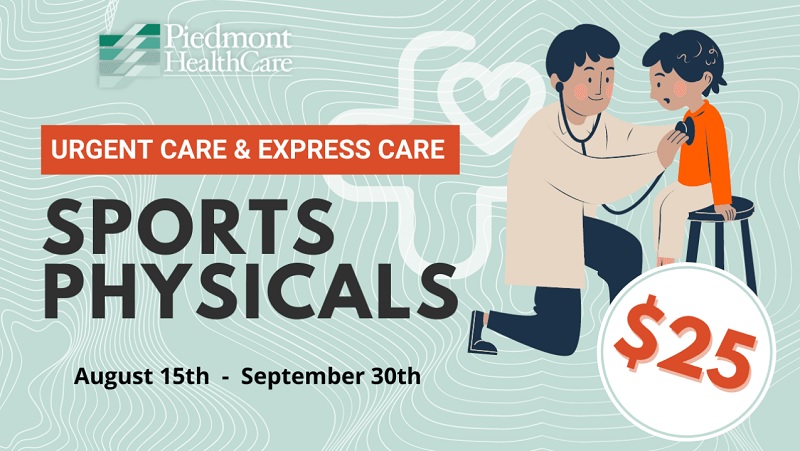 Special to Iredell Free News
From August 15 through September 30, Piedmont HealthCare's Statesville and Mooresville Urgent Care centers are offering sports physicals for only $25.
At PHC Urgent Care, the healthcare professionals understand the importance of ensuring young athletes are in tip-top shape and ready for action. The staff is ready to perform thorough examinations with at least three providers available at the Statesville office and one provider at Express Care in Mooresville.
With over two decades of trusted service, Piedmont HealthCare Urgent Care and Express Care has been a cornerstone of quality care within our community.
Piedmont HealthCare Urgent Care (Statesville)
♦ Location: 700 Sullivan Rd. Statesville, NC 28677
♦ Hours: Monday – Friday 8 am – 7:30 pm and Saturday – Sunday 9 am – 5 pm.
♦ Contact: 704-924-9111
♦ Website: www.piedmonthealthcare.com/location/phc-statesville-urgent-care/
Piedmont HealthCare Express Care (Mooresville)
♦ Location: 125 Days Inn Drive, Mooresville, NC 28677.
♦ Hours: Monday – Friday 8 am – 8 pm and Saturday – Sunday 9 am – 5 pm.
♦ Contact: 704-660-9111
♦ Website: www.piedmonthealthcare.com/location/phc-express-care/
About Piedmont HealthCare
Piedmont HealthCare is one of the largest physician-owned multi-specialty groups in North Carolina and the fifth largest healthcare organization in the Charlotte Metro market. Committed to providing excellent care for the whole family, Piedmont HealthCare has more than 70 convenient locations and over 215 physicians and providers across multiple specialties to provide the community with the most innovative medical care. Visit www.piedmonthealthcare.com