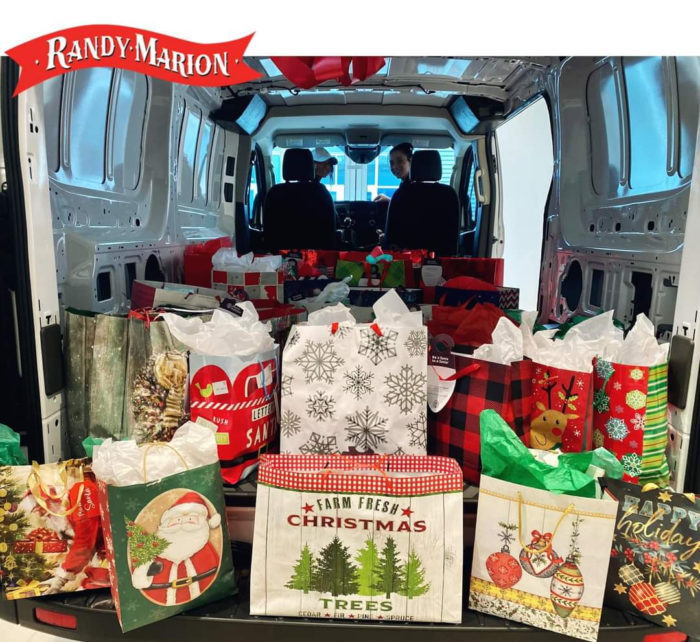 Special to Iredell Free News
Employees at Randy Marion Ford Lincoln of Statesville led the way in Home Instead's annual "Be a Santa to a Senior" program by providing 80 presents to nursing-home residents and 15 additional presents to seniors who are still in their homes.
Overall, Home Instead of Statesville's gift drive included at least 11 businesses or organizations that helped gather more than 2,400 gifts for more than 800 seniors in Iredell County and surrounding communities.
Randy Marion Ford Lincoln Customer Relations Manager Erin Roosa said this was the dealership's first experience with the Santa program.
"Employees who wanted to participate requested the seniors' gift-tags. Once bought, gifts were collected in a Randy Marion van to be delivered," Roosa said. "Forty-five employees took part, and five employees handled the delivery of the 95 total presents. We took most of the presents to Accordius of Mooresville on December 21.
"We were excited to assist in creating a special holiday for these seniors. Buying the gifts was fun and brought some Christmas joy to us as well," she added.
Home Instead Home Care Consultant Darla Corah spearheaded the overall organizational effort.
"Randy Marion Ford Lincoln of Statesville was the top sponsor, and we really appreciate its efforts. Everyone who contributed in some way are angels as far as we're concerned," said Corhan, a CNA who has taken part in Home Instead's Santa programs since joining the franchise in 2007 as a Care Professional.
In addition to Randy Marion Ford Lincoln of Statesville, other assisting businesses and organizations included:
• Village Tap House in Mooresville
• Ahlara International Day Spa and Boutique in Mooresville
• Mooresville Chamber of Commerce
• Mooresville Exchange Club
• Kewaunee Scientific Of Statesville
• Groucho's Deli of Statesville
• Carolina Tan & Wellness of Statesville
• Walmart Super Center of Statesville
• Simply Caring of Statesville
• Allen Tate Realtors of Statesville
Tracey and Creighton Gibson celebrated 20 years of Home Instead franchise ownership in November. The Be a Santa to a Senior program has been a spaple for the business.
"It's never been about how much we give. It's always been about how much we love to give and how much we love seeing the joy on those seniors' faces when it is possible to do that. Those smiles are why we do what we do each and every day as an in-home senior-care company," the Gibsons said.
In North America this December, more than 200 Home Instead franchises participated in Santa programs and collectively delivered more than 75,000 gifts.
Each senior receives a gift bag with essential items, including a toothbrush, toothpaste, cleaning supplies, laundry supplies, plus the things he or she requested. Among the most requested items are socks, towels, blankets, robes, pajamas and crossword puzzles.