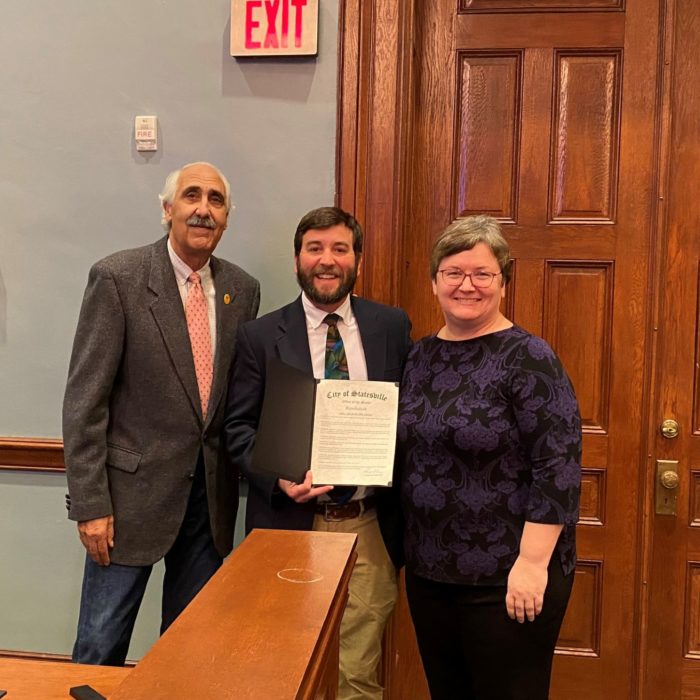 Special to Iredell Free News
The City of Statesville has joined communities across North Carolina by declaring 2023 the Year of the Trail. This statewide initiative encourages every North Carolinian to get outside onto the trails, greenways, and blueways that stretch across the state.
Mayor Costi Kutteh and the City Council declared 2023 as "The Year of the Trail" in Statesville and commended its observance to all people.
"In 2023, we plan to continue improvements to our local trails and greenways while laying the foundation for the expansion of our trail networks," said Recreation & Parks Director Richard Griggs. "We also plan to host community cleanup opportunities, guided nature hikes, and conduct targeted conversations with citizens to encourage assistance with trail and greenway expansion efforts."
On August 10, 2021, the N.C. General Assembly passed HB 554, designating 2023 as the "North Carolina Year of the Trail." This historic designation underscores the tremendous energy behind promoting and celebrating North Carolina's trails, both in terms of their incredible positive impact on quality of life for N.C. residents and their significant economic impact on individual communities who benefit from "trail tourism."
"With 2023 declared Year of the Trail by the state legislature, now is the perfect time to hike and bike Statesville, NC," said Cindy Sutton, executive director for the Statesville Convention & Visitors Bureau. "We look forward to partnering with Richard and his team to feature our amazing amenities through our tourism efforts."
The Great Trails State Coalition (GTSC) is leading the Year of the Trail efforts in North Carolina. Made up of over 50 organizations working to build more opportunities to hike, bike, walk, run, roll, paddle, and horseback ride, the GTSC proudly proclaims that North Carolina is the Great Trails State.
LEARN MORE
For more information on the Year of the Trail and to receive updates about statewide events and advocacy efforts, visit www.greattrailsnc.com.