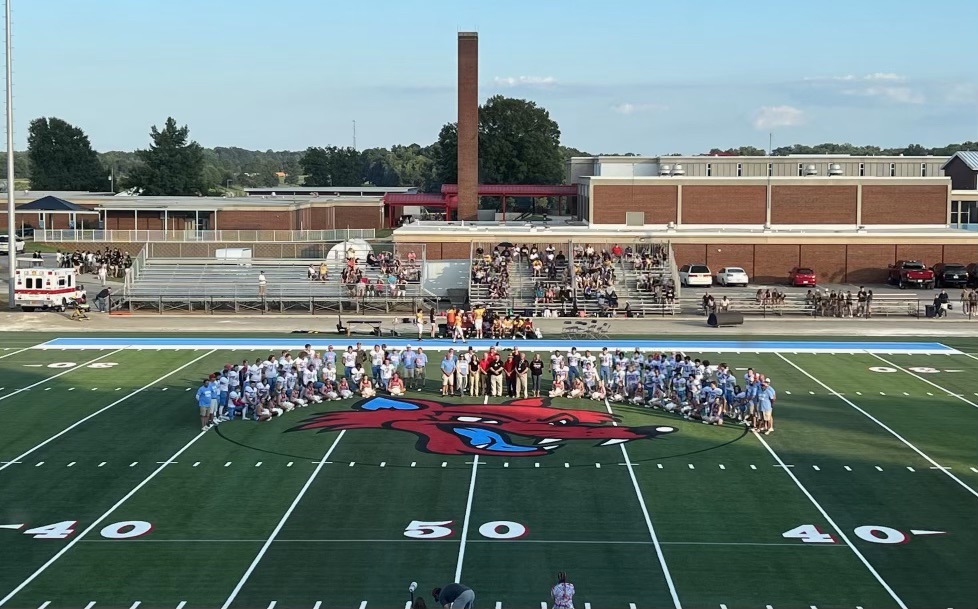 BY KARISSA MILLER
Before the 2023 season opener, North Iredell High School held a dedication ceremony for the new artificial turf field.
Principal Diana Jones asked Career Development Coordinator Maribeth Warren to speak on her behalf.
"Our journey towards this moment has been a true community effort," said Warren, a North Iredell graduate. "I am filled with pride as I look around and see the faces of individuals who have dedicated their time, energy and resources to make this dream a reality in Raider Ravine."
In addition to the Iredell-Statesville Schools Board of Education and Iredell County Board of Commissioners, many groups helped make the project possible. Community organizations and businesses stepped up to support improvements to the concession stands.
Warren thanked the school board, county commissioners, GeoSurface, the North Iredell community, North Iredell Raiders Capital Improvement Club, North Iredell Boosters, North Iredell Alumni, Doosan, and Rock of Ages Construction for making the project possible.
"As we stand on this field tonight, let it serve as a reminder that when our communities join hands, there is no limit to what can be achieved," Warren said. "Remember that Raider roots run deep here in North Iredell. Once a Raider, always a Raider."
Raider Day offers chance to check out new track
The I-SS Board of Education approved the $3.7 million project last year. The project includes the synthetic turf surface, updated lighting poles, replacing the old track and expanding it to eight lanes.
The district used $2 million in lottery funds and $1.7 million from the district's capital budget to fund the project.
The new track will be unveiled on September 16 at Raider Day.
Jones invites everyone in the community to come out and walk on the new track at Raider Day. All of the school's clubs and organizations will be represented that day, along with a ribbon ceremony and celebration.
Jones said in the north community there are "deep roots with high expectations," which showcases to students why it's great to be a Raider.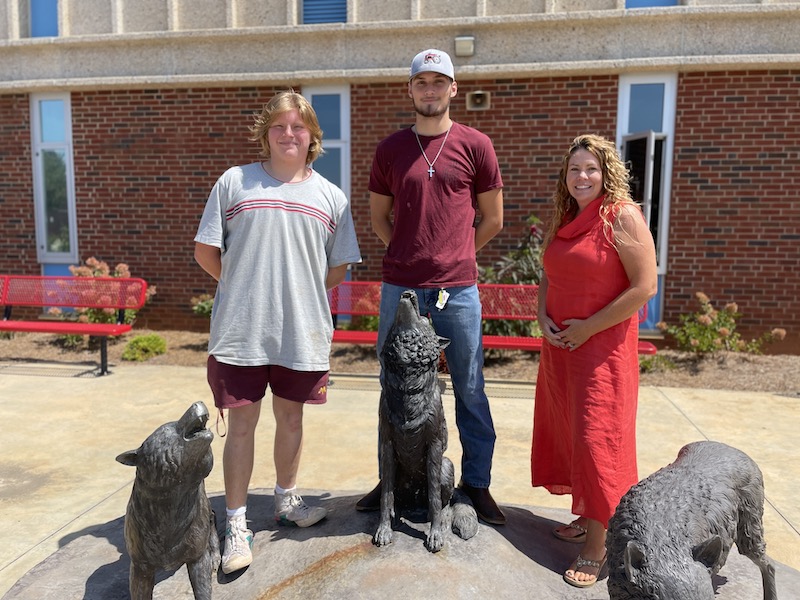 'Excited for the Season'
Meanwhile, the football team is excited about playing on the new synthetic turf surface at Raider Ravine.
"I remember when it started to come together — I was pleased with how it looked. I liked how it made me feel stable and more professional in practice," offensive lineman Olin Johnson said.
Raiders linebacker Ian Smith agreed.
"It got me excited for the season," Smith said, adding that it has boosted team morale.
Having a field that is level helps the players' footing, Johnson said.
"I like how firm it is. It's a little bit grippier than grass. When grass gets wet, it's kind of hard as a lineman," he explained.
"For me, I move better. I plant easier and get down the field a lot faster," Smith said.