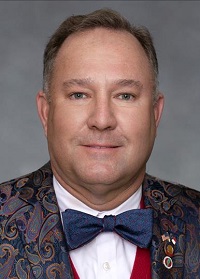 FROM STAFF REPORTS
Two days after making comments on the floor of the N.C. House of Representatives that were widely viewed as racist, Rep. Jeff McNeely issued a statement apologizing for what he called an unintentional "misstep."
"There are times in life where we all misstep in unintentional ways, and this past Wednesday was one of those times for me," McNeely, a Republican who represents a large swath of Iredell County, said in the statement. "As a result, I want to again offer my sincere apology from the very bottom of my heart to Abe Jones, my fellow Representatives, and to the good people of Iredell County."
During a debate on the House floor, a video of which went viral on Wednesday, McNeely interrupted Rep. Abe Jones, a Harvard educated lawmaker and retired judge from Wake County. After Jones yielded the floor, McNeely proceeded to ask Jones if his academic success was because he was an athlete or a minority, which immediately drew the ire of some of his colleagues.
The video has garnered more than 1.5 million views on Twitter, and a version posted on YouTube by The News & Observer has been viewed more than 178,000 times.
While Jones handled the situation with grace, the Twitter-verse has not been as kind as McNeely. He's been called ignorant and labeled a racist and a clown, and there have been numerous calls on social media for his resignation or removal from the House.
Todd Scott, the president of the Statesville Branch NAACP, said on Friday that McNeely's comments would not soon be forgotten.
"Rep. Jones forgave Rep. McNeely and I did too," Scott said. "However, we won't forget what he said. It's 2023, and we're still judging people by their skin color and not by the content of their character. It wasn't taken out of context. He stood up like a man and said it — because he probably believed it."
Meanwhile, McNeely said he is focused on self-improvement.
"In the future, I will work to be better prepared and more conscientious with my words," he said. "It is my hope that you will accept my apology and know that I work everyday to become better."
Statement issued by Rep .Jeff McNeely (R-Iredell)
"There are times in life where we all misstep in unintentional ways, and this past Wednesday was one of those times for me. As a result, I want to again offer my sincere apology from the very bottom of my heart to Abe Jones, my fellow Representatives, and to the good people of Iredell County. I'm sure there will be folks who think I am offering this apology in the interest of politics, but I assure you, that is not the case. It was never my intention to belittle or insult a friend who is a fine man on all accounts. I am very passionate about the legislation we were discussing, and that passion led me to put my words before my thoughts. My intent was to ask a question that would help me understand how we help more young people become an Abe Jones, because that is what we need in this world. I truly want every child to have the best opportunity to get a quality education. I should have framed the question in the appropriate way to express my desire to find ways to help all children succeed as Abe has done. In the future, I will work to be better prepared and more conscientious with my words. It is my hope that you will accept my apology and know that I work everyday to become better. God's not finished with me yet. Sincerely, Jeff McNeely
Video