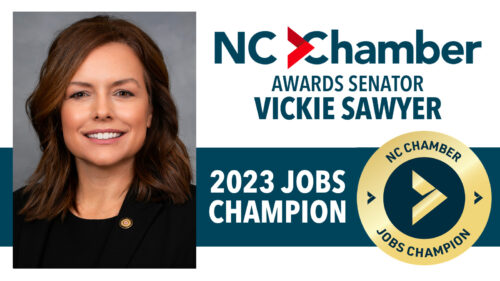 Special to Iredell Free News
RALEIGH — N.C. Sen. Vickie Sawyer has been honored as a "Jobs Champion" by the North Carolina Chamber Foundation in its "2023 How They Voted" report.
The annual report details state legislators' voting records on bills identified as critical to preserving and enhancing North Carolina's position in the global race for jobs.
"A robust business climate leads to strong communities and better paying jobs," said Sawyer, a Republican who represents Iredell County. "I'm honored to receive this award from the N.C. Chamber in recognition of our work to support job creation, and I look forward to continued partnership to retain our status as the best state to do business."
NC Chamber President and CEO Gary Salamido had high praise for Sawyer and the other recipients.
"The bold leadership displayed by Senator Sawyer and other NC Chamber Jobs Champions in 2023 will help our businesses continue to invest in North Carolina and its people," he said.