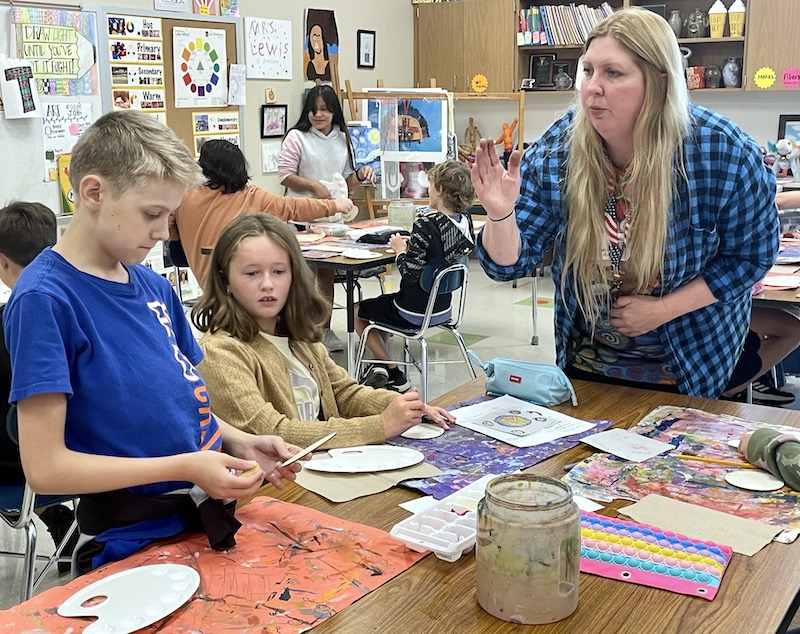 BY KARISSA MILLER
For local artist Mandi Rae, art is more than painting and creating — it's her life.
She shared her passion with students at Cool Spring Elementary School earlier this week
"Art is so much more than sitting at a table and drawing things on a piece of paper or painting," Rae told the students in art teacher Lauren Lewis' class.
Rae is an abstract artist who likes to make colorful creations.
"If you have an idea, you can draw it. You can then take a picture of it and send it to a graphic artist and boom you can make fabric like this," she said. "I have a team of sewers that sew shirts up. I make necklaces, koozies, totes, decals, hats and shoes — I love wearable art."
Students marveled at her various creations, including a hand-painted hat. She said her favorite art is her children Waylon and Daisy, who are homeschool and were helping her.
"Art is all around us. It's the trees. It's the birds. It's the sunsets. Life is beautiful," she said.
Rae told the students that every good artist needs tools. She uses power tools, protractors, string and a variety of materials. Rae showed the class how she makes circles in her art by tying a pencil with a string.
"I was just like you in school. I made some things. Then one day someone came up and said, 'I want to buy that. Is that for sale? Only if you don't put any glitter on it,' " she recalled. "It was hard for me to do without glitter on it. But I didn't put glitter on it. Then I kind of liked it."
Rae said she loves making art with her kids every day.
After getting to see her work, students had the chance to ask Rae questions.
One student asked what her favorite piece of art is? She said that she loves to paint sunsets.
Another student asked who her favorite abstract artist is? Rae said Vincent Van Gogh, who is also a favorite artist among many of the students in the class.
'Mistakes are a part of life'
Lewis told students that Cool Spring students create an ornament each year in art class. She said that they will be placed on the school tree later this month.
According to Lewis, students have been learning about the origins of the peace symbol. She said that Gerald Holton came up with the peace sign, which is a universal symbol that has been used for decades.
She handed out a wooden circle so that each student could paint a peace ornament. Rae encouraged the students to use a variety of colors.
"Don't be afraid to glob and mix. Don't be afraid to make mistakes," Rae said. "If I got upset about mistakes, I wouldn't be an artist or be successful at what I'm doing. Mistakes are a part of life. You have to keep going."
She walked around the classroom and gave students tips and handed out some supplies to help them get started.
Rae said she likes to use chalk, instead of pencil, before she paints, which she can then go over with paint. She pointed out that it won't leave behind lines like pencil sometimes does.
When class ended, Rae gave each student a sticker that she signed. Students were sad to say goodbye and swarmed her with hugs.
LEARN MORE
Rae's art can be found at Wine Maestro in downtown Statesville and on Instagram: mandiraeart.
Photo Gallery