FROM STAFF REPORTS
A Charlotte man faces felony drug charges after being stopped by an Iredell County Sheriff's Office deputy for an equipment violation and for displaying a fictitious tag.
Sgt. W. Line stopped a Dodge Durango on Plaza Drive near Interstate 77 in Mooresville on Sunday, March 5, according to an ICSO news release.
Aggressive Criminal Enforcement Team conducted a traffic stop on a Dodge Durango for an equipment violation and displaying a fictitious tag.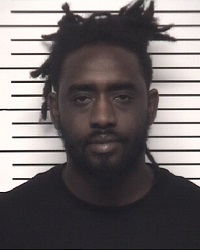 After Sgt. Line, who is assigned to the ICSO Aggressive Criminal Enforcement Team, approached the vehicle, he spoke with the driver, identified as Xzavior Ty'Ric Green, and advised him of the reason for the traffic stop.
While continuing to speak with Green about his license, the sergeant saw marijuana and a partially smoked marijuana cigarette in the ashtray, according to the news release.
Sgt. Line performed a license and criminal record check and learned Green's license was revoked and there was an outstanding Order for Arrest from Cabarrus County on a charge of being an habitual felon.
Green, 34, of Oak Forest Drive, Charlotte, was arrested on scene for the outstanding warrant.
A subsequent search of the SUV yielded 70 dosage units of Ecstasy, along with 2.46 grams of methamphetamine, 32.07 grams of marijuana, three dosage units of Oxycodone, drug paraphernalia, and $877, Sheriff Darren Campbell said in the news release. Those items were seized as evidence.
Green was taken to the Iredell County Detention Center, where he was charged with Felony Possession with Intent to Sell or Deliver a Schedule I Controlled Substance (Ecstasy), Felony Possession of Methamphetamine, Felony Maintaining a Vehicle for the Sale or Use of a Controlled Substance, Misdemeanor Possession of Oxycodone, Misdemeanor Possession of Marijuana, Misdemeanor Possession of Marijuana Drug Paraphernalia, Misdemeanor Possession of Drug Paraphernalia and the Order for Arrest on Habitual Felon.
Green appeared before Magistrate Thompson, who issued a $100,000 secured bond on these charges.
According to the ICSO, Green's criminal history includes the following charges: Misdemeanor Resisting a Public Officer, Felony Possession of a Stolen Motor Vehicle, Felony Possession with Intent to Sell or Deliver Cocaine, Felony Sell Cocaine, Felony Attempted Common Law Robbery, Misdemeanor Possession of Marijuana, Felony Larceny, two counts of Felony Larceny after Breaking or Entering, two counts of Felony Conspire to Commit Breaking or Entering, and three counts of Felony Breaking or Entering.