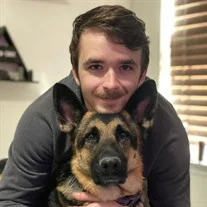 Jack Lamont Farewell III, born September 30, 1996, claimed his spot in Heaven on Friday, March 3, 2023, at age 26.
Jack was born in Batavia, N.Y., and resided in Florida for a short time during childhood before settling in Statesville, N.C., where he spent most of his life.
Jack served his country in the United States Marine Corps, where he saw many different parts of the world such as Norway, Israel, The Black Sea, Romania and more. After his discharge from the Marine Corps, Jack relocated to Nashville, Tenn., where he met his girlfriend, made countless friends, and became a father.
Jack was preceded in death by his great grandmother, Norma Heinlein, who is his guardian angel; great uncle Mark; great grandfather, Timothy Ryan; great uncle, James Ryan; great uncle, Roger Rosenberg; and great grandparents, Ralph and Emma Latten.
Known for his goofy sense of humor and contagious laugh, Jack is loved deeply by many. It is also widely known that his heart is made of solid gold. He loves with everything that he has and always strived to help those around him in any ways that he was able. It is not often that you find someone like Jack, and he will forever be cherished by those around him.
Some of the hearts that will continue to hold his memories close include his son, Jack Lamont Farewell IV; girlfriend and mother of their son, Marisa Brittle; mother, Tina Farewell; father, Jack Farewell Jr.; brother, Brian Farewell; grandmother, Kathy Holman; grandparents, Dale and Denise Rosenberg; great grandmother, Esther Ryan; uncle, Chris (Jessica) Drew; uncle, Elwin (Andrea) Drew; and roommate and best friend Jamie Reed. There is an endless list of other family members and friends that will forever remember our dear Jack.
The funeral service with full Military Honors will be held at Nicholson Funeral Home in Statesville, N.C., at 2 p.m. on Saturday, March 18, with Heather Besoiu, Funeral Celebrant, officiating. The family will receive friends and family starting at 1 p.m. To view his service live, visit
https://view.oneroomstreaming.com/index.php?data=MTY3ODM4NDczMDI0MDE2MyZvbmVyb29tLWFkbWluJmNvcHlfbGluaw==
A Celebration of Life will be held in Nashville at a later date. We encourage everyone to come out and join us in sharing their favorite memories with Jack.
Online condolences may be made to the family at www.nicholsonfunerals.com.
Nicholson Funeral Home has the honor of serving the family.