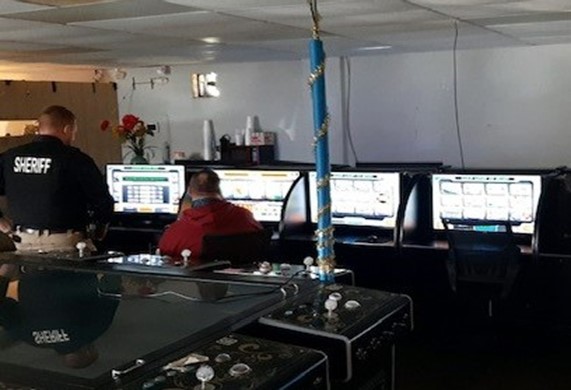 FROM STAFF REPORTS
Iredell County Sheriff's Office personnel raided an location on Barkley Road and seized cash and computer equipment associated with an illegal gambling operation near Statesville.
Sheriff Darren Campbell announced Monday that two men will face misdemeanor and felony charges in connection with the operation located off Barkley Road.
ICSO investigators, along with deputies assigned to the Aggressive Criminal Enforcement Team, executed a search warrant at SKILLZ Game Room located at 1110 Barkley Road on February 10 after discovering the location housed an illegal gambling operation, Campbell said.
The raid was conducted as part of an investigation in which the ICSO identified nine locations in Iredell County where illegal "gaming machines" were being used and winnings were being paid out in cash, according to the news release.
These gambling machines are illegal to own and operate, and paying cash winnings violates N.C. General Statute 14-306.1A, Campbell said.
Undercover ICSO investigators entered the businesses and observed the illegal operations, which included playing games and receiving payment for their winnings, according to the news release.
Based on this evidence, ICSO deputies served each location with a "Cease and Desist Letter" informing the business owners they must stop all illegal operations within 15 days.
Investigators continued to monitor each location after serving the letter. Additional undercover operations revealed that most businesses complied, Campell said.
However, the Barkley Road business changed the computer software in an attempt to avoid having to discontinue operations, according to the news release.
Narcotics Investigators obtained and executed a search warrant for SKILLZ Game Room. Investigators discovered over 60 machines that were being used to conduct illegal gambling operations, Campbell said.
Possession of five or more of this type of machines is a felony in North Carolina. Each hard drive was disconnected and seized, along with $2,960 in cash, Campbell said.
Investigators spoke with the business owners by telephone. The owners were asked to come to the business for an interview, but the never showed up, according to the news release.
Investigators are obtaining arrest warrants for the business owners, who were identified by the ICSO as Nishit Chandrakant Patel and Dharminkumar Rameshbahi Patel, both of 310 East Wood Drive, Salisbury.
"This is not an isolated incident, and investigators will continue to monitor these places, and additional search warrants will be executed if the illegal activity continues," Campbell said. "These businesses breed other types of crimes, such as robberies, assaults, and drug activity."