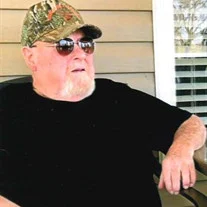 Harold "Red" Arthur Cook, 83, of Cleveland, N.C., passed away on Thursday, February 9, 2023, at Lake Norman Regional Medical Center in Mooresville, N.C.
Born January 31, 1940, in Kent County, Mich., he was a son of the late Harold Arthur Cook and Ethel Afton Cook. Mr. Cook was a retired cement mason. His hobbies included making signs and woodburning. He enjoyed painting them and giving to friends. Mr. Cook also enjoyed boating, fishing, camping, grilling, and some farming over the years.
He was preceded in death by a daughter, Kolleen Ann Cook; grandson, Justin Eric Cook; son, Michael Allen Cook; and stepdaughter, Kay Laboy.
He is survived by his wife of over 35 years, Joan Quinn Cook; children, Kelli Monteith (JW) of Cleveland, and Kristi Troub (Gregg) of Carson City, Mich.; brothers, Lewis Cook (Carol) and Gordon Lee Cook (Sharon); and numerous grandchildren, great grandchildren, nieces and nephews.
No services will be held at this time.
In lieu of flowers, memorials may be made to the American Cancer Society, 1901 Brunswick Avenue #100, Charlotte, NC 28207 or National Kidney Foundation, 7413 Six Forks Road, #255, Raleigh, NC 27615.
Cavin-Cook Funeral Home, Mooresville, is serving the family of Mr. Cook. Condolences may be made to the family at www.cavin-cook.com.