FROM STAFF REPORTS
A South Carolina woman faces drug trafficking charges after being stopped by an Iredell County Sheriff's Office deputy for a moving violation on Interstate 77.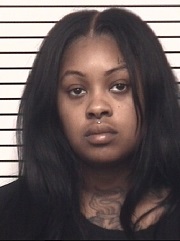 Sheriff Darren Campbell announced the arrest of Chanikqua Eune Banks, 30, of North Ivestor Court, Inman, S.C., in a news release on Friday.
Deputy M. Sharpe, who is assigned to the ICSO Aggressive Criminal Enforcement Team, stopped a 2017 Honda Accord for a traffic violation on I-77 south at the 42 mile marker on Monday, October 9, Campbell said.
As Deputy Sharpe was speaking with Banks, who was driving the vehicle, she told him there was marijuana in the vehicle and handed him a bag that contained 12.4 grams, according to the news release.
While searching the vehicle, deputies found 12 amphetamine pills and three oxycodone pills, which are a schedule II controlled substance we located inside the vehicle, according to the news release.
Banks was placed under arrest and transported to the Detention Center, where she was charged with Felony Possession of a Schedule II Controlled Substance, Felony Trafficking Amphetamine by Possession, Felony Trafficking Amphetamine by Transport, Felony Maintaining a Vehicle for the use of a Controlled Substance, four misdemeanor drug offenses and misdemeanor fail to maintain lane control.
Magistrate Callejas issued a $100,000 secured bond on these charges.