FROM STAFF REPORTS
A Statesville woman faces felony drug charges after being stopped for a traffic violation by an Iredell County Sheriff's Office deputy.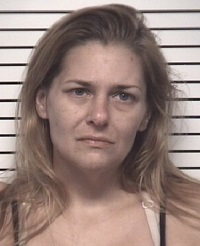 Sheriff Darren Campbell announced the arrest of Laura Michelle Krysz, 38, of Opal Street, Statesville, in a news release.
On Sunday, September 17, Deputy G. Wiedenmann, who is assigned to the ICSO Aggressive Criminal Enforcement Team stopped a Ford F-150 on West Memorial Highway near Jericho Road east of Harmony, Campbell said.
Krysz, who was driving the vehicle, was advised of the violation. After the deputy spoke with her about any illegal drugs being in the vehicle, deputies searched the vehicle and Deputy Wiedenmann located items of drug paraphernalia in the vehicle, the sheriff said.
Sgt. Joanna Smith arrived to assist with the stop. The sergeant searched Krysz and located three bags of methamphetamine inside Krysz's pants, according to the news release.
Krysz was placed under arrest and transported to the Iredell County Detention Center, where she was charged with Felony Possession with Intent to Manufacture, Sell or Deliver Methamphetamine; Felony Possession of Methamphetamine; Felony Maintaining a Vehicle for the Use or Sale of a Controlled Substance, and a misdemeanor drug offense.
She appeared before Magistrate P. Callejas, who issued a $5,000r secured bond on these charges.