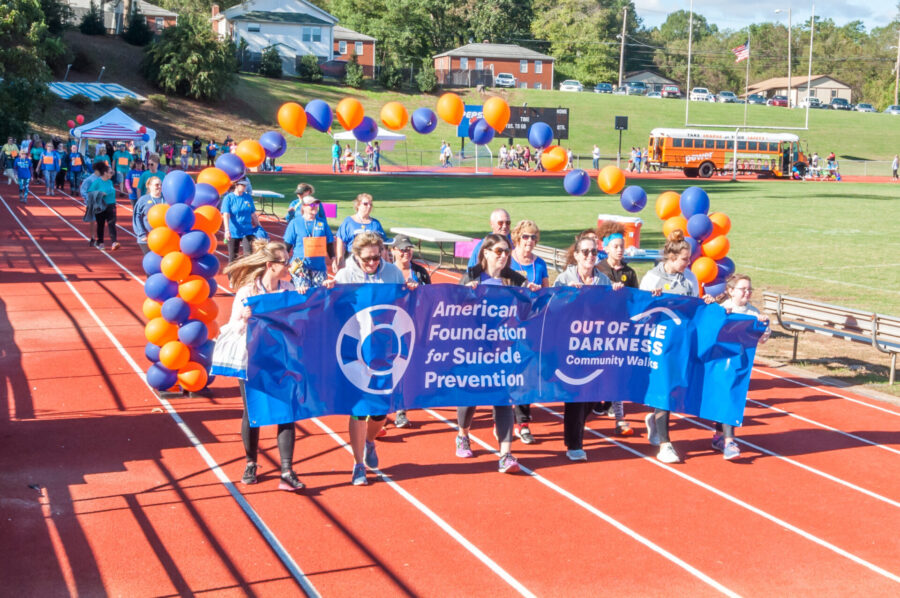 Special to Iredell Free News
Volunteers from Iredell, Catawba, Alexander and Rowan counties are joining the thousands of people who are gathering in towns across the United States to promote suicide prevention.
The annual Central Piedmont Out of the Darkness Community Walk will be held on Saturday, October 7, at Statesville High School. Sign in starts at 9 a.m., and the Walk begins at 10 a.m. Local dignitaries and community leaders, including Statesville Mayor Costi Kutteh, Mooresville Mayor Miles Atkins and Iredell-Statesville Schools Superintendent Jeff James, will be on hand in support of this event.
Register for the event HERE.
This gathering will support the American Foundation for Suicide Prevention's education, research and survivor support programs. In addition to raising awareness and funds to fight suicide, the walks give those who attend a chance to connect with others and know they are not alone, whether they walk in memory or in support of a loved one or in honor of their own mental health journey.
"Suicide touches one in five American families. It's the 10th leading cause of death in the United States," said Susan Tolle, chair of the event. "We hope that by walking we will draw attention to this issue and keep other families from experiencing a suicide loss. Our goal is to save lives and bring hope to those affected by suicide."
The Central Piedmont Out of the Darkness Walk is one of more than 550 Walks being held nationwide this year. The walks are expected to unite more than 300,000 walkers and raise millions for suicide prevention. Last year, the Central Piedmont Walk raised over $42,000 and had over 300 participants.
"These walks are about turning hope into action," said AFSP CEO Robert Gebbia. "The research has shown us how to fight suicide, and if we keep up the fight, the science is only going to get better and our culture will get smarter about mental health.
Sponsors
Local sponsors for the Walk include Ashley Cannon-Attorney at Law, Beth & Company, Blueharbor Bank, Cavin-Cook Funeral Home, Children's Hope Alliance, Dennis Brown Painting, D'Laney's, Dr. Jon Packman, EnergyUnited, EveryAge, Farm Bureau, Galaxy Arcade, GG's Art Frames Gifts, Greenbriar Primary Care, Home Instead, Hospice of Iredell County, Hunkajunk Hauling, Integrity Security, Iredell Free News, Iredell Health System, Iredell-Statesville Schools, James Land & Cattle, Johnson's Greenhouses, Kewaunee, Mannheim, McCombs Steel, Mooresville Graded School District, Mooresville FONDO, Moose Martin Haynes & Lundy, P.A., MSI Defense, Murphy's Lawn Service, Piedmont HealthCare, Pinnacle Pressure Washing, PS West Construction, Purple Heart Homes, Randy Marion Automotive Group, Sawyer Insurance, Shred South, Statesville Country Club, Statesville Dance, Troutman Chair, Troutman Funeral Home, WAME, and World of Windows.