FROM STAFF REPORTS
A western Iredell County resident faces felony charges in connection with a residential break-in in the southern end of the county.
On Thursday, January 19, Iredell County Sheriff's Office patrol deputies responded to 164 Deerwood Lane, south of Mooresville, for a breaking and entering that had already occurred.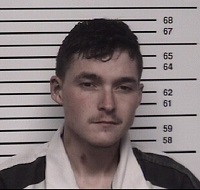 When the deputies arrived on the scene, they were notified that the suspect was still in the residence and possibly armed, Sheriff Darren Campbell said in a news release. According to witnesses, the same suspect had been seen in a nearby neighborhood pointing a pistol at individuals, Campbell said.
The deputies made a tactical entry to the home on Deerwood Lane to locate the suspect; however, they quickly determined that the suspect had left the house before their arrival, according to the news release.
Deputies secured the scene and established a perimeter.
A short time later, Deputy D. Joyce spotted a suspicious male near the residence and asked to speak with him. The man ran from him and made movements consistent with having a gun in his waistband, according to the news release.
Following a foot pursuit, the suspect was taken into custody. While the deputies were searching the suspect for weapons, he made statements about being chased by the police all day long and admitted to breaking into the victim's residence and taking personal items belonging to the victim, Campbell said.
The suspect, identified as Kasey Lane Pharr, 27, of Bostian Lake Road, Statesville, was transported to the Iredell County Detention Center, where he was charged with Felony First-Degree Burglary, Felony Breaking and Entering, Felony Larceny after Breaking and Entering, and Misdemeanor Resist, Obstruct, and Delay of an Officer.
Pharr appeared before Magistrate S. Nicholson, who issued a $100,000 secured bond on these charges.
According to the ICSO, Pharr's criminal history includes the following charges: Felony Larceny of a Firearm, Felony Second-Degree Burglary, Misdemeanor Larceny, Felony Safecracking, and Felony Possession of a Firearm by a Felon.