FROM STAFF REPORTS
Iredell County Sheriff's Office investigators have obtained a warrant charging a Charlotte man with murder in connection with the 2020 shooting death of a Harmony man.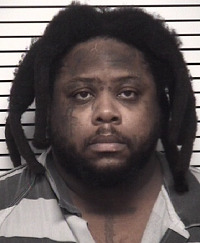 Sheriff Darren Campbell announced Monday that Kadeem Jamar Fetherson, 32, will be charged with killing Aaron Bruce Holland when he completes a federal prison sentence on unrelated charges. Fetherson, who has an extensive criminal record, is not scheduled to be released until 2026.
The investigation began on June 25, 2020, when deputies found Holland's body in a residence at 115 Damron Lane in Harmony. Deputies responded to a 911 call after someone went to check on Holland after not hearing from him for several days, Campbell said.
Detectives recovered evidence at the scene and conducted interviews with neighbors and family members of Holland. Although the 35-year-old man's death appeared suspicious, there were no leads or suspects in the case, according to the news release.
The Medical Examiner's Office conducted an autopsy and determined Holland had suffered a fatal gunshot wound.
Detectives subsequently received information pointing to Fetherson as a suspect in the shooting, Campbell said, but the ICSO did not have any physical evidence at the time connecting Fetherson to the homicide.
On July 2, 2020, detectives learned Fetherson had been arrested in Forsyth County after a high-speed pursuit with law enforcement that resulted in a car crash.
Forsyth County Sheriff's Office deputies recovered a stolen firearm, 31 grams of methamphetamine, 44 grams of crack cocaine, and 141 grams of marijuana from Fetherson, Campbell said. FCSO deputies also seized cell phones and other electronic devices that were in Fetherson's possession during the pursuit.
ICSO detectives then obtained search warrants for the electronic devices found in Fetherson's possession for possible evidence in the homicide investigation. The devices were turned over to evidence recovery specialists to assist with possible evidence recovery.
As a result of these search warrants, detectives were able to recover digital evidence that placed Fetherson at the scene of Holland's death.
During this homicide investigation, Fetherson was convicted in U.S. District Court on numerous drug and weapons charges. He is currently incarcerated in federal prison in Bennettsville, S.C., and is not scheduled for release until February 2026.
Fetherson will be served with the felony murder warrant when he completes his prison sentence, Campbell said.
According to the ICSO, Fetherson's criminal record includes the following charges: two counts of Misdemeanor Possession of Marijuana, Felony Possession of Marijuana, Felony Common Law Robbery, three counts of Felony Possession of a Firearm by a Convicted Felon, Felony Larceny, Felony Breaking and Entering, Felony Possession with Intent to Sell or Deliver Schedule II Controlled Substance, Misdemeanor Possession of Drug Paraphernalia, Felony Possession of Heroin, Felony Possession of a Weapon of Mass Destruction, Felony Possession with Intent to Sell or Deliver Marijuana, Misdemeanor Carrying a Concealed Weapon and Felony Habitual Felon.