FROM STAFF REPORTS
A Troutman man has been charged with stealing hundreds of thousands of dollars from his employer following an investigation by the Iredell County Sheriff's Office.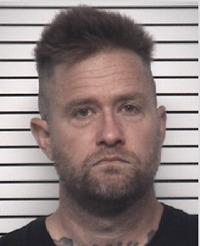 Sheriff Darren Campbell announced the arrest of Joseph Gilbert Gallitz Jr., 38, of Ashmore Circle, Troutman, in a news release Wednesday.
The ICSO received a report in early 2023 from a local business about a large-scale embezzlement. The case was assigned to Lt. D. R. Icard of the ICSO Economic Crime Unit.
During the investigation, Lt. Icard, with the assistance of the N.C. State Bureau of Investigation, obtained records from the business which showed Gallitz had embezzled more than $595,000 from the business over a five-year period beginning in 2018, the sheriff said.
On Monday, August 14, investigators obtained warrants for the suspect's arrest. Gallitz was arrested at his residence and transported to the Iredell County Detention Center, where Magistrate Thompson issued a $275,000 secured bond.
Gallitz is charged with five counts of obtaining property by false pretenses and five counts of embezzlement.
Sheriff Campbell expressed his appreciation for the SBI's assistance in this investigation.