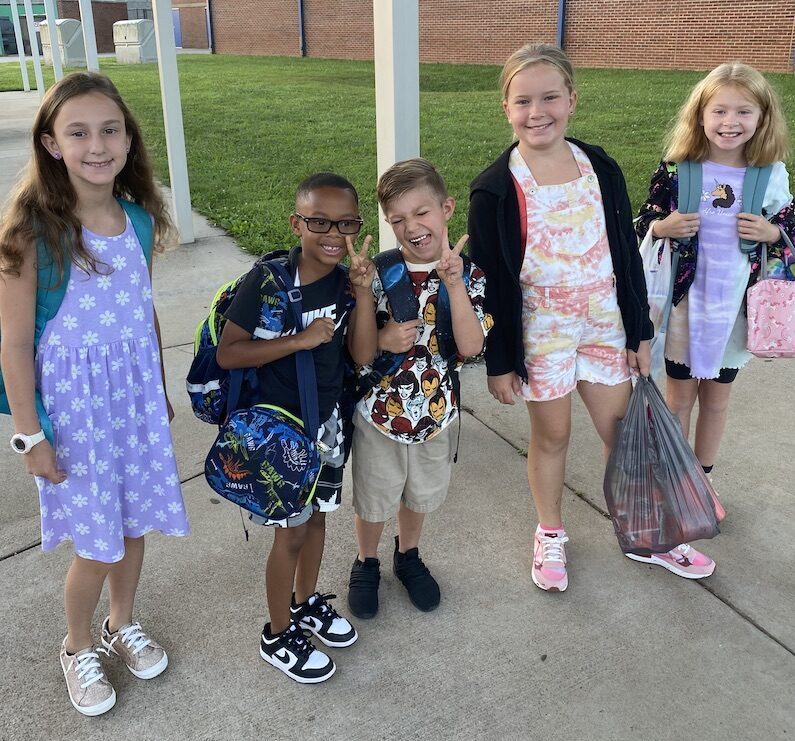 BY KARISSA MILLER
The 2023-2024 school year got off to a good start, according to Iredell-Statesville Schools teachers, staff and principals.
Students at traditional I-SS schools returned to campus Monday, a week after classes started at the district's three early college programs.
"So far, it's been smooth," Superintendent Jeff James said.
Due to the earlier start date, which was approved by the I-SS Board, district officials explained that they will have a better idea of enrollment figures by Day 10.
I-SS Director of Accountability, Testing and Student Information Laura Elliot anticipates the district will serve about 20,500 students for the 2023-2024 school year.
They're Back!
Cloverleaf Elementary third-grader Addisyn Ramirez, who describes herself as funny, nice and tall, admits she loves school and was glad to be back.
"It's fun to be with your friends, and I'm going to make some more. I like learning math," she added.
Also excited to be back was her teacher Whitni Self.
"The first day sets the tone for the rest of the year. I actively focus on what my expectations are for them and talk to them about what they expect from me. We talked about teambuilding and the classroom community," Self explained.
Students in her class made their own friendship bracelets.
Principal Andy Mehall said that Cloverleaf's enrollment has surpassed 500, which is up around 40 students. The growth, he said, is being fueled by new neighborhoods, and there are more housing developments planned nearby in the future.
"Super smooth day. Nothing out of the ordinary," Mehall said. "We have another year with 100 percent fully certified teachers with a zero percent turnover."
Assistant Principal Sally Schultz was visiting classrooms and involved in every aspect of transportation Monday. She said it was great to see so many smiling faces.
"We've got the best students here. They're excited to be here," she said.
Mehall stood in the main hall and watched students walk past. Many waved at him and School Resource Officer Lt. Gina Crawford, who was at Cloverleaf to observe the morning.
The Iredell County Sheriff's Office wants to make sure everything is good and mentioned that they also brought K-9 into some of the schools.
"We are keeping things fun and friendly while making sure all of the kids are returning back to a safe environment," Cranford said.
Photos